A couple of days ago I discussed the manslaughter case where the President of the Actor's Guild of Nigeria (AGN) Ibinabo Fiberesima killed an innocent man. There is no dispute that she killed this man, a doctor. There is no dispute that it has been almost eleven years since the killing. There is also no dispute that a Nigerian criminal court of law, after hearing the evidence, found her guilty and fined her. There is no dispute the Attorney General thought a fine for the killing of human life was a miscarriage of justice and appealed the sentencing. There is no dispute the issue became whether the sentencing ought to be exclusively a fine of only 100,000 Naira ($500.00) i.e. restitution for the victim's family, prison time (5years) or both. This is where the failure of the justice system and Fiberesima's strong sense of entitlement comes to play.
For almost eleven years since the killing of this doctor, Fiberesima has remained scot-free. Further, she has used the legal justice system to, in my view, stall and outright prevent from serving her sentence. She admits she killed this man. The court found her killing to be "reckless and dangerous" and convicted her of involuntary manslaughter. Yet, she managed for almost eleven years to  stall the process, remain scot-free and is still attempting to do so again.
Last week, an appeals court finally said, "okay woman you are talented, you are beautiful but you have to do your time." Her response? She throws a public pity party through her family i.e. her son who denies that his mother's actions were in fact "reckless and dangerous;" and is still bent on using the justice system to appeal the ruling of the appellate court to the Supreme Court!
Really? How entitled can a person get? Why is her son involved? She has been walking scot-free for almost eleven years. How much more leniency can she possibly want?  Why does she think the value of a human life should be reduced to only $500 or that her celebrity status, or perhaps looks should prevent her from doing time?
In any Western country, no matter how sorry you are, when you kill somebody and there is no showing that the killing was done out of self defense, you do the time. Yes, even if it is an accident. Ms. Fiberesima, can you please stop wasting the limited judicial resources the country has, and just go do your time?  You are the leader of an organization and a mother. If you can't model leadership and take responsibility for your action when you kill someone, what else can you possibly model? Yes, the situation is sad but it is equally painful if not more for the family that lost a man that was a husband, father, brother, uncle and cousin to them.
Manslaughter
For those curious to know, the crime of Manslaughter is subdivided into voluntary and involuntary manslaughter. With voluntary manslaughter, there is an intentional killing that is prompted by the existence of adequate provocation i.e. what is known as " a killing in the heat of passion." So, take for example you caught your wife or husband cheating on you and you killed him or her right then and right there, that would be a killing committed in the heat of passion.
Involuntary manslaughter, on the hand, lacks that criminal intent part. Instead, it is subdivided into:
Criminal negligence (gross negligence/reckless manslaughter); and
an unlawful act.
From all indications by reports citing the court's ruling, Ibinabo was ruled criminally negligent. There have been statements made by many that she actually committed an unlawful act by driving while under the influence of alcohol and that she fled the scene of the crime. Her son denies it. He also says his mother was involved in an accident because a car allegedly hit her. He wasn't there. His statements are hearsay and  again, a court of law at the time the incident happened eleven years ago, heard the facts and made a decision that she was guilty.
So, irrespective of whether it is criminal negligence or an unlawful act, she killed an innocent man. She has had eleven years to live and enjoy her life, have more kids, re-marry, be president of AGN, attend celebrity events, travel the world. The court has now said "do your time." Can she stop with the sense of entitlement  with her public statements, that of her family members, and now appealing all the way to the Supreme court and just do the time?
The facts are overall unfortunate but again, what more leniency can someone possibly want for walking scot-free for eleven years after killing another? Have mercy on the victim's family for God's sake, please.
~Ms. Uduak
(UPDATE: there were actually two appeals. The State prosecuted on the magistrate level, the first lower court. She was convicted and given a fine of 100,000Naira. The State appealed the Magistrate's ruling to the High Court, the second lower court. That court ruled Fiberesima needed to serve 5years in prison. Fiberesima unhappy with the ruling appealed the case to the Appeals Court. The Appeals Court agreed with the High Court that she should do 5years. She now seeks to appeal it to the Supreme court level. Link: http://dailymail.com.ng/ibinabo-fiberesima-bags-jail-sentence-10-years-after-manslaughter-scandal/)
Read the very patronizing and inappropriate letter from her son Sean Liam Coughlan to the public:
"People of Nigeria,

This is Sean, first and proud son of Ibinabo Fiberesima, I write on here today to plead with all Nigerians to pray for my mother. She is going through the toughest of times right now, and so are we, her family. I've been reading heartbreaking comments on her matter that 'she thinks she's above the law', 'she doesn't feel sorry for the family of the deceased', 'she was drunk and deserves this punishment', let me get a few things straight with you now.

My mother is the most humble woman I know, I was not aware she was a celebrity until I was about 14 and that's only because my uncle told me, she does not see herself or act as if she is above any other person. She is a proud Nigerian who loves her country and its people.

Secondly, she has been carrying heartbreak around with her for the past 11 years after the accident. She understands the pain for the deceased family and is very hurt about what happened herself. She has tried her utter most to console with the Family, so don't ever think she does not care.

Thirdly she was not drunk, the charges are reckless and dangerous driving, first of all I refuse to believe my mother was driving recklessly or dangerous, as I've been in a car with her countless times and nothing has happened. On this occasion it was unfortunate, she was unlucky, her car flipped over which happens to a number of cars and another car smashed into her. She was in a coma for days, she could have easily lost her life, but thankfully, by Gods strength only she survived. She did not set out that day trying to kill someone or herself.

Right now my mother is broken, and needs the prayer and support of all Nigerians, so please put all your conspiracies about this matter aside, I know it's between her and God now.

Join us, myself, Craig her son who is 14, Malcolm and Brian her other sons and her beautiful Daughter Zino who is just 8, and the rest of her family, to pray for my Mother. Let God decide what is just and what is not.

Whatever your religion, join us and Pray for my mother as well as the family of the deceased. We can all get through this but not without God.

Thank you for reading, may God bless you all."
Subscribe to Our Podcast Show
Some of Our Achievements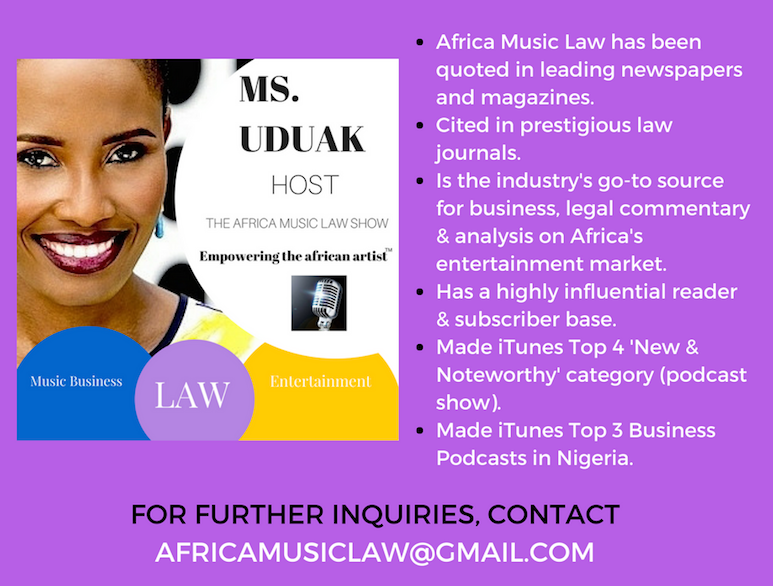 AFRICA MUSIC LAW™ (AML) is a pioneering music business and entertainment law blog and podcast show by Fashion and Entertainment Lawyer Ms. Uduak Oduok empowering the African artist and Africa's rapidly evolving entertainment industry through brilliant music business and entertainment law commentary and analysis, industry news, and exclusive interviews.
Credited for several firsts in the fashion and entertainment industry, Ms. Uduak is also a Partner and Co-Founder of Ebitu Law Group, P.C. where she handles her law firm's intellectual property law, media, business, fashion, and entertainment law practice areas. She has litigated a wide variety of cases in California courts and handled a variety of entertainment deals for clients in the USA, Africa, and Asia. Her work and contributions to the creative industry have been recognized by numerous organizations including the National Bar Association, The American University School of Law and featured in prestigious legal publications in the USA including ABA Journal and The California Lawyer Magazine. She is also an Adjunct Professor at the prestigious Academy of Arts University in San Francisco.
For legal representation inquiries, please email (uduak@ebitulawgrp.com). For blog related inquiries i.e. advertising, licensing, or guest interview requests, please email (africamusiclaw@gmail.com). Thank you for visiting Africa Music Law™.