Celebrities Behaving Badly (CBB) documents terrible, immature and/or inappropriate conduct on and off social media by creative talents, mostly celebrities, and uses it as a way of discussing, primarily, public relations and branding for artists. On to today' s post…
What's the story? A twitter user or, depending on who you ask, an internet troll wrote a message to Ill Bliss saying he can't rap. We all clearly know that is or must be a joke not even worthy of a response. Why Ill Bliss bothered to respond, only God knows. What does he say when he responds? Instead of addressing the issue, he launches an attack that advocates physical violence against the internet troll's mother, "rape" to be more specific. Then he takes it a step further and says the guy "deserves to be shot in the head."
Wow! All of this over a statement that you can't rap???! An opinion that someone else happens to hold? You are an artist, a label owner, business man, father and respected industry veteran. Yet, you stoop this low not to address the issue but to attack the guy's mother and wish rape on her?! How terrible and very embarrassing. You also advocate the guy be shot in the head? Threatening violence against him??! This is highly inappropriate conduct that is again downright embarrassing, especially coming from an industry head like Ill Bliss.
While Ill Bliss later catches himself, the truth is from a branding standpoint, most people will not remember the internet troll. They will, however, remember Ill Bliss' very violent statements. AML artists, please don't do this, especially if you are someone we all know can rap and actually respect in the game. You make yourself look very bad, those who respect and like you and your work feel like fools for doing so; and you definitely "fall hand" as an ambassador and elder spokes person for the industry. If the guy actually dies or his mother God forbid is raped, you may have law enforcement knocking at your door as a potential suspect in a criminal investigation.
We ain't even gonna touch the fact that Ill Bliss as a so called "Ibo boy" knows better than to be going after someone's mother, especially with a statement that has no weight whatsoever from some internet troll.
What a shame. Very shameful. I am embarrassed to see this from Ill Bliss.
-Ms. Uduak
Why would an artist of this caliber even indulge or entertain any discussion about his lyrical prowess or abilities? *Genuinely confused.*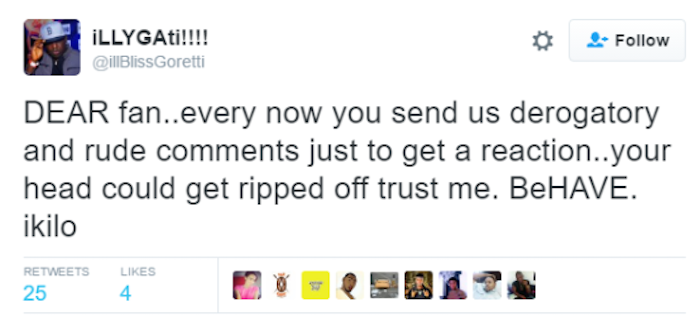 Subscribe to Our Podcast Show
Some of Our Achievements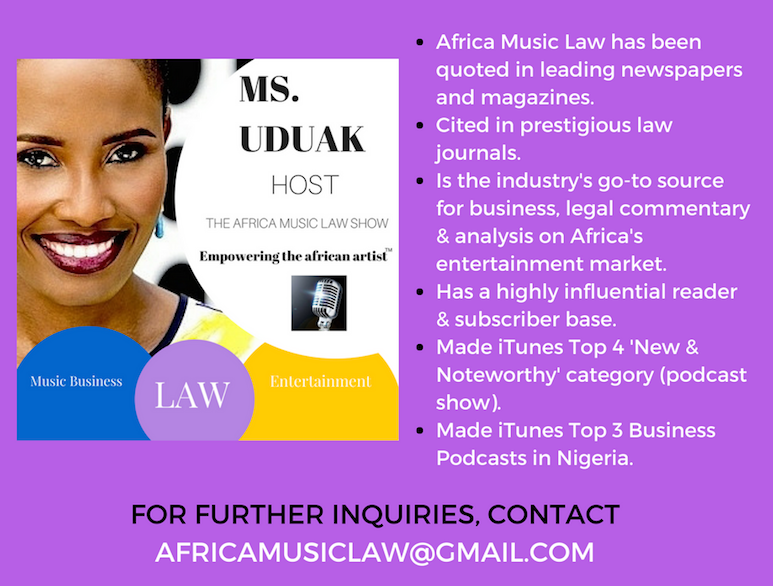 AFRICA MUSIC LAW™ (AML) is a pioneering music business and entertainment law blog and podcast show by Fashion and Entertainment Lawyer Ms. Uduak Oduok empowering the African artist and Africa's rapidly evolving entertainment industry through brilliant music business and entertainment law commentary and analysis, industry news, and exclusive interviews.
Credited for several firsts in the fashion and entertainment industry, Ms. Uduak is also a Partner and Co-Founder of Ebitu Law Group, P.C. where she handles her law firm's intellectual property law, media, business, fashion, and entertainment law practice areas. She has litigated a wide variety of cases in California courts and handled a variety of entertainment deals for clients in the USA, Africa, and Asia. Her work and contributions to the creative industry have been recognized by numerous organizations including the National Bar Association, The American University School of Law and featured in prestigious legal publications in the USA including ABA Journal and The California Lawyer Magazine.
For legal representation inquiries, please email (uduak@ebitulawgrp.com). For blog related inquiries i.e. advertising, licensing, or guest interview requests, please email (africamusiclaw@gmail.com). Thank you for visiting Africa Music Law™.