Congrats to D'Prince, one of the members of the Mo'Hits crew, who recently launched his night club in Lagos. Artists, it is a great idea to diversify your portfolio and invest in real estate and other business ventures.It is long term thinking and planning for when you can't tour and move crowds the way you currently do. Read excerpts from the press release D'Prince's camp sent me below. By the way, ladies, is it just me or is D'Prince a cutie? His song Omoba did it for me. I now occasionally find myself wishing he would sing that to me when I wake up each day. Of course I would be the one sitting on the throne. Hello?! #It's possible. 🙂 *Winks*
FOR IMMEDIATE RELEASE (October 2011)
D' Prince, "JONZING" Press Release
"This is just the tip of the iceberg for innovative entertainment"
Its a new world order – It's a Jonzing World!
A ritzy, swanky and lavish new nightclub christened "JONZING" is set to have its high profile launch (happened on Sept 28 2011.)
Located within the highbrow residential and commercial area of Lagos, Nigeria -'The Island' Off Ajose Adeogun, this club is the first of its kind.
The venue screams 'lush' to say the least, from the Interior to the exterior. First privileged visitors have described it as exciting and different!
It is newsworthy that the brain behind this night life entertainment venue is none other than our very own D' Prince of Effizy aka OMOBA of MO HITS records. The venue has a holding capacity of over 300 people.
"JONZING"- It's for YOUR Entertainment by THE Entertainment and the Prince of Mo hits has taken it upon himself to show us how to party in style!
Though yet to release his debut album, since he first came onto the scene with the Mo hits crew, D'Prince has had numerous hit singles like 'Ooze', 'I like what I see' 'Jonzing world',
'Give it to me' and his debut single 'Omoba.' He has also been featured on a number of songs with various popular artists.
This jovial, quick witted, intelligent new club boss, in answer to 'the reason behind his venture into this new sector in entertainment', cited his need to not just be apart of night life as an entertainer, but to also be the creative innovator and brain behind entertainment as a whole.
Thus the birth of the club "JONZING".
The term 'distinctly affordable', is perfect when summing up the intended customer market for this club. The drinks are affordable to every young person that intends to party in D'Prince's territory but of course always supreme quality, for example: fresh fruit cocktails and signature drinks tailored to thrill any crowd with good taste.
However we all have "levels" the main floor is massive! Allowing artist performances and D'Prince to party with club crawlers, but the club also boasts a VIP for tables and bottle service and a VVIP strictly for A-List entertainers and high profile clients.
The club opening which will be an exclusive RED CARPET AFFAIR has already attracted major media attention, locally and internationally simply because it stands to provide a good blend of entertainment for the young and trendy and also the young at heart.
Everyone who has carved a niche for himself or herself is expected to attend.
Topping the guest list are the likes of THE MOHITS crew, Nigeria's UK based Tattoo faced Dj: Dj Sose, who has recently flown in to Nigeria to attend this lavish event. Also we can confirm the likes of 'Mr Expensive himself', 'Dotstar', described as UK's 'grime genius' recently in the Metro News paper UK, who you might also recognize in the latest Toyota TV advert, set to grace the occasion. It is no doubt that this event will be a blend of class and creativity.
Finally, D'Prince has promised that the 'JONZING' club opening is just the tip of the iceberg of innovative ideas he is about to unleash into the entertainment industry.
We hear rumors of concerts, tours and his debut album launch. . ."
Subscribe to Our Podcast Show
Some of Our Achievements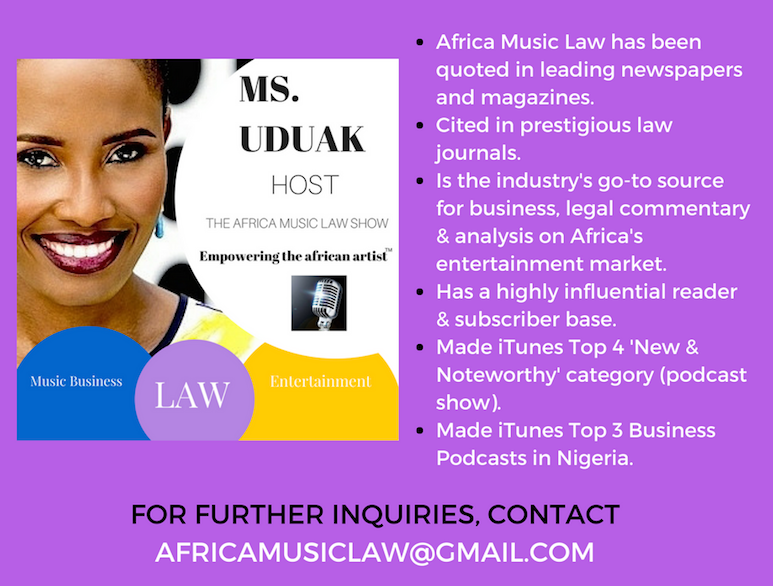 AFRICA MUSIC LAW™ (AML) is a pioneering music business and entertainment law blog and podcast show by Fashion and Entertainment Lawyer Ms. Uduak Oduok empowering the African artist and Africa's rapidly evolving entertainment industry through brilliant music business and entertainment law commentary and analysis, industry news, and exclusive interviews.
Credited for several firsts in the fashion and entertainment industry, Ms. Uduak is also a Partner and Co-Founder of Ebitu Law Group, P.C. where she handles her law firm's intellectual property law, media, business, fashion, and entertainment law practice areas. She has litigated a wide variety of cases in California courts and handled a variety of entertainment deals for clients in the USA, Africa, and Asia. Her work and contributions to the creative industry have been recognized by numerous organizations including the National Bar Association, The American University School of Law and featured in prestigious legal publications in the USA including ABA Journal and The California Lawyer Magazine.
For legal representation inquiries, please email (uduak@ebitulawgrp.com). For blog related inquiries i.e. advertising, licensing, or guest interview requests, please email (africamusiclaw@gmail.com). Thank you for visiting Africa Music Law™.