A large audience gathered last week Friday, March 24, 2017, for the premiere of Nollywood filmmaker Omoni Oboli's movie 'Okafor's Law' at the Kene Mkparu owned IMAX Cinema in Lekki Lagos. The event, however, was halted before it even started because of a court injunction obtained ex-parte (emergency) by Raconteur Productions Limited preventing the premiere.
Mkparu could have chosen to disobey the court's order considering most Nigerians believe Nigeria is a lawless country and there is ample evidence to support this belief. He didn't. His compliance, to me, is the greatest highlight of this story. Mkparu's action, in my view, in obeying the court's order is historic and marks a new chapter in Nigerian cinema and a new way of doing business.
Okafor's Law, the script, is at the center of a copyright lawsuit filed by Raconteur Productions against Oboli. Raconteur Productions claims it has the exclusive license from Jude Idada, a Canada-based screenwriter, allowing it to produce and distribute Okafor's Law. Idada who is of Nigerian heritage has substantiated this claim. In fact, he brought the issue to the limelight last year during the Toronto International Film Festival when he granted a 30-45min interview to TNS.ng revealing Oboli's history of stealing his screenplays, and that she had again stayed true to character by stealing the screenplay he wrote for 'Okafor's Law.' He maintains everything but the title i.e. 'Okafor's law' is his.
On March 16, 2017, a Nigerian Federal High Court in Lagos issued an injunction in favor of the Plaintiff denying the Defendants (Omoni Oboli, her production company, and Kene Mkparu's Film One/IMAX cinema) from premiering her feature film.
In relevant part, here is the court's ruling:
"An order of interim injunction, restraining the first to third defendants, whether by themselves or their privies, from premiering the feature film "Okafor's Law", in Lagos or any part of Nigeria, pending the hearing of the motion on notice.

An order of interim injunction, restraining the defendant from releasing the featured film in any movie theatre or Cinema house on March 31, pending the hearing of the motion on notice.

An order of interim injunction, restraining the defendants from distributing the featured film, pending the determination of the motion on notice.

An Anton piller order is granted to the plaintiff, to enter into the defendant's premises, Cinema, Studio and other places of dissemination, to seize all copies of infringing materials relating to subject matter.

An order, directing the defendants to deliver and surrender to the plaintiff's solicitors, all products and packages with the inscription, "Okafor's Law" and volume of transaction or trade which have been done by defendants.

An order directing the defendants to permit the court's bailiff, and such other persons not exceeding four (4), to enter the premises on any working day of Monday to Saturday at 8am to 8pm, to remove all products or packages with the name "Okafor's Law"

An order for a search to be conducted (in) places where "Okafor's Law" is stored and sold.

An order declaring that a failure of defendants to comply with the court's order, will put the plaintiff at liberty to apply for committal to prison of such person.
Finally, the court set the date of March 29, 2017, to rule on the noticed motion (i.e. rule on the issues above i.e.  should it continue to have these restrictions in place until the underlying copyright infringement case is heard?).
It is unclear if Oboli had a lawyer represent her interest the first time when the Plaintiff applied ex parte to stop the premiere. Nevertheless, this week, she had a lawyer who filed a counter affidavit (a written sworn statement made under oath) and attached exhibits that allegedly support Oboli's claim of copyright ownership of the movie, including a title registration. Oboli also used Idada's interview granted to TNS.ng against him. (Folks, I've said this gazillion times over. Keep your dramatic shenanigans and feelings of being wronged off social media and the media until you talk to a lawyer because any and all things you say can be used against you in a court of law).
On March 29, 2017, the subsequent hearing date, the Plaintiff, Raconteur Productions, asked the court for a continuance of the case so it could gather evidence to respond to Oboli's counter-affidavit. Oboli's lawyers opposed the request and argued that preventing Okafor's Law from its scheduled theater release of March 31, 2017, would cost Oboli 500million naira in damages. The court took the matter under submission and exercised its discretion to "rule within 48 hours." It issued a ruling today, March 30, 2017,  in favor of Oboli. The movie screens nationwide on March 31, 2017, all restrictions have been lifted, and the parties return to court the first week of April to begin dealing with the merits of the case.
Several things to note:
The judge who signed off on the order made a mistake. The date of signoff is March 30, 2016. So technically, it isn't a valid order despite the file endorsement by the clerk. The document needs to be corrected to reflect an order of March 30, 2017. I note that some members of the public have been saying, since the new ruling, that the judge was "bribed" to change its ruling in favor of Oboli. This 2016 date on the order doesn't help matters.
I find it very interesting that the same Federal High Court and from all reports, the same judge who heard the case, is coming to two different results within a span of a week of his ruling. That is why it is important to know if Oboli, her lawyers or reps attended the first ex parte where the judge granted the injunction that prevented the screening of her movie at her premiere.
This case has only just begun and before the judge gets to the merits, you the AML reader get to play jury. Here is how you can participate:  Check out: a) a copy of the order lifting the injunction, b)  Idada's original script draft one, c) Oboli's script and, d) the alleged similarities between the two and let me know your thoughts. Did Omoni Oboli steal Okafor's Law screenplay/script from Idada?
Finally, note that if you are based in the U.S. or have dealings in the U.S., are involved in a situation like the one here, and you would like to discuss your situation, please email me at (uduak@ebitulawgrp.com).
-Ms. Uduak
Court Order Lifting Injunction on Okafor's Law by Omoni Oboli
Court Order Lifting Injunction on Okafor's Law by Omoni Oboli by Uduak Oduok on Scribd
Okafor's Law Draft One by Jude Idada
Okafor's Law Draft One by Jude Idada by Uduak Oduok on Scribd
Okafor's Law Copy Omoni Oboli's Version
Okafors Law Copy Omoni Oboli Version by Uduak Oduok on Scribd
Jude Idada vs. Omoni Oboli's Version of Okafor
Jude Idada vs. Omoni Oboli's Version of Okafor's Law by Uduak Oduok on Scribd
Subscribe to Our Podcast Show
Some of Our Achievements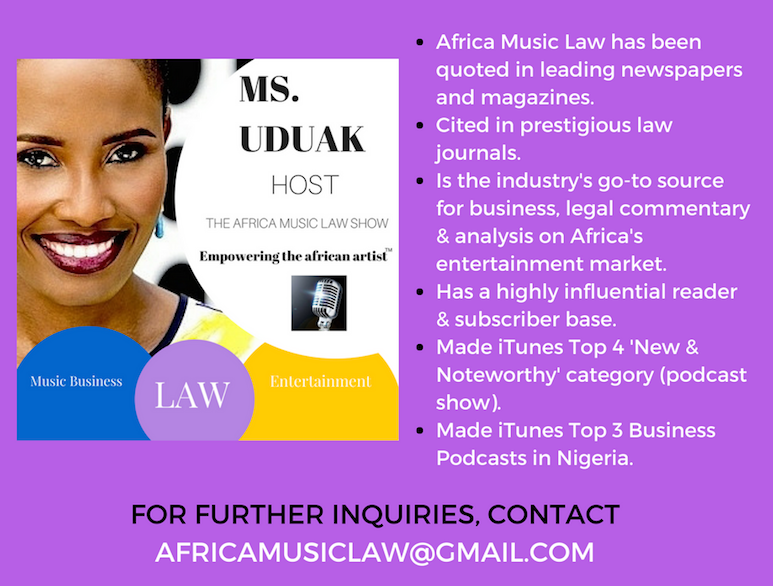 AFRICA MUSIC LAW™ (AML) is a pioneering music business and entertainment law blog and podcast show by Fashion and Entertainment Lawyer Ms. Uduak Oduok empowering the African artist and Africa's rapidly evolving entertainment industry through brilliant music business and entertainment law commentary and analysis, industry news, and exclusive interviews.
Credited for several firsts in the fashion and entertainment industry, Ms. Uduak is also a Partner and Co-Founder of Ebitu Law Group, P.C. where she handles her law firm's intellectual property law, media, business, fashion, and entertainment law practice areas. She has litigated a wide variety of cases in California courts and handled a variety of entertainment deals for clients in the USA, Africa, and Asia. Her work and contributions to the creative industry have been recognized by numerous organizations including the National Bar Association, The American University School of Law and featured in prestigious legal publications in the USA including ABA Journal and The California Lawyer Magazine.
For legal representation inquiries, please email (uduak@ebitulawgrp.com). For blog related inquiries i.e. advertising, licensing, or guest interview requests, please email (africamusiclaw@gmail.com). Thank you for visiting Africa Music Law™.