Iredumare Opeyemi, Director of Legal and Business Affairs at Transnet Music Limited (BOOMPLAY), has left his high profile job for yet another one with MTN Group Limited, a leading multinational mobile telecommunications company in Africa.
Opeyemi joins MTN as 'Head Legal and Partnership Manager (Snr.), Music Services.'
"It was a beautiful experience being part of a digital music platform that assured that the music business in Africa is investment worthy," said Opeyemi in a press statement to AML about his departure from Boomplay.
He further added that the highlight of his three year tenure at Boomplay was ensuring, "unlike any digital music platform focused in Africa, the platform operated within a very ethical legal framework, respected its users' personal data, ensured adequate transparency with royalties reporting and also built a symbiotic relationship between its partners (content providers, labels and artists)."
In his new role at MTN, Opeyemi tells AML he will, "be responsible for ensuring its music products operates with best practices, liaise with potential partners across territories where MTN is active and most importantly deliver world class music services to MTN subscribers and others."
He joins the leadership team made up of his former boss Oyebowale Akideinde (General Manager of Music Services), who previously worked for Boomplay before also departing for MTN; and David Gilarranz (Group CEO, Digital) where he says, he "looks forward to working (with them) on sustainability and affecting lives positively through effectively monetizing music."
Revisit AML's exclusive interview with Opeyemi on digital distribution in Africa, below.

Subscribe to Our Podcast Show
Some of Our Achievements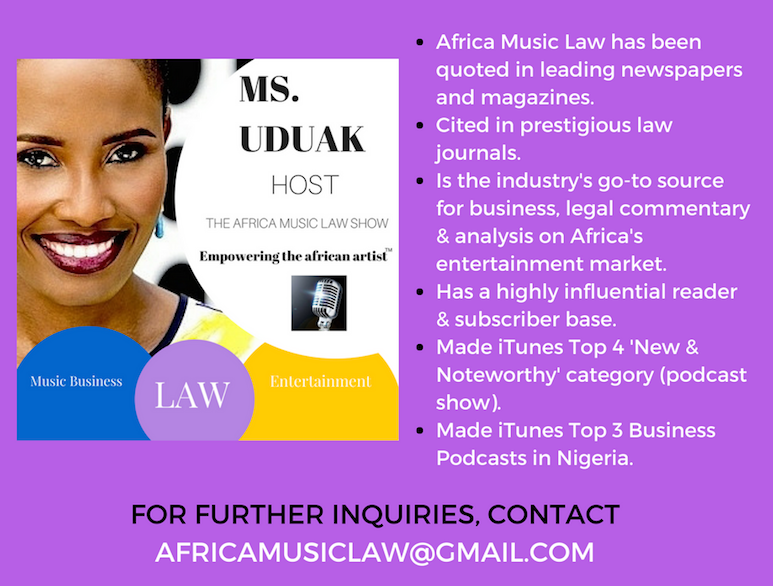 AFRICA MUSIC LAW™ (AML) is a pioneering music business and entertainment law blog and podcast show by Fashion and Entertainment Lawyer Ms. Uduak Oduok empowering the African artist and Africa's rapidly evolving entertainment industry through brilliant music business and entertainment law commentary and analysis, industry news, and exclusive interviews.
Credited for several firsts in the fashion and entertainment industry, Ms. Uduak is also a Partner and Co-Founder of Ebitu Law Group, P.C. where she handles her law firm's intellectual property law, media, business, fashion, and entertainment law practice areas. She has litigated a wide variety of cases in California courts and handled a variety of entertainment deals for clients in the USA, Africa, and Asia. Her work and contributions to the creative industry have been recognized by numerous organizations including the National Bar Association, The American University School of Law and featured in prestigious legal publications in the USA including ABA Journal and The California Lawyer Magazine. She is also an Adjunct Professor at the prestigious Academy of Arts University in San Francisco.
For legal representation inquiries, please email (uduak@ebitulawgrp.com). For blog related inquiries i.e. advertising, licensing, or guest interview requests, please email (africamusiclaw@gmail.com). Thank you for visiting Africa Music Law™.