Lolhiphop Records has announced the release of ISIGUBHU, the debut single from a young South African singer, Nobuhle.
In November 2016, a little-known Nobuhle was on her first ever flight. She was headed to Lagos, Nigeria, to perform at the prestigious All Africa Music Awards. She has just recorded her a single with SA's Got Talent winner, Dj Arch Jr, and traveled with his team to perform in his set.
However, the performance program was cut short and she didn't have a chance to share the massive stage with the young Dj. The young singer returned to South Africa disappointed but determined more than ever to make her mark on the African music scene.
Signed with the Pan-African label, Lolhiphop Records, an imprint of Calabash Music Group, Nobuhle and her team went back to work, and she is now ready to make South Africa dance with the release of her first single. She hopes to put in a lot of work to become internationally recognized.
The young singer still dreams to conquer the African continent, just like the legends that inspired her – Miriam Makeba and Brenda Fassie.
"I was really looking forward to my first big stage in Lagos Nigeria. It was not to be – but I learned a lot from the trip, and I am grateful to Lolhiphop Records for the opportunity to travel and witness such a great event at the very beginning of my career. I was greatly inspired watching Joyous Celebration, P-Square, Eddie Kenzo, Diamond Platnumz and other great African artists performing. I watched our own Bonang Matheba hosting an event in Nigeria – and I left fired up, determined to become a nominee and a winner myself!"
Edgar Rathelele, manager of Lolhiphop South Africa said: "Nobuhle is a powerful voice of the new South African generation, and we have set to work to ensure that she is heard not only heard in South-Africa, but across the African continent, where Lolhiphop has a strong footprint."
The 25-year-old, East Rand native started singing in 2010 and over the years, she has recorded several tracks which include a collaboration with West African musician, Wax Dey on the song "Suka Wena". She got a first taste of the limelight in 2013 when she was discovered by a record label and reality/documentary Top TV Show: Sugarushed. Nobuhle released "Mic Check ft El Rafael" & "Shooting Star" during this time. In an interview with SAFM, presenter Khanyisile Magubane noted that her performance style is "nothing short of amazing".
LISTEN

VIDEO

Subscribe to Our Podcast Show
Some of Our Achievements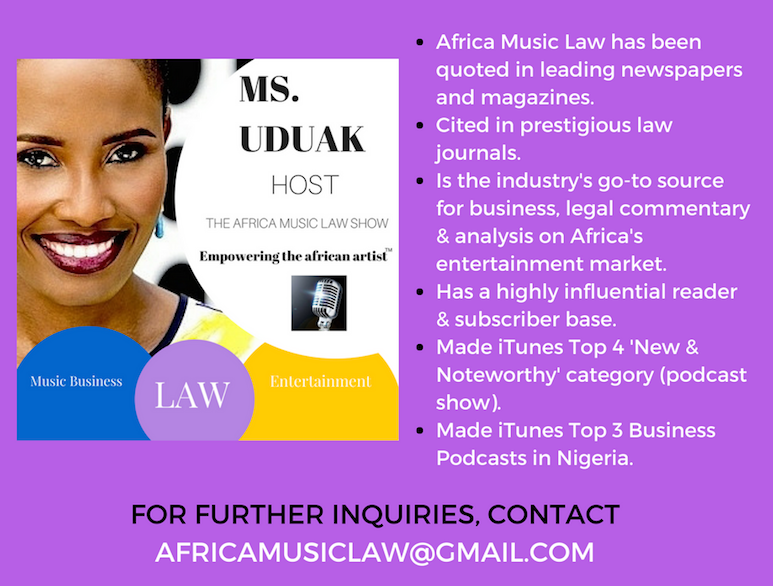 AFRICA MUSIC LAW™ (AML) is a pioneering music business and entertainment law blog and podcast show by Fashion and Entertainment Lawyer Ms. Uduak Oduok empowering the African artist and Africa's rapidly evolving entertainment industry through brilliant music business and entertainment law commentary and analysis, industry news, and exclusive interviews.
Credited for several firsts in the fashion and entertainment industry, Ms. Uduak is also a Partner and Co-Founder of Ebitu Law Group, P.C. where she handles her law firm's intellectual property law, media, business, fashion, and entertainment law practice areas. She has litigated a wide variety of cases in California courts and handled a variety of entertainment deals for clients in the USA, Africa, and Asia. Her work and contributions to the creative industry have been recognized by numerous organizations including the National Bar Association, The American University School of Law and featured in prestigious legal publications in the USA including ABA Journal and The California Lawyer Magazine.
For legal representation inquiries, please email (uduak@ebitulawgrp.com). For blog related inquiries i.e. advertising, licensing, or guest interview requests, please email (africamusiclaw@gmail.com). Thank you for visiting Africa Music Law™.