In case you missed it, the following artists have left their labels/management companies:
1) Iyanya who was signed with Temple Management Company (TMC) is no longer with the company and it appears is now operating his own label called Violet 360 Music. 
In 2016, when Iyanya left MMMG for Don Jazzy's label, Mavin Records, and signed a management deal with TMC, I said, in relevant part:
"For majority of his music career, Iyanya has delegated the duty of thinking about his personal brand, and brand strategy to Ubi Franklin. Ubi Franklin seemed to do it all for him, including the thinking; and till date he continues to credit Ubi Franklin for it all. That lack of interest in taking the initiative about the overall direction of his career, especially as a label owner of his artist brand, has been a major hindrance, in my view, to Iyanya attaining critical mass…
I think joining Don Jazzy's Mavin records is a good step towards showing he is wearing his thinking cap a little. However, he has to be careful not to dump his brand responsibilities on Don Jazzy and Temple Management, like he did Ubi Franklin. Iyanya has to realize he is the visionary and driver of his brand/career. Everyone else is there to help him execute his vision." – See full article Iyanya signs with Don Jazzy's Mavin records, but what happens to his ownership interest in MMMG, the label he co-founded with Ubi Franklin?
It appears Iyanya has come full circle with the launch of his own label. I think he has all it takes to be successful if he has the courage to believe that he can.
2) Ycee has allegedly left Tinny Entertainment. This statement is "alleged" because he is yet to officially confirm the news, although all social media profiles no longer reflect his label information. My thoughts? Not much to say here than to observe what direction Ycee goes. He had a few songs, 'Juice' being his biggest hit, the deal he had with Sony didn't seem to work  given the social media spat last year where he accused Sony of "trying to ruin his career." So, really, all eyes on Ycee in 2019. 
3) Finally, Reekado Banks leaves Mavin Records, on amicable terms, after five years with the label. He has since launched his own label called 'Banks Music' and released a few songs. Nothing unusual with the news except that the breakup is amicable, something that seemed a challenge, for a minute, for Nigerian artists to achieve when leaving their labels. 
As an aside, I am curious to see what happens to the social media accounts of these artists. Will they be launching new accounts, or were they smart enough to ensure the accounts revert to/or stay with them as owners?
-Ms. Uduak
Subscribe to Our Podcast Show
Some of Our Achievements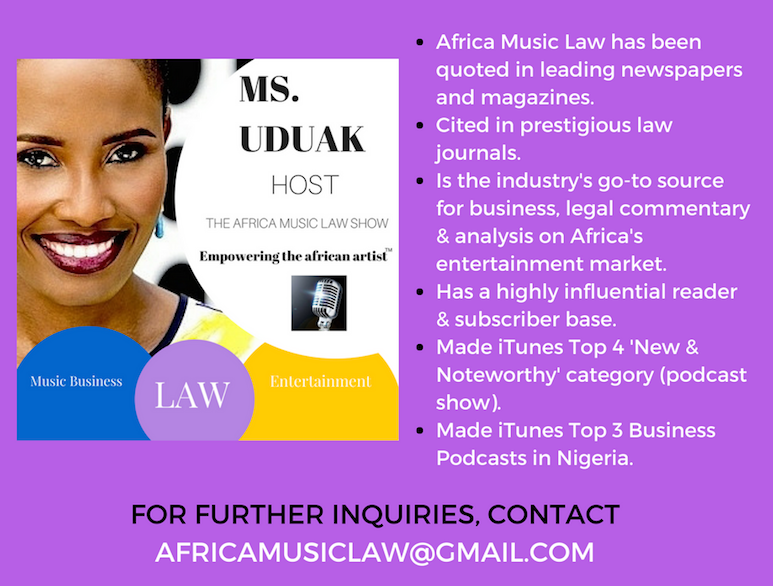 AFRICA MUSIC LAW™ (AML) is a pioneering music business and entertainment law blog and podcast show by Fashion and Entertainment Lawyer Ms. Uduak Oduok empowering the African artist and Africa's rapidly evolving entertainment industry through brilliant music business and entertainment law commentary and analysis, industry news, and exclusive interviews.
Credited for several firsts in the fashion and entertainment industry, Ms. Uduak is also a Partner and Co-Founder of Ebitu Law Group, P.C. where she handles her law firm's intellectual property law, media, business, fashion, and entertainment law practice areas. She has litigated a wide variety of cases in California courts and handled a variety of entertainment deals for clients in the USA, Africa, and Asia. Her work and contributions to the creative industry have been recognized by numerous organizations including the National Bar Association, The American University School of Law and featured in prestigious legal publications in the USA including ABA Journal and The California Lawyer Magazine. She is also an Adjunct Professor at the prestigious Academy of Arts University in San Francisco.
For legal representation inquiries, please email (uduak@ebitulawgrp.com). For blog related inquiries i.e. advertising, licensing, or guest interview requests, please email (africamusiclaw@gmail.com). Thank you for visiting Africa Music Law™.