The most beautiful love making scene I have seen in Nollywood/Gollywood films, was the one with Jackie Appiah and Chris Attoh in 'Perfect Picture.' In contrast, the tackiest sex scenes I have ever seen in Nollywood/Gollywood films have been those where Nollywood actress Tonto Dike is involved.
I think often we blame the talents we see on the screen but many times, that blame is misplaced because the real power lies behind the camera, with the filmmakers. Filmmakers are the ones who hire these talents to perform. It is their job to direct and direct well to make these talents capture a story, in its purest form.
It seems these days, it is hard not to watch any Nollywood or Gollywood films without so much sex thrown at you and worse, extremely tacky, crude/raunchy sex scenes. It used to be you could sit with family and children under 13 to watch Nollywood/Gollywood films. Now you can't, because you do not know what will hit you, plus there is no warning or classification of the films to provide the consumer with the choice not to watch such movies, or at least make sure children are not present. Both Ghana and Nigeria have Film and Video Censor Boards but there remains complaint that they are not doing enough.The censor boards screen, censor and classify films so audiences at least get the requisite notice needed.
I'd rather not get into too much details on those governing bodies, yet- based on the limited time I have. But I anticipate future discussions about them.
In any event, Gollywood Actress Jackie Appiah has come under scrutiny and tabloid backlash for some sex scenes she recently performed with  actor Abeiku Santana. See PeaceFMOnline. 
Seeing some of these images, I wondered if you all thought Nollywood/Gollywood films had too little or too much sex? Further, are the sex scenes too crude? I think they are but welcome disagreements. Please enlighten.
TONTO DIKE DIRTY SECRET

-Photocredit: PeaceFMOnline
Subscribe to Our Podcast Show
Some of Our Achievements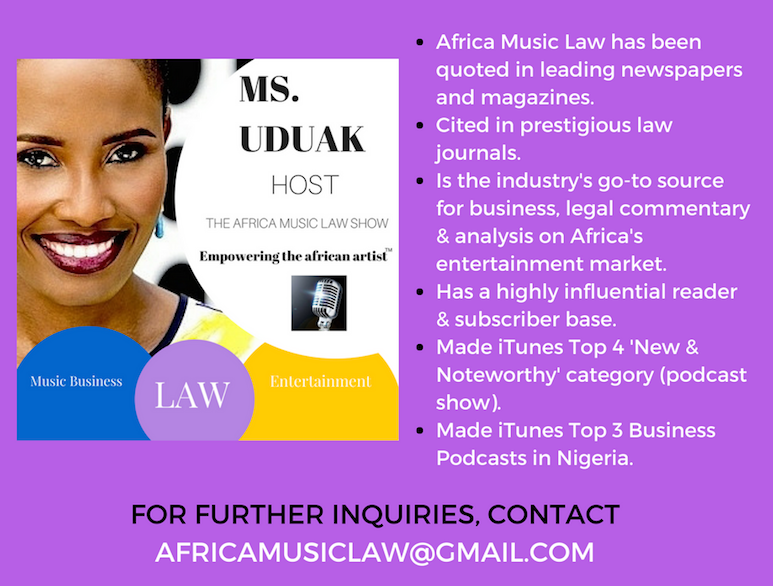 AFRICA MUSIC LAW™ (AML) is a pioneering music business and entertainment law blog and podcast show by Fashion and Entertainment Lawyer Ms. Uduak Oduok empowering the African artist and Africa's rapidly evolving entertainment industry through brilliant music business and entertainment law commentary and analysis, industry news, and exclusive interviews.
Credited for several firsts in the fashion and entertainment industry, Ms. Uduak is also a Partner and Co-Founder of Ebitu Law Group, P.C. where she handles her law firm's intellectual property law, media, business, fashion, and entertainment law practice areas. She has litigated a wide variety of cases in California courts and handled a variety of entertainment deals for clients in the USA, Africa, and Asia. Her work and contributions to the creative industry have been recognized by numerous organizations including the National Bar Association, The American University School of Law and featured in prestigious legal publications in the USA including ABA Journal and The California Lawyer Magazine. She is also an Adjunct Professor at the prestigious Academy of Arts University in San Francisco.
For legal representation inquiries, please email (uduak@ebitulawgrp.com). For blog related inquiries i.e. advertising, licensing, or guest interview requests, please email (africamusiclaw@gmail.com). Thank you for visiting Africa Music Law™.