This is the second part of a two-part interview starring Jason Njoku, Founder & CEO of IROKO. Njoku joins Ms. Uduak, the host, on the 92nd episode of The Africa Music Law Show to shed great light and details on what it takes to build a successful media/tech/and entertainment company.
Listen to Part 1 here.
About Jason Njoku
Jason Njoku is Founder and CEO of iROKO, the home of Nollywood content. He has pioneered the African digital content market by bringing Nollywood (Nigerian cinema) to a global audience, and in the process has raised over $40m in investment from international VCs, including Tiger Global, Kinnevik, RISE Capital and Canal+.
Launched in 2010, iROKO has aggregated the world's largest online Nollywood content catalog and is one of Africa's largest internet TV providers, with a dedicated mobile app, irokotv, as well as ROK TV channels on Sky in the UK and DStv across Africa.
In 2013, Njoku was crowned as the CNBC Africa West Africa Young Business Leader and in 2014, he was recognized as one of Fast Company's Top 1000 most Creative People in Business.
Preview
Jason's lessons learned from the start-up stage of IROKO
Co-founder Bastian Gotter's exit from IROKO & rebuilding relationship
Learning to manage employees and stepping aside so they can do their jobs
Creating a better work culture at IROKO
Funding Nigeria's music industry and losing a lot of money while doing it
Advice for brand sponsors who work with the entertainment industry
Building systems at IROKO
Redefining leadership to lead better at IROKO
Unpacking unattractive personality traits to move IROKO forward
Jason Njoku's perspective on industry trends in Nigeria & Africa's tech, music, and film.
Where to Find Jason Njoku
Where to Find Ms.Uduak
Twitter: @uduaklaw
Website: www.msuduak.com
About The Africa Music Law Show with Ms. Uduak
Hosted by California-based Fashion & Entertainment Lawyer Uduak Oduok (Ms. Uduak), The Africa Music Law show is a show empowering the African artist through brilliant music business and entertainment law commentary and analysis, industry news, and exclusive interviews. The show has been downloaded over 200,000 times and made iTunes top 4 'New & Noteworthy.' Subscribers include Africa & Hollywood's power executives, investors, lawyers, artists and other industry stakeholders. The blog itself has been cited in a U.S. top-ranked law school's 'International Law Review' journal. Country demographic: Nigeria (26%), USA (23%), UK (15%), UAE (7%), and Other (29%).
Rate us on iTunes
If you enjoy the show, please leave a comment on our iTunes page and our Stitcher page.
Sponsorship and/or Guest Appearance
Please send email to: (africamusiclaw@gmail.com)
Thanks for Listening!
If you enjoyed the show, please share on your social media pages and with friends and family. Also if you have any questions, please feel free to send an email to (africamusiclaw@gmail.com).
Subscribe to Our Podcast Show
Some of Our Achievements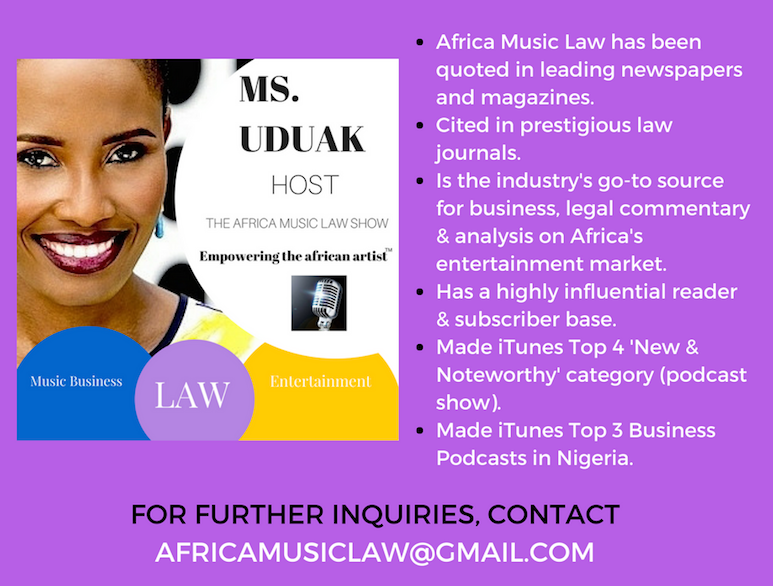 AFRICA MUSIC LAW™ (AML) is a pioneering music business and entertainment law blog and podcast show by Fashion and Entertainment Lawyer Ms. Uduak Oduok empowering the African artist and Africa's rapidly evolving entertainment industry through brilliant music business and entertainment law commentary and analysis, industry news, and exclusive interviews.
Credited for several firsts in the fashion and entertainment industry, Ms. Uduak is also a Partner and Co-Founder of Ebitu Law Group, P.C. where she handles her law firm's intellectual property law, media, business, fashion, and entertainment law practice areas. She has litigated a wide variety of cases in California courts and handled a variety of entertainment deals for clients in the USA, Africa, and Asia. Her work and contributions to the creative industry have been recognized by numerous organizations including the National Bar Association, The American University School of Law and featured in prestigious legal publications in the USA including ABA Journal and The California Lawyer Magazine. She is also an Adjunct Professor at the prestigious Academy of Arts University in San Francisco.
For legal representation inquiries, please email (uduak@ebitulawgrp.com). For blog related inquiries i.e. advertising, licensing, or guest interview requests, please email (africamusiclaw@gmail.com). Thank you for visiting Africa Music Law™.