A few days ago, JJC Skillz turned The BIG 40! and to celebrate, the producer, businessman, father, and new husband to Nollywood actress and filmmaker Funke Akindele showed off his blended family and unveiled his new record label that he co-owns with his wife.
Congratulations JJC on turning the big 40! Wishing you long life and continued prosperity.
AML people, some of you probably know that JJC is a reader and subscriber to AML. What you may not know is that his appearance on The Africa Music Law Show remains one of my favorite. We had a fun time and it was a very inspiring interview.
On the business of music, from the look of things, it seems he is about to give Don Jazzy a run for his money. He rolls out his new label, is planning a corresponding television series about the music industry called 'Industreet,' and his talents will be playing key roles in the series.
"Nothing do you" JJC. I see you. Listen to JJC's appearance on The Africa Music Law Show, in case you missed it, and catch up with the details of his new record company.
Cheers,
~Ms. Uduak
SOP RECORDS' NEW SINGLE – Industreet
[sc_embed_player_template1 fileurl="https://www.africamusiclaw.com/wp-content/uploads/2017/04/01-Industreet-__-africamusiclaw.com_.mp3″]
MEET THE TALENTS AND OWNERS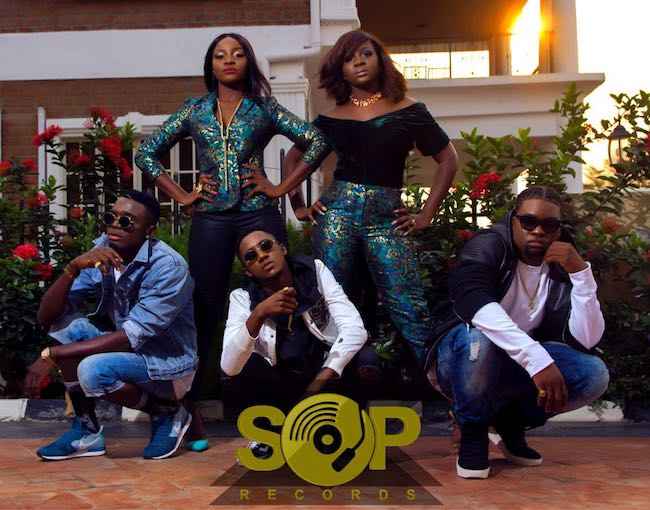 GEM STONES
Awa-Agwu Uzoma Ruby (Rubee) and Awa-Agwu Olanma Pearl, born 9 minutes apart on 18 october, 1994, into a Christian family and hailing from Ohafia town, Abia State, are twin sisters. They are the third and fourth of the six children of Captain Awa Udonsi Agwu and Mrs. Chidinma Awa- Agwu. Being the only set of twins in their closely knit nuclear family, they have grown up doing everything together.
Rubee and Pearl share a lot of interests like Singing, Writing, Acting, Dancing and Working out. Rubee is a beach lover, has a great interest in hair making and styling, loves to try out new dishes, runs a blog on product review, fitness and lifestyle and is addicted to mind games and puzzles. Pearl on the other hand is a lover of adventure who has a great interest in makeup, fashion and modelling, loves to swim and runs a blog on relationships and short stories.
From their nursery to university education, the twins have always been together, pursuing various different interests. They are both graduates of the University of Nigeria, Nsukka, Enugu State where they pursued different interests whilst always being a part of the School choirs'. Ruby in the Pure Sciences, studying Biochemistry and Pearl in Arts, studying Foreign Languages. Both graduated with a Second class upper in 2015 and decided to pursue a major similar interest of theirs, Music.
In June, 2015, the twins auditioned for the MTN Project Fame Music Competition, season 8.0 and were both selected to be in the Reality TV show, with Pearl coming out First Runner Up and working with Yemi Alade and Chidinma to release songs, "Whatever You Do" and "Kedike" remix, respectively. Pearl went on to release her own single, "Kuro" in 2016. And then the duo became a group "Gemstones" under the SOP record label in the same year.
The twins are currently pursuing their music career with Afro RnB as their major genre of music.
MO EAZY
Moses Agboola, popularly known as Mo Eazy, is from Ibadan (OYO state) but was born in the ancient city of Kano, in northern Nigeria. His family eventually settled in South London, UK, where he spent years developing his unique brand of African influenced Hip Hop music.
Though he lived in the UK for the good part of his life, Mo Eazy is well grounded in his African heritage. By combining his native tongue and homegrown rhythms with Western musical influences, he has created a unique style and sound that's increasingly gaining favoritism with fans across Africa and beyond.
The hard working multi-instrumentalist, songwriter, producer and performing artist has had a passion for music for as long as he can remember. Mo Eazy honed his skills playing drums and singing in Church at an early age.
He attributes his intuitive musical sense to growing up listening to his Mother's eclectic music collection, which consisted Nigerian musicians like Fela Kuti, Ebenezer Obey, Ayewa and more. International artists such as Michael Jackson, Jay-Z and soul infused Gospel sounds were also influences.
This musical exposure at a very early age had a strong impact on his use of infectious melodies in his materials till date, giving him an edge that has made him one of the most sought after songwriters and producers in the industry.
His work as a solo artist quickly started to yield dividends in the form of several awards and nominations such as Nigerian Entertainment Award (NEA); Nigeria Arise; Black Entertainment, Fashion, Film, Television, Arts Award (BEFFTA); Best UK Male Act, Best Afro-Caribbean Act, Nigeria Music Video Awards (NMVA), Most Popular Music Video in Europe and Nigerian U.K Based Achievers Award.
He also had the opportunity of performing at huge venues like the O2 arena, while working with industry heavy weights like Craig David, Nate James, Iwan, D-Black, Ray Lavinder (Konvict music), Salif (Konvict music) and Da Grout (Konvict music).
He eventually decided to unleash his arsenal of skills on the Nigerian market with the release of his hit single, 'Red Carpet', which was heavily streamed over the web and enjoyed massive radio and video rotation, even charting in Nigeria and West Africa.
This reception and desire for self-fulfilment contributed to his decision to relocate to Nigeria to continue a better part of his life and career in 2011. Mo Eazy collaborated with major Nigerian artistes such as Tuface, Darey and Modenine and also performed on some of the biggest stages, such as the Calabar Carnival, Rhythm Unplugged, Love Like A Movie, including corporate and presidential events sharing the stage with the likes of D'banj, P Square, Kelly Rowland and a host of others.
Mo Eazy had a cameo appearance in the number one television series owned by the entrepreneur Mrs. Funke Akindele Bello (Jenifas Diary) and would later on given a prominent role that was mostly shot in London.
Now working alongside Scene One Productions, Mo Eazy was also graced with the opportunity to play another prominent role in the forthcoming musical TV drama series titled Industreet, which will enable solid positioning in the entertainment industry.
MARTINSFEELZ
Olawale Ayodeji Martins aka Martinsfeelz, hails from Ilorin, born on the 23rd September 1998, he is the last child of a family of four. And he's currently studying Microbiology at the University of Ilorin.
The zeal to pursue a musical career started in 2011 as a rapper infused with Afrobeat , looking up to the likes of the evergreen JJC Skillz, Slim Joe, Sonorous and Meek mill gave him determination to take music as a profession.
It is of great joy and fulfillment to be signed to the prestigious SOP Records where day by day growth and development is held in high esteem. This has played a major role in grooming my self-confidence and i will definitely bring the same energy to thrill the audience.
SONOROUS
Omokanye Olasunkanmi Muhammed hails from Ilorin, is a very talented young man born February 5, 1992. He started music at a tender age of 15 years old, from miming Usher Raymond and the likes, getting his major break after recording his first single 'Iyamileko' in 2013, a fusion of Afro Fuji pop.
Schooled at Kulende Local Government Primary School Ilorin, Government Secondary School Ilorin and completed OND level at Kwara State Polytechnic.
The road to success is certainly not smooth, having its ups and downs, but consistency and grace led to meeting JJC Skillz and featured him in the soon to be released music television series "Industreets" and got signed to SOP records.