Joakim Karud is a multifaceted and talented music producer from Sweden best known through YouTube, where his music has been featured in approximately 100,000 videos. His sound recordings have been used by famous Vloggers such as Casey Neistat, Tanner Fox, and Sawyer Hartman, who have a combined total of over 10million subscribers and billions of views.
Karud's foray into music began as a child playing piano. By 13 he knew he wanted music as a career and was already producing hip-hop beats. As an adult, he produced and collaborated with diverse artists and producers all in diverse genres (rock, pop and EDM), all in an effort to break into the mainstream Swedish music market. Unfortunately, his efforts yielded no true success and by the end of 2015, he was ready to call it quits.
Nevertheless and with nothing to lose, he decided to create and upload an eclectic blend of all of his influences (60's soul, 90's west coast hip-hop, EDM of the 00's and everything in between), each week, on Soundcloud. His focus was to create sounds that made people feel happy, lacked boundaries and reflected his free spirited nature. This decision changed his life. Almost immediately, people began asking for permission to use his music on You Tube. Today, Karud's music can be heard in over 300-400 new You Tube videos, daily.
Karud doesn't take this for granted. He continues to deliver quality music for You Tube and his listeners on Soundcloud while working with artists and producers. His latest body of work is his recently released EP titled 'Loudness & Clarity.'
Preview
Joakim's personal background
His attempt to break into the music business
His challenges
His final attempt
His breakthrough
How social media has helped him
His future projects
Where to Find Joakim Karud
Website: http://www.joakimkarud.com
Twitter: https://twitter.com/JoakimKarud
Where to Find Ms.Uduak
Twitter: @uduaklaw
Website: www.ebitulawgrp.com
About The Africa Music Law Show with Ms. Uduak
Hosted by California based Fashion & Entertainment Lawyer Uduak Oduok (Ms. Uduak), The Africa Music Law show is a show empowering the African artist through brilliant music business and entertainment law commentary and analysis, industry news, and exclusive interviews. The show has been downloaded over 150,000 times and made iTunes top 4 'New & Noteworthy.' Subscribers include Africa & hollywood's power executives, investors, lawyers, artists and other industry stakeholders. The blog itself has been cited in a U.S. top-ranked law school's 'International Law Review' journal. Country demographic: Nigeria (26%), USA (23%), UK (15%), UAE (7%), and Other (29%).
Rate us on iTunes
If you enjoy the show, please leave a comment on our iTunes page and our Stitcher page.
Sponsorship and/or Guest Appearance
Please send email to: (africamusiclaw@gmail.com)
Thanks for Listening!
If you enjoyed the show, please share on your social media pages and with friends and family. Also if you have any questions, please feel free to send an email to (africamusiclaw@gmail.com).
Subscribe to Our Podcast Show
Some of Our Achievements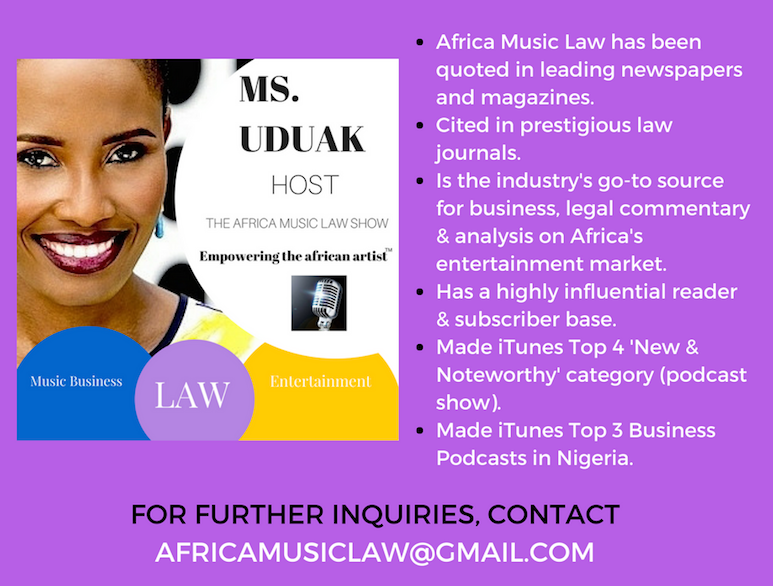 AFRICA MUSIC LAW™ (AML) is a pioneering music business and entertainment law blog and podcast show by Fashion and Entertainment Lawyer Ms. Uduak Oduok empowering the African artist and Africa's rapidly evolving entertainment industry through brilliant music business and entertainment law commentary and analysis, industry news, and exclusive interviews.
Credited for several firsts in the fashion and entertainment industry, Ms. Uduak is also a Partner and Co-Founder of Ebitu Law Group, P.C. where she handles her law firm's intellectual property law, media, business, fashion, and entertainment law practice areas. She has litigated a wide variety of cases in California courts and handled a variety of entertainment deals for clients in the USA, Africa, and Asia. Her work and contributions to the creative industry have been recognized by numerous organizations including the National Bar Association, The American University School of Law and featured in prestigious legal publications in the USA including ABA Journal and The California Lawyer Magazine. She is also an Adjunct Professor at the prestigious Academy of Arts University in San Francisco.
For legal representation inquiries, please email (uduak@ebitulawgrp.com). For blog related inquiries i.e. advertising, licensing, or guest interview requests, please email (africamusiclaw@gmail.com). Thank you for visiting Africa Music Law™.