I am always puzzled by personalities/celebrities who are upset when their fans reject their abrupt attempt at introducing a new brand message/identity to them. Such is the case of Kaffy, a successful choreographer in Nigeria.
Kaffy's fans have seen her in diverse clothing styles dancing across stages in Africa. They have come to associate her brand with respect, strength, innovation, creativity, inspiration, empowerment, and the 21st century modern Nigerian/African woman who can have and do it all.
They have NOT associated her brand with posing nude. So, when she recently introduced a nude photo of herself and her fans rejected it, I wonder what she was expecting? By the way folks, nude here is relative to Kaffy's Nigerian/African audience; and nothing compared to Kim Kardashian's nude photos that broke the internet.
Again, what did she expect? How can you push the image of a woman who is a wife, a great homemaker, a mother of two adorable kids, a mentor, a keep your clothes on except for dance where you wear appropriate attire, an educator etc., and then "strip naked" by Nigerian standards and not expect a push back?
Don't get mad at your audience or fans for rejecting your attempt to sell them something different that they never asked for. Be mad that your brand message got lost in translation because you could not communicate it well, then go back to the drawing table and sort it out.
What is your brand identity? Who were you in the past? Who are you now? Why do you feel the need to communicate this new side of you? Why should we care? What's the relevance of this new you to the African man and/woman, and the context/environment you live in? How best do you communicate your evolution?
What?  You didn't think you needed to put in the work? Well guess what? You have to.
Personally, I frankly don't see the need for this photo on social media. Kaffy has much work ahead of her with her dance, and while she has been impressive, she hasn't even started, not in my book.
I am not sure what the point of this photo, stance and pose that has been done thousands of times around the world is.
People care about her dance, not some nude photo, really. People care that in Africa, a pregnant woman can defy all odds, get on stage and dance harder than ALL of the men on that stage. She can be a wife, mother, a successful business woman etc. and do so with such class and finesse. That is why we love Kaffy. She reminds us that what a man can do, a woman can do better.
-Ms. Uduak
Subscribe to Our Podcast Show
Some of Our Achievements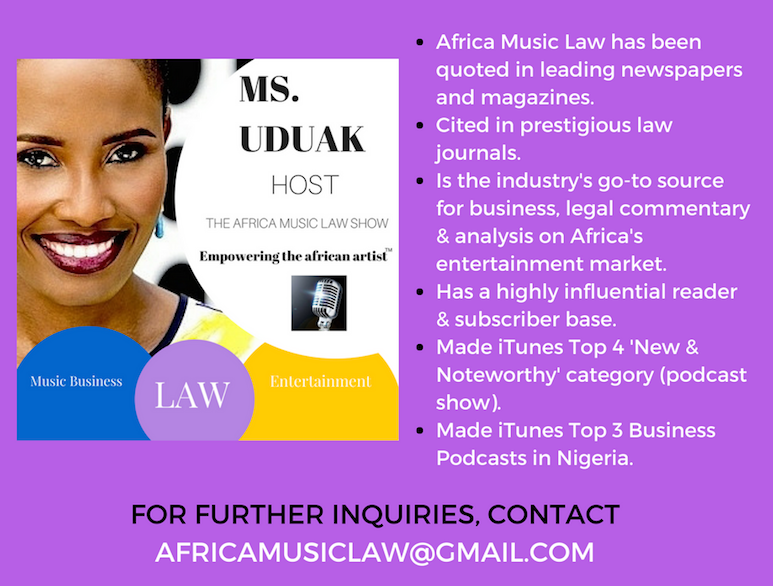 AFRICA MUSIC LAW™ (AML) is a pioneering music business and entertainment law blog and podcast show by Fashion and Entertainment Lawyer Ms. Uduak Oduok empowering the African artist and Africa's rapidly evolving entertainment industry through brilliant music business and entertainment law commentary and analysis, industry news, and exclusive interviews.
Credited for several firsts in the fashion and entertainment industry, Ms. Uduak is also a Partner and Co-Founder of Ebitu Law Group, P.C. where she handles her law firm's intellectual property law, media, business, fashion, and entertainment law practice areas. She has litigated a wide variety of cases in California courts and handled a variety of entertainment deals for clients in the USA, Africa, and Asia. Her work and contributions to the creative industry have been recognized by numerous organizations including the National Bar Association, The American University School of Law and featured in prestigious legal publications in the USA including ABA Journal and The California Lawyer Magazine.
For legal representation inquiries, please email (uduak@ebitulawgrp.com). For blog related inquiries i.e. advertising, licensing, or guest interview requests, please email (africamusiclaw@gmail.com). Thank you for visiting Africa Music Law™.