A common problem in the African diaspora and on the continent is event promoters or organizers using images of models, actors and famous faces to promote their events without consent. This issue, which is in fact an epidemic, came to the forefront this week when popular Nigerian comedian Akpororo used the image, name and likeness of actress Kate Henshaw to promote his upcoming event.
Henshaw got news of it and issued a 48hours ultimatum asking that he remove any and all marketing and promotional materials with her name, image and likeness. The good news is that Akpororo responded and apologized. The bad news is that again this is a major problem and frankly speaking, there are people who probably bought tickets because they believed Kate Henshaw would be present.
African event promoters and organizers reading this, take the lesson from this story and seek consent when you decide to use the image, name and likeness of others in your promotional campaigns. Henshaw did not sue but you can be sued for such illegal use.
Also, per the image issue, if you really need to use images for your promotional materials, you have the option of purchasing royalty free stock images for your use. An example of a portal with stock images is OnNigeria.com. Check it out but also do your due diligence.
Finally, don't represent that someone will host or be at your event when there is no confirmation and a written contract in place. This can expose you to allegations of fraud and ruin your reputation when the persons involved say that your representations are false, they never signed a contract with you, and worse refuse to show up on the day of your events.
-Ms. Uduak
"'There is a thing called RESPECT in this industry. The sooner people recognise this..the better it will be for all. Do not take my smile and simplicity for stupidity! Notice of 48hrs is hereby given to the organisers to remove my name and image from all publicity associated with this event. Thank you'."

Akpororo's apology

'Good evening ma, before anything else just want to say I'm very sorry ma for the misunderstanding, so sorry for not following up after our last conversation about my show (Akpororo vs Akpororo which is taking place at Eko Hotel and Suites July 8th) when you were out of the country the other day, I will never disrespect you or even take you for granted for any reason, I respect you so much ma, please pardon me ma.

Thanks and GOD bless you ma."
Subscribe to Our Podcast Show
Some of Our Achievements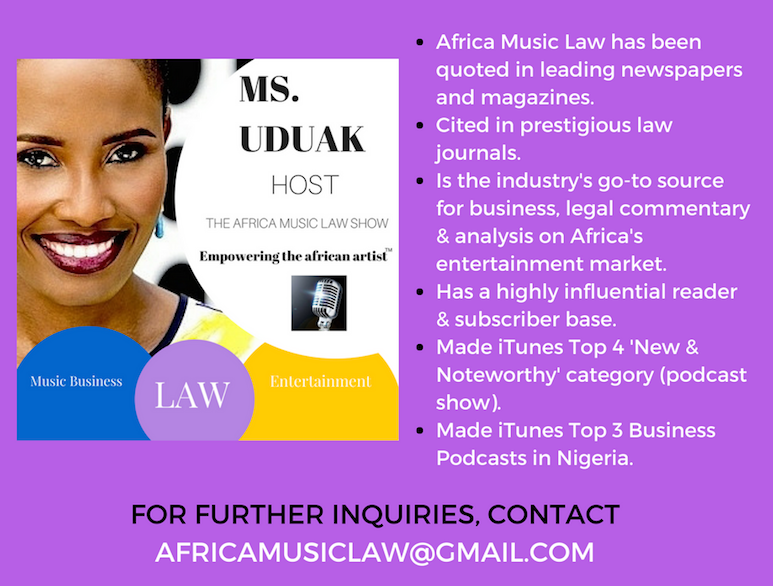 AFRICA MUSIC LAW™ (AML) is a pioneering music business and entertainment law blog and podcast show by Fashion and Entertainment Lawyer Ms. Uduak Oduok empowering the African artist and Africa's rapidly evolving entertainment industry through brilliant music business and entertainment law commentary and analysis, industry news, and exclusive interviews.
Credited for several firsts in the fashion and entertainment industry, Ms. Uduak is also a Partner and Co-Founder of Ebitu Law Group, P.C. where she handles her law firm's intellectual property law, media, business, fashion, and entertainment law practice areas. She has litigated a wide variety of cases in California courts and handled a variety of entertainment deals for clients in the USA, Africa, and Asia. Her work and contributions to the creative industry have been recognized by numerous organizations including the National Bar Association, The American University School of Law and featured in prestigious legal publications in the USA including ABA Journal and The California Lawyer Magazine.
For legal representation inquiries, please email (uduak@ebitulawgrp.com). For blog related inquiries i.e. advertising, licensing, or guest interview requests, please email (africamusiclaw@gmail.com). Thank you for visiting Africa Music Law™.