By now you must have heard the drama surrounding Kevin Hart. He was asked to host the 2019 Oscars. He agreed. However, someone dug his old tweets from almost a decade ago that used derogatory/offensive words (albeit in a comedic and societal climate where it used to be okay) against members of the LGBTQ community.
Kevin Hart, on his own volition, reacted by sharing a video on social media where he explained that he had apologized for many years, over and over again, had evolved, and could not continue to be held a prisoner of his past. In addition, he shared that organizers of the Oscars had given him an ultimatum: you should apologize yet again or else you will not be hosting the Oscars. Hart explained he chose to step down because once again, he refused to keep apologizing again for his past sins.
After all that drama that he created over the situation, and after he stepped down, he went on social media and apologized. So I am wondering what the point of all that noise he created was if he would just turn around and apologize again? Hart could have kept quiet, sorted out his emotions and apologize, again, if he felt it appropriate to do so.
I know some might say he realized he needed to still apologize to protect his livelihood in an entertainment industry where members of the LGBTQ community wield a huge influence. While that is a valid argument, the point is that it diminishes his credibility when he says he won't do something, makes so much noise about it, and still ends up doing it. This is a pattern I have noted with Hart.
I think for long-term credibility and to protect the very livelihood he is concerned about, he needs to learn to be quiet and ponder things carefully before reacting, especially if he ends up undermining himself each time he speaks.
-Ms. Uduak
Subscribe to Our Podcast Show
Some of Our Achievements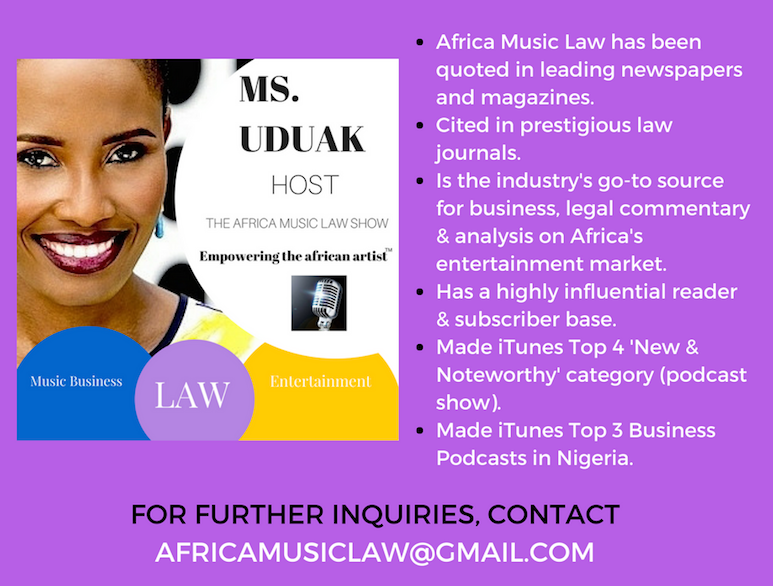 AFRICA MUSIC LAW™ (AML) is a pioneering music business and entertainment law blog and podcast show by Fashion and Entertainment Lawyer Ms. Uduak Oduok empowering the African artist and Africa's rapidly evolving entertainment industry through brilliant music business and entertainment law commentary and analysis, industry news, and exclusive interviews.
Credited for several firsts in the fashion and entertainment industry, Ms. Uduak is also a Partner and Co-Founder of Ebitu Law Group, P.C. where she handles her law firm's intellectual property law, media, business, fashion, and entertainment law practice areas. She has litigated a wide variety of cases in California courts and handled a variety of entertainment deals for clients in the USA, Africa, and Asia. Her work and contributions to the creative industry have been recognized by numerous organizations including the National Bar Association, The American University School of Law and featured in prestigious legal publications in the USA including ABA Journal and The California Lawyer Magazine. She is also an Adjunct Professor at the prestigious Academy of Arts University in San Francisco.
For legal representation inquiries, please email (uduak@ebitulawgrp.com). For blog related inquiries i.e. advertising, licensing, or guest interview requests, please email (africamusiclaw@gmail.com). Thank you for visiting Africa Music Law™.