It's been a few weeks since I blogged. If you are a subscriber to the AML newsletter, you will know that I took a break and it is good to be back.
Last we left off, the hot topic was Nigerian celebrity gossip blogger Linda Ikeji announcing her pregnancy to the world. Ordinarily, this would not even be news on AML, except that Ikeji's news created quite a storm because many called her out for what they perceived as hypocrisy. Ikeji, they claimed, preached celibacy until marriage but here she was pregnant and about to birth a child out of wedlock.
Weeks later, while many remain discussing her hypocrisy, what seems to be gaining momentum is her insistence on not revealing the identity of her "baby daddy."
Ikeji has thrived and built a media empire partly through a Maury Pauvich styled exclusive revelation of the "baby daddies" and "baby mamas" of numerous Nigerian celebrities. Indeed, such revelations have caused much conflicts with the affected parties, including the notable case of Wizkid. So, it is indeed ironic that when the roles change and the storyteller becomes the story, the storyteller cannot handle the heat of revealing her own "baby daddy".
I don't know how long Ikeji believes she can conceal the identity of her baby daddy. But, one thing is for sure. Whomever discovers the protected information will be the next big publication/blogger to watch.
-Ms. Uduak
Subscribe to Our Podcast Show
Some of Our Achievements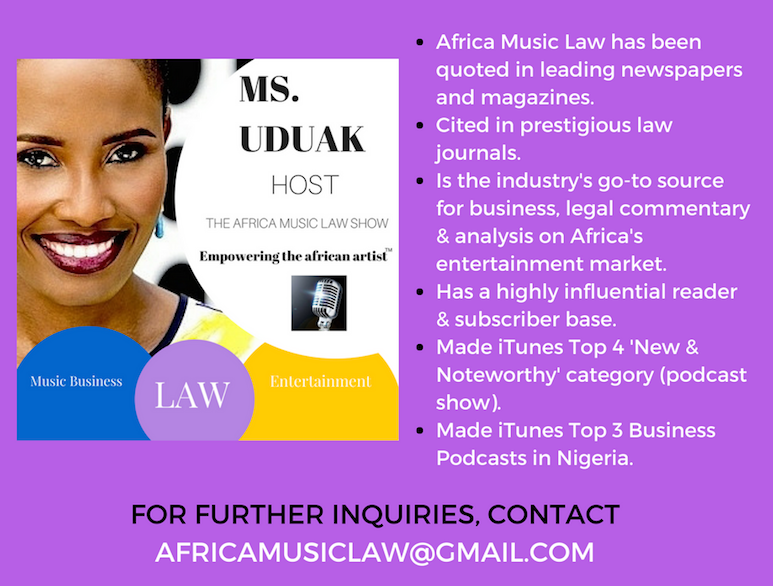 AFRICA MUSIC LAW™ (AML) is a pioneering music business and entertainment law blog and podcast show by Fashion and Entertainment Lawyer Ms. Uduak Oduok empowering the African artist and Africa's rapidly evolving entertainment industry through brilliant music business and entertainment law commentary and analysis, industry news, and exclusive interviews.
Credited for several firsts in the fashion and entertainment industry, Ms. Uduak is also a Partner and Co-Founder of Ebitu Law Group, P.C. where she handles her law firm's intellectual property law, media, business, fashion, and entertainment law practice areas. She has litigated a wide variety of cases in California courts and handled a variety of entertainment deals for clients in the USA, Africa, and Asia. Her work and contributions to the creative industry have been recognized by numerous organizations including the National Bar Association, The American University School of Law and featured in prestigious legal publications in the USA including ABA Journal and The California Lawyer Magazine. She is also an Adjunct Professor at the prestigious Academy of Arts University in San Francisco.
For legal representation inquiries, please email (uduak@ebitulawgrp.com). For blog related inquiries i.e. advertising, licensing, or guest interview requests, please email (africamusiclaw@gmail.com). Thank you for visiting Africa Music Law™.