Linda Ikeji is a Nigerian celebrity blogger who made a name for herself primarily through reporting salacious gossips about Nigerian and other celebrities. Ikeji worked hard at her craft to become the number one gossip blogger in Nigeria, and I dare say Africa.
In recent times, she has expanded her brand to include a video on demand service providing mostly VH1 type content for Nigerians. As a result of her hard work, and her timing in the marketplace, Ikeji's earnings went from zero to averaging over one million U.S. dollars a year. She now owns homes, and rents offices in some of the most expensive parts of Lagos, Nigeria where she is based.
Of particular interest in the way she made her money, was what some argued was shaming women (particularly groupies) who had babies out-of-wedlock for their celebrity baby daddies. Ikeji became a master at bringing Nigerian and African audiences, globally, the exclusives on the children these women and men birthed. A particular standout was her coverage of Nigerian popular artist Wizkid when he had yet another child, his second, with an American woman of African heritage. It appears Wizkid was the least interested in recognizing his child. Ikeji's exclusive story forced him to deal with his child, his "baby mama" drama, and the immense abuse from the Nigerian and African public. It is probably why Wizkid hated Ikeji and lashed out against her. He cursed and mocked her for being almost 40, unmarried and no children. He laughed at her role as just a gossip blogger who allegedly ruined lives. He also threatened her physical safety. The threat was taking things too far and she rightfully got the police involved.
In addition, Ikeji blacklisted Wizkid from her blog, and ceased all reporting on him. Indeed despite some of his monumental highs and lows affecting African and global pop culture, she has stayed silence. Prior to and after the whole Wizkid debacle, one of the things Ikeji has always maintained is that a woman does not need marriage and children to be validated.
In fact, Ikeji periodically shared this message of self empowerment, and started a young woman empowerment program. Ikeji's message of empowerment seemed to serve as a shield to the destructive, negative, and trashy content she peddled on her blog. Now, however, it seems Ikeji may not have fully believed her message of not needing a man to validate her.
On her birthday, September 19, 2018, and a few days after the birth of her first and only child, out-of-wedlock, and by a man whose identity she has kept secretive (how ironic), she shares with the world her intense desire to cross off two things on her checklist: being a mom before 38, and a wife.
Ikeji has spent almost a decade reporting on baby mamas and revealing the identities of celebrity men who preferred to remain anonymous while taking care of their responsibilities with these baby mamas. Her platform has been the source of abuse, attacks and mockery of these baby mamas, and their celebrity fathers. So, what happens now that the tables are turned and she is the baby mama, and hiding the identity of her baby daddy?
Should she now enjoy anonymity when it comes to who her baby daddy is?
I personally don't believe that Ikeji will be shielded. While Nigerians tend to fear people with money, even though they may not respect them, I don't believe Ikeji's wealth status will stop them from calling out her hypocrisies and mocking her, much the same way she used her platform to mock others.
I believe that while Ikeji has made blogging a coveted profession in Nigeria and Africa, it is not enough to insulate her from a similar shaming and mockery her gossips caused to individuals like Ice Prince and his baby mama, Wizkid and his baby mamas, Davido and his baby mamas, Peter Okoye and his baby mama (before he married her), among many.
Indeed, the tables are already turning.
1. We now know who her baby daddy is i.e. Sholaye Jeremi. See Style Rave's credible reporting revealing the identity of the father.
2. We also now know that the authenticity of her pregnancy and delivery has been questioned, with many believing and writing stories about her alleged fake pregnancy. This has forced Ikeji to chronicle every aspect of her birth process to debunk the stories of a fake pregnancy.
3. Ikeji, wealthy or not, has to deal with the realities she created for others. It is the basic law of nature and I am sure that as a gossip blogger, she understands.
4. With a baby daddy who will endure a lot of pressure from being associated with her as a blogger who has allegedly ruined lives, I won't be surprised if Ikeji transitions into everything but gossip blogging in the nearest future. This, of course, is if she is still hoping he puts a ring on it.
See Ikeji's statement below.
-Ms. Uduak
——-
"Today September 19th, I turn 38 and I can say without any doubt that 2018 has been the best year of my life so far! I became a mum. Something that I always wanted and wondered when it will happen for me.
.
On my 37th birthday last year, I went down on my knees and told God, you've blessed me beyond what I thought was possible but there's something I want more than anything else; to be a wife and a mum before my next birthday. We will talk about the wife one later…but the one that was more important, the one my heart desired the most, he gave to me. My own child. Two days before my next birthday. Dear Lord in heaven, thank you. I don't know what I did, or what I have done to make you continually bless me and answer all my prayers.
.
Above pic shows me trying to catch a glimpse of my son seconds after he was born and placed in my arms. It took me the whole of two minutes to push him out. I recorded it and I've watched the video over and over again in wonder. I thought I would be in the labour room for hours especially because of my age and how people say the older you get, the harder it is to give birth but my son was placed in my arms exactly 2mins 19secs after I began to push. .
.
I saw many comments on here of people praying I deliver like the Hebrew women and your prayers were answered. My delivery went so well. I can't wait to go through this journey of pregnancy and child birth again. By far the most amazing experience of my life. And the guys at Emory University Hospital in Atlanta are the best. . I'll recommend them. .
.
Thank you guys for all the birthday wishes. God bless you and yours and I hope everything you ask God for, He gives to you. May blessings never cease in your life. Amen. Kisses.
.
By the way, I did something crazily crazy for my baby boy. You will hear about it soon!. My mum has been giving me and my dad bad eyes since. Hahaha"
Subscribe to Our Podcast Show
Some of Our Achievements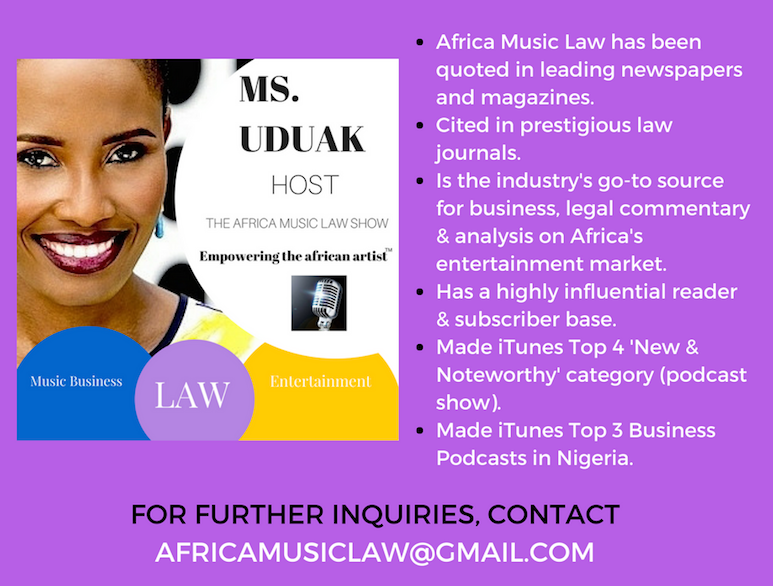 AFRICA MUSIC LAW™ (AML) is a pioneering music business and entertainment law blog and podcast show by Fashion and Entertainment Lawyer Ms. Uduak Oduok empowering the African artist and Africa's rapidly evolving entertainment industry through brilliant music business and entertainment law commentary and analysis, industry news, and exclusive interviews.
Credited for several firsts in the fashion and entertainment industry, Ms. Uduak is also a Partner and Co-Founder of Ebitu Law Group, P.C. where she handles her law firm's intellectual property law, media, business, fashion, and entertainment law practice areas. She has litigated a wide variety of cases in California courts and handled a variety of entertainment deals for clients in the USA, Africa, and Asia. Her work and contributions to the creative industry have been recognized by numerous organizations including the National Bar Association, The American University School of Law and featured in prestigious legal publications in the USA including ABA Journal and The California Lawyer Magazine. She is also an Adjunct Professor at the prestigious Academy of Arts University in San Francisco.
For legal representation inquiries, please email (uduak@ebitulawgrp.com). For blog related inquiries i.e. advertising, licensing, or guest interview requests, please email (africamusiclaw@gmail.com). Thank you for visiting Africa Music Law™.