Exactly a month after announcing the launch of her social network, Linda Ikeji Social (LIS), celebrity gossip blogger Linda Ikeji introduces her new staff through a dance music video. Ikeji's video is fun and lighthearted.
While she celebrates, the verdict is still out on whether Ikeji's LIS network can scale and have the same tremendous reach, if not more, like her blog. Indeed, Ikeji has been aggressively promoting LIS, from taking banner ads on other blogs to offering extensive giveaways, among other things. Ikeji is also active with the marketing and promotion of her newly launched television and music media brands.
Watch the dance music video. I presume she got the requisite copyright clearance for use of Stevie Wonder's 1981 classic hit song 'Happy birthday,'and we won't see a take down of the video on You Tube in the future.
Photocredit: Linda Ikeji Instagram
Subscribe to Our Podcast Show
Some of Our Achievements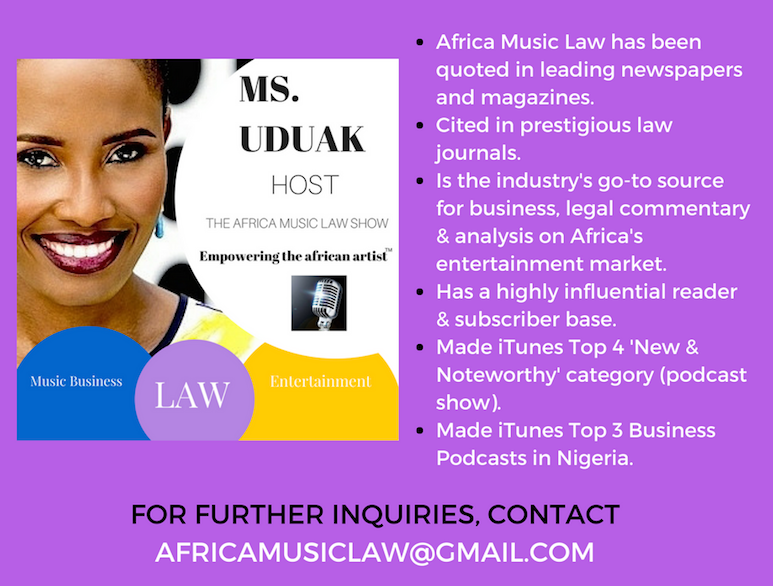 AFRICA MUSIC LAW™ (AML) is a pioneering music business and entertainment law blog and podcast show by Fashion and Entertainment Lawyer Ms. Uduak Oduok empowering the African artist and Africa's rapidly evolving entertainment industry through brilliant music business and entertainment law commentary and analysis, industry news, and exclusive interviews.
Credited for several firsts in the fashion and entertainment industry, Ms. Uduak is also a Partner and Co-Founder of Ebitu Law Group, P.C. where she handles her law firm's intellectual property law, media, business, fashion, and entertainment law practice areas. She has litigated a wide variety of cases in California courts and handled a variety of entertainment deals for clients in the USA, Africa, and Asia. Her work and contributions to the creative industry have been recognized by numerous organizations including the National Bar Association, The American University School of Law and featured in prestigious legal publications in the USA including ABA Journal and The California Lawyer Magazine.
For legal representation inquiries, please email (uduak@ebitulawgrp.com). For blog related inquiries i.e. advertising, licensing, or guest interview requests, please email (africamusiclaw@gmail.com). Thank you for visiting Africa Music Law™.