Linda Ikeji, a Nigerian gossip blogger turned media mogul, announced her pregnancy on social media yesterday, Sunday May 20, 2018.
Her announcement was received with mixed reaction from the public. Many have congratulated her and just as many have criticized her for having a child out of wedlock when she has profited from and made it her business to cast Nigerian celebrities (especially musicians like Wizkid) in a negative light for doing the same thing. Wizkid is the father of three children, all out of wedlock. Ikeji's coverage of the musician and his "baby mama" shenanigans sparked an outrage from him in 2016, threats, and mockery of Ikeji for being almost 40 and unmarried.
Since then, Ikeji no longer covers any stories, good or bad, about Wizkid.
Ikeji has also received backlash from her fans who have criticized her for preaching celibacy but acting to the contrary.
In response to the criticism on celibacy, Ikeji said, "I preached celibacy to young girls because I feel that's the right way to live until you meet someone very special that you love and who loves you and wants to be in a committed relationship with you. Passing body around and having multiple partners is not the way and I stand by it.
And I've lived by it. But then I turned 36 and I knew there was nothing else I wanted more than to be a mum & wife and celibacy wasn't going to get me that! I even did a video talking about how much I wanted these two things and God has finally answered my prayers. Beyond blessed."
See her original post below announcing her pregnancy on social media.
"My greatest dream has been realized. I'm going to be a mum. There's nothing that has happened in my life that compares to this. I'm beyond happy. I love children so much and literally obsessed with babies and to think in a few months, I'll look down at a baby and he will be mine. My own son.
No accomplishment, no title, no milestone, no achievement, no money or worldly possession compares to this. This is my greatest blessing. My gift from heaven.
Dear God, thank you so much for this gift! Thank you!
I wrote a piece on my blog about finding out I was pregnant early this year and all the emotions I've felt since then. You can go read it if you want.
Thank you so much for all your well wishes. I appreciate your love and kindness.
May God visit everyone for whatever their hearts desires are. May all your prayers be answered. God bless."
——
Best wishes to her.
-Ms. Uduak
Subscribe to Our Podcast Show
Some of Our Achievements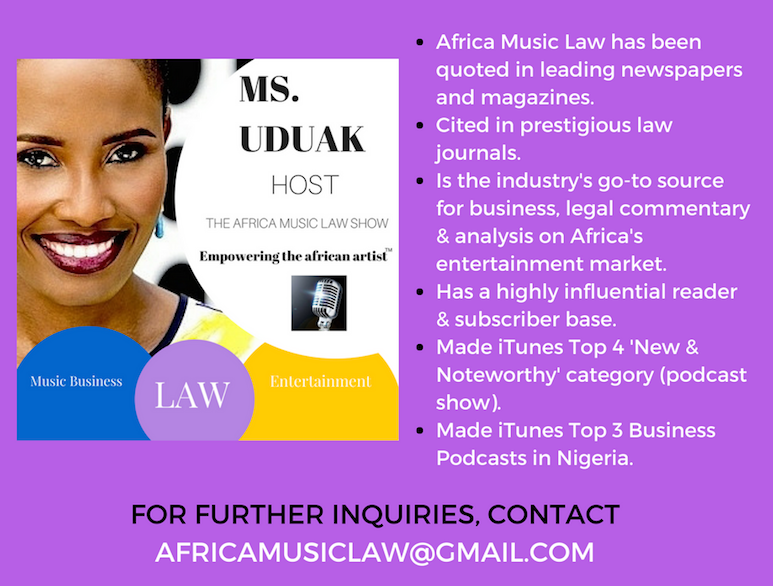 AFRICA MUSIC LAW™ (AML) is a pioneering music business and entertainment law blog and podcast show by Fashion and Entertainment Lawyer Ms. Uduak Oduok empowering the African artist and Africa's rapidly evolving entertainment industry through brilliant music business and entertainment law commentary and analysis, industry news, and exclusive interviews.
Credited for several firsts in the fashion and entertainment industry, Ms. Uduak is also a Partner and Co-Founder of Ebitu Law Group, P.C. where she handles her law firm's intellectual property law, media, business, fashion, and entertainment law practice areas. She has litigated a wide variety of cases in California courts and handled a variety of entertainment deals for clients in the USA, Africa, and Asia. Her work and contributions to the creative industry have been recognized by numerous organizations including the National Bar Association, The American University School of Law and featured in prestigious legal publications in the USA including ABA Journal and The California Lawyer Magazine. She is also an Adjunct Professor at the prestigious Academy of Arts University in San Francisco.
For legal representation inquiries, please email (uduak@ebitulawgrp.com). For blog related inquiries i.e. advertising, licensing, or guest interview requests, please email (africamusiclaw@gmail.com). Thank you for visiting Africa Music Law™.