A year after she announced the launch of her media empire, celebrity blogger Linda Ikeji has announced on her Instagram page that she is set to launch her own television station.
"Growing up I wanted to be a reporter or a TV presenter… now I employ reporters and TV presenters," said Ikeji. "Instead of working at a TV station, I'm about to own one. God has a way of doing his thing. Just trust him and never depart from him as you go on your journey. And remember, you just can't beat the person who never gives up."
In my view, this was forthcoming. Linda Ikeji's empire launch included an unveiling of a music blog, a social network, and a Linda Ikeji TV creating digital content. Of all of the subsidiaries, the one that has really taken off has been the Linda Ikeji TV. So, it definitely does make natural sense to move in the direction she is.
The current digital television channel has 10 key programs it offers:
The Report Card
Hot Topics
The Interview
Crime Story
Rumor has It
LIB Special
Gidi Pranks
The Red Carpet
Buzz'r TV
Uncle Bros
If successfully launched, Linda Ikeji will join Mo'Abudu as one of two women in Nigeria who own a television station.
From blogger to TV station owner, now that's a story. Congrats Linda.
-Ms. Uduak
Watch one of the more popular shows on Linda Ikeji TV

Subscribe to Our Podcast Show
Some of Our Achievements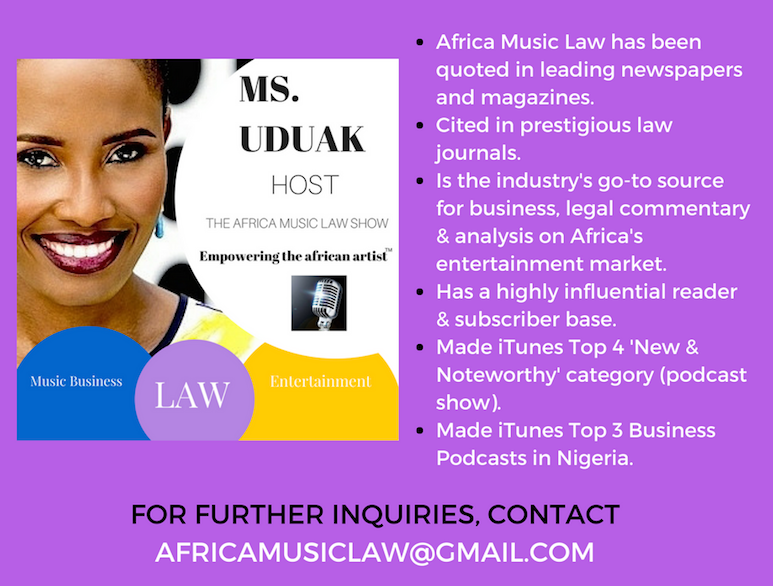 AFRICA MUSIC LAW™ (AML) is a pioneering music business and entertainment law blog and podcast show by Fashion and Entertainment Lawyer Ms. Uduak Oduok empowering the African artist and Africa's rapidly evolving entertainment industry through brilliant music business and entertainment law commentary and analysis, industry news, and exclusive interviews.
Credited for several firsts in the fashion and entertainment industry, Ms. Uduak is also a Partner and Co-Founder of Ebitu Law Group, P.C. where she handles her law firm's intellectual property law, media, business, fashion, and entertainment law practice areas. She has litigated a wide variety of cases in California courts and handled a variety of entertainment deals for clients in the USA, Africa, and Asia. Her work and contributions to the creative industry have been recognized by numerous organizations including the National Bar Association, The American University School of Law and featured in prestigious legal publications in the USA including ABA Journal and The California Lawyer Magazine. She is also an Adjunct Professor at the prestigious Academy of Arts University in San Francisco.
For legal representation inquiries, please email (uduak@ebitulawgrp.com). For blog related inquiries i.e. advertising, licensing, or guest interview requests, please email (africamusiclaw@gmail.com). Thank you for visiting Africa Music Law™.