In April 2016, Linda Ikeji indirectly discussed, on her blog, Wizkid's refusal to acknowledge his second child from his second "baby mama." Her reporting resulted in a very ugly/nasty behaviour by Wizkid including threatening physical assault on Ikeji.
After fans of Wizkid also joined in heaping insults and threatening violence against her, Ikeji,  rightfully engaged the Lagos State Police. The outcome was that Wizkid was forced to apologize and some other arrangements worked out by the police, that prevented his arrest and prosecution.
Since then, however, Ikeji has kept a grudge against Wizkid as demonstrated by her refusal to report any news stories about him, particularly his achievements that extend and propel Nigeria/Africa forward.
In case you are unfamiliar with Ikeji, she has one of the leading blogs in Africa, and also ranks on Alexa as one of the top 3,000 blogs, globally. Ikeji routinely covers news stories from all around the world ranging from celebrity, creepy, to gossip news, and everything in between.
When you have someone with such a powerful platform hold a grudge towards an artist that has wronged her, but apologized (albeit by police intervention), I believe the movement and culture suffers.
This is because some of Wizkid's achievements are not just unique to Wizkid but for all Africans and Black people worldwide. They are for the culture.
For example, Africa Facts Zone summarizes Wizkid's achievements in 2017 as follows:
"Wizkid's 2017
1 ASCAP, 3 BBMAs, 2 iHeart Radio Awards, 1 Echo, 1 BET, 1 MOBO.
Grammy & Soul Train nod.
GWR.
Sold out Royal Albert Hall.
SFTOS on Billboard 200.
Tinie, Zara, Wale & Jeezy's albums.
Come Closer, gold in Canada & Silver in the UK. Peaked at #58 (UK),#54 (CAN)"
Wizkid's 2017

1 ASCAP, 3 BBMAs, 2 iHeart Radio Awards, 1 Echo, 1 BET, 1 MOBO.

Grammy & Soul Train nod.

GWR.

Sold out Royal Albert Hall.

SFTOS on Billboard 200.

Tinie, Zara, Wale & Jeezy's albums.

Come Closer, gold in Canada & Silver in the UK. Peaked at #58 (UK),#54 (CAN) pic.twitter.com/mngs7kOZrE

— Africa Facts Zone (@AfricaFactsZone) December 9, 2017
Of all those achievements, Ikeji has reported zilch (0). Here is how Ikeji's timeline of news on Wizkid has been.
From April 2016 to September 2017 (18months/1yr six months), Ikeji refused to report any news on Wizkid.
In September, she finally posted a music video by Shaydee ft. Wizkid. Presumably, Shaydee paid for the music video since Ikeji charges for music videos on her site.
After her audience challenged her about her holding a grudge, on December 1st, 2017, she published Classy DJ Exprezioni's mixtape which included Wizkid.
On December 6, 2017, she promoted Flytime's Rhythm Unplugged Concert which headline Wizkid.
How many Africans, despite all the creativity the continent has produced, have received the global recognition Wizkid has in today's contemporary society?
Now let me be clear. Artists do not have a right to publicity on blogs. It is indeed very annoying and a major pet peeve for me when I see artists approach bloggers, myself included, with a sense of entitlement. Artists have their marketing budgets to promote their projects and should set aside funds for advertising on blogs. Bloggers should not be expected to provide free publicity to artists. (Bloggers you already know or should know to indicate "Advertising" or "Sponsored" posts when you are paid to promote any work on your blogs). If a blogger decides to do so, an artist should not think that gives them a right to encroach or limit the voice of the blogger, abuse or threaten violence for reporting other stories about the artist that the public has a right to know.
Wizkid did have a second baby from a second baby mama. So what Linda Ikeji reported was factual and true. Wizkid now has a third child from a third "baby mama", his alleged manager and British brand consultant Jada Pollock.
However, 21 months later, isn't it time for Ikeji to move beyond her grudge and focus on what is in the best interest of the culture, Nigeria/Africa et al?
-Ms. Uduak
Subscribe to Our Podcast Show
Some of Our Achievements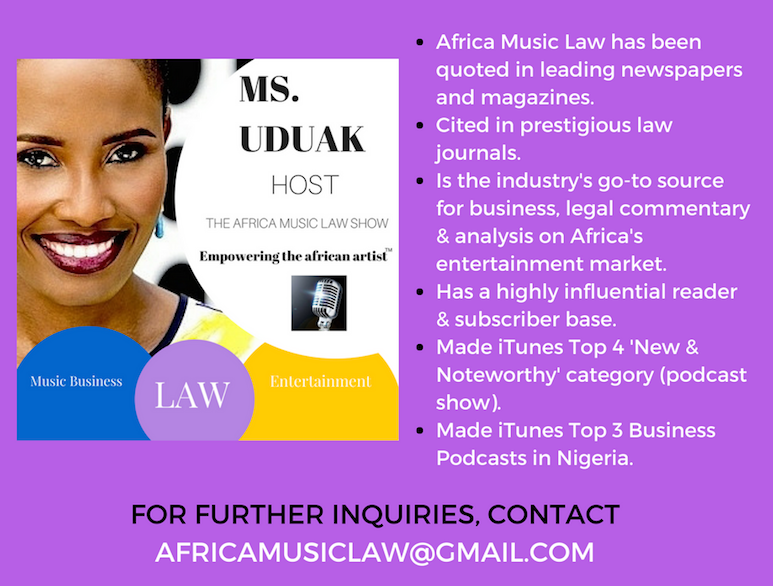 AFRICA MUSIC LAW™ (AML) is a pioneering music business and entertainment law blog and podcast show by Fashion and Entertainment Lawyer Ms. Uduak Oduok empowering the African artist and Africa's rapidly evolving entertainment industry through brilliant music business and entertainment law commentary and analysis, industry news, and exclusive interviews.
Credited for several firsts in the fashion and entertainment industry, Ms. Uduak is also a Partner and Co-Founder of Ebitu Law Group, P.C. where she handles her law firm's intellectual property law, media, business, fashion, and entertainment law practice areas. She has litigated a wide variety of cases in California courts and handled a variety of entertainment deals for clients in the USA, Africa, and Asia. Her work and contributions to the creative industry have been recognized by numerous organizations including the National Bar Association, The American University School of Law and featured in prestigious legal publications in the USA including ABA Journal and The California Lawyer Magazine.
For legal representation inquiries, please email (uduak@ebitulawgrp.com). For blog related inquiries i.e. advertising, licensing, or guest interview requests, please email (africamusiclaw@gmail.com). Thank you for visiting Africa Music Law™.