After the release of his hit single 'Gbagbe oshi' through Sony Music, Davido had the opportunity to promote the song across Nigeria to drive the sale of his EP 'Son of Mercy.' During one such promotion on The Beat 99.9FM in Lagos (the interview is now available online), he was asked, explicitly, by the host (Toolz), why he was yet to sign a female artist to his Davido Music Worldwide label.
His response was that he could not sign a female artist to his label unless she was his  sister or  daughter, because "things would go down." In relevant part, below is the conversation:
"Toolz: You know me, I am always for female artists. Are you going to sign any female artist? 

Davido: Mennh I don't think I can handle a female artist.

Toolz: Why?! 

Davido: Female artist you will have to be like my sister, like my daughter. You know things are gonna go down. You know… (Laughs)"
His body language when he said "things would go down," appeared to insinuate "things will go down" in a sexual manner. It in fact has been interpreted that way by listeners/viewers of the audio/video clip.
Davido's statements were terrible, indicated or insinuated an intent to sexually assault, or harass any female artists he signs to his label, and is not one any artist, much less Davido, should be making. Davido is a Sony artist. He now represents that brand and the fact that he would make such insinuation or statements, which are highly contradictory to what Sony says they stand for, is appalling!
This week, news reports now state that Davido has signed British-Ghanaian artist Lola Rae to his Nigerian label, Davido Music Worldwide. Given this signing and his previous statement discussed above, the obvious question is, should Lola Rae be concerned about being sexually assaulted by Davido?
If the answer is "no," then when will Davido make clear that he does not condone any type of sexual harassment, assault or violence towards any female artist, and that his statements were just terrible to make? It is particularly important that Davido, a  highly influential artist across Africa, make this denunciation. This is because:
1. Women are highly underrepresented in the industry.
2. The lack of representation is not because women do not try. It is primarily because of sexual assault, violence and harassment that have been a major stumbling block for female artists to progress in the industry.
3. Further, the mindset  that persons like Davido have and the statements they make only perpetuates these sexual assaults/harassment on female artists in the industry.
Indeed, we know that even leading names in the industry such as Tiwa Savage have not been spared from sexual harassment. In April of this year, Tiwa spoke at a Youth Enterprise Conference held at the Eko Hotel & Suites in Victoria Island, Lagos. During her speech, she said, "Ladies face a lot in the industry. These men cannot but ask for sex from us…A lot of times they said that they wanted to help me but actually they wanted me to do "something" with them. Luckily I had a crazy boyfriend who ended up being my husband. He just shot them down."
Not everyone is "lucky" as Tiwa to have a protector in the industry to avoid sexual assault or harassment. Indeed, over the course of the five years of owning this blog, numerous young women in the industry have approached me about their experiences with sexual assault and harassment in the music business.
Again, the statements by Davido are unacceptable, and I think it is a big red flag now that he has signed Lola Rae to his label. His statement is also one that Sony should be highly concerned about because it flies in the face and goes against the values that Sony claims it believes.
Davido should apologize for his statement and should become an advocate of eliminating sexual harassment and assault in the industry against women. He should also know better as an American citizen, an allegedly exposed and educated man, and a father of a little girl.
Indeed, if his daughter decides to sign up with a label to pursue a music career, she shouldn't have to fear sexual harassment/assault from persons like Davido who expect "something to go down," rather than a healthy career progression.
-Ms. Uduak
face of 
Subscribe to Our Podcast Show
Some of Our Achievements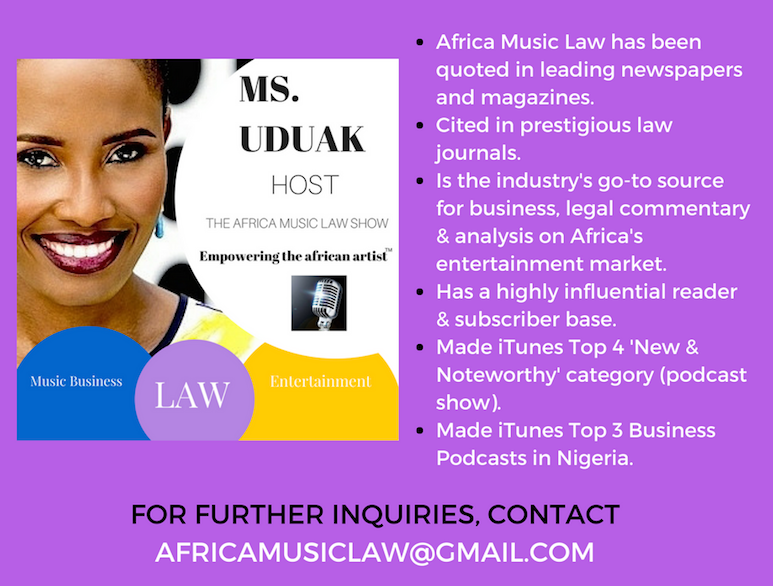 AFRICA MUSIC LAW™ (AML) is a pioneering music business and entertainment law blog and podcast show by Fashion and Entertainment Lawyer Ms. Uduak Oduok empowering the African artist and Africa's rapidly evolving entertainment industry through brilliant music business and entertainment law commentary and analysis, industry news, and exclusive interviews.
Credited for several firsts in the fashion and entertainment industry, Ms. Uduak is also a Partner and Co-Founder of Ebitu Law Group, P.C. where she handles her law firm's intellectual property law, media, business, fashion, and entertainment law practice areas. She has litigated a wide variety of cases in California courts and handled a variety of entertainment deals for clients in the USA, Africa, and Asia. Her work and contributions to the creative industry have been recognized by numerous organizations including the National Bar Association, The American University School of Law and featured in prestigious legal publications in the USA including ABA Journal and The California Lawyer Magazine.
For legal representation inquiries, please email (uduak@ebitulawgrp.com). For blog related inquiries i.e. advertising, licensing, or guest interview requests, please email (africamusiclaw@gmail.com). Thank you for visiting Africa Music Law™.