Nigerian Entertainment Today (NET) reports May7ven, British-Nigerian songstress, allegedly just inked a record label deal with Skata Records Entertainment (SRE). Who is SRE? I have never heard of them so I do not know. However, who they are is not per se relevant to you. What is relevant to you is, as an artist or a record label, is what you should know about record label agreements, if you will sign or have an artistsign one. Here is an excerpt from NET on May7ven.
"May7ven also disclosed to Nigerian Entertainment Today that she recently signed with a UK-based record label SRE (Skata Records Entertainement) and she is currently working on her album. 'I'm daily writing and recording. I've done remixes with Wizkid, Dotstar, Iceprince, Dr. SID and others. My videos will be out by the end of September', May7ven disclosed." –NET
Here is what you should know:
1. Things You Should Know Before Signing Your Music Contract
2. How to Start Your Own Record Label
NOTE: I get inquiries from many artists and indie labels with quite indepth questions on business/PR and Law. My services for such indepth inquiries require payment. For these sort of inquiries, contact my office at firm@fashionentlaw.com or visit www.fashionentlaw.com for office phone number and more details.
Otherwise, email me at (africamusiclaw@gmail.com) for general inquiries.
___________________________
Leave your comments below. Follow me on twitter @africamusiclaw @uduaklaw
Cheers,
Uduak
Photocredit: May7ven

Subscribe to Our Podcast Show
Some of Our Achievements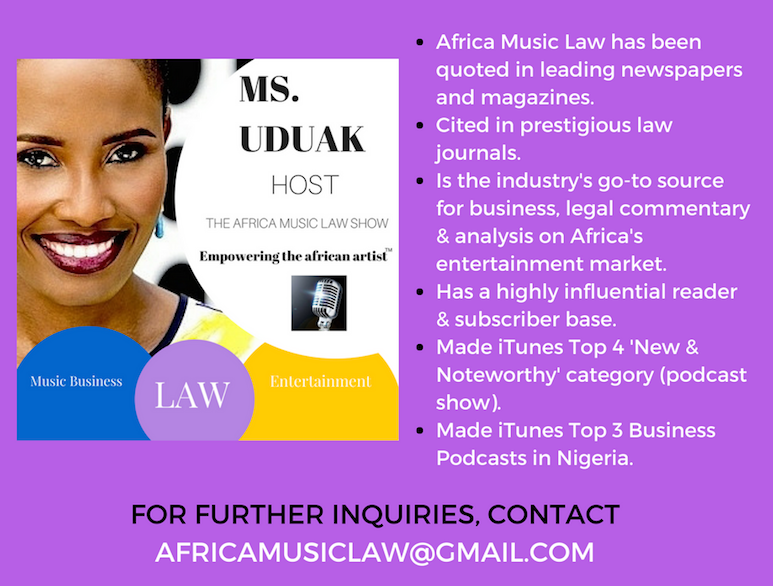 AFRICA MUSIC LAW™ (AML) is a pioneering music business and entertainment law blog and podcast show by Fashion and Entertainment Lawyer Ms. Uduak Oduok empowering the African artist and Africa's rapidly evolving entertainment industry through brilliant music business and entertainment law commentary and analysis, industry news, and exclusive interviews.
Credited for several firsts in the fashion and entertainment industry, Ms. Uduak is also a Partner and Co-Founder of Ebitu Law Group, P.C. where she handles her law firm's intellectual property law, media, business, fashion, and entertainment law practice areas. She has litigated a wide variety of cases in California courts and handled a variety of entertainment deals for clients in the USA, Africa, and Asia. Her work and contributions to the creative industry have been recognized by numerous organizations including the National Bar Association, The American University School of Law and featured in prestigious legal publications in the USA including ABA Journal and The California Lawyer Magazine.
For legal representation inquiries, please email (uduak@ebitulawgrp.com). For blog related inquiries i.e. advertising, licensing, or guest interview requests, please email (africamusiclaw@gmail.com). Thank you for visiting Africa Music Law™.