I was talking with one of my absolutely "kilonpop . . .gbabe" cool cousin a while back about Nigeria and the many accidents people have and no insurance to help them. He surprised me! He said there was actually an elaborate insurance system and that he was an insurance agent until he relocated to the USA. I lost touch with my cousin for over 10years as a result of me moving back to the States before he did. I was pleasantly surprised to hear this but wondered why, before I left Nigeria and the few times I have returned, car accidents happen and there seems to be no help whatsoever for the wounded.
This leads me to the unfortunate sad news the music industry just recently got hit with. The industry just lost MC Loph, the hitmaker who gave us Osondi Owendi. Nigerian news media reports and blogs indicate he was on his way for traditional wedding rituals, with his Fiancee, when he got into a fatal car accident. ** (Many news media say his wife died but Magdalene Nwoko, a reader of Africamusiclaw.com, informs me she read Mc Loph and his sister died and his wife is recovering and is pregnant with child). The pictures are quite gruesome.
May their soul rest in peace.
Now I wonder about personal injury law in an instance like this. Any of my learned legal colleagues in that practice area, in Nigeria, reading this? Could you shed light on how that system works? Who compensates the family, monetarily, for a loss like this, assuming the other driver was at fault? Is (having) insurance mandated in a State like Lagos, for example?
Thanks in advance for whenever you see this story and respond to my questions.
Cheers,
Uduak
Subscribe to Our Podcast Show
Some of Our Achievements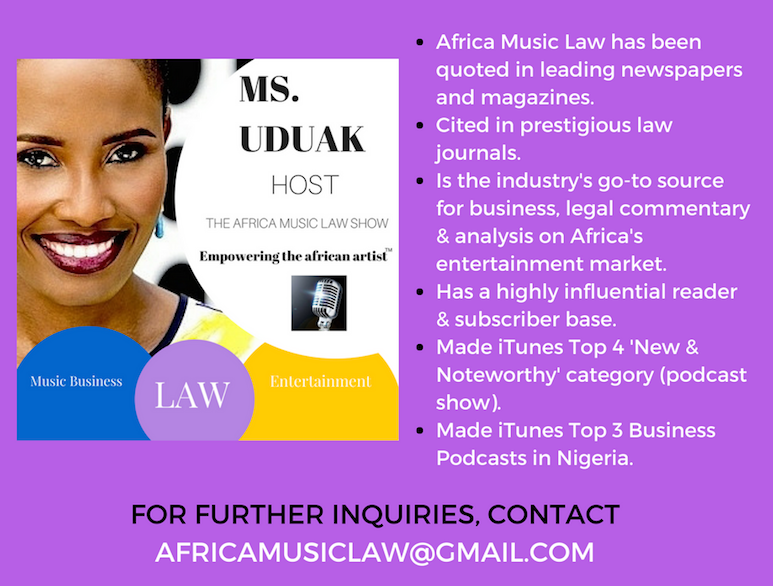 AFRICA MUSIC LAW™ (AML) is a pioneering music business and entertainment law blog and podcast show by Fashion and Entertainment Lawyer Ms. Uduak Oduok empowering the African artist and Africa's rapidly evolving entertainment industry through brilliant music business and entertainment law commentary and analysis, industry news, and exclusive interviews.
Credited for several firsts in the fashion and entertainment industry, Ms. Uduak is also a Partner and Co-Founder of Ebitu Law Group, P.C. where she handles her law firm's intellectual property law, media, business, fashion, and entertainment law practice areas. She has litigated a wide variety of cases in California courts and handled a variety of entertainment deals for clients in the USA, Africa, and Asia. Her work and contributions to the creative industry have been recognized by numerous organizations including the National Bar Association, The American University School of Law and featured in prestigious legal publications in the USA including ABA Journal and The California Lawyer Magazine.
For legal representation inquiries, please email (uduak@ebitulawgrp.com). For blog related inquiries i.e. advertising, licensing, or guest interview requests, please email (africamusiclaw@gmail.com). Thank you for visiting Africa Music Law™.