Michael LeStat, President & CEO of LeStat Media and Entertainment, is the special guest on the 102nd episode of The Africa Music Law Show (AML) with Ms. Uduak. Prior to launching LeStat, Michael worked as the marketing director for R-Wells Media and Advertising Co. Ltd. in Lagos, Nigeria, handling all aspects of television series production, and television and radio advertising.
Michael was also at the forefront of bringing global recognition to the brutal murder of the "Aluu4" through his activism. The Aluu4 were Ugonna Obuzor, Toku Lloyd, Chiadika Biringa, and Tekena Elkanah, all students of the University of Port Harcourt, who were falsely accused of theft in Aluu, a community in Port Harcourt, Rivers State, Nigeria, on October 5, 2012. The young men were chased by a violent mob who ultimately caught them, stripped them naked, beat and tortured them unconscious, dragged them through mud, dropped concrete slabs on their heads and car tyres filled with petrol wrapped around their necks in an attempt to burn them. Michael was an artist manager for two of the young men, Ugonna Obuzor and Toku Lloyd, who were emerging artists and were discovered through Michael's annual LeStat Rap Attack Battle event. Through his advocacy, Michael engaged blogs, radio and television stations including BBC Africa and France24 to cover the tragic incident of vigilante justice. Michael is a graduate of the University of Port Harcourt with a BSc in education and a big AML fan!
Where to Find Michael LeStat
Instagram: https://www.instagram.com/lestatmag/
Facebook: https://www.facebook.com/lestatideas
About The Africa Music Law Show with Ms. Uduak
Hosted by California-based Fashion & Entertainment Lawyer Uduak Oduok (Ms. Uduak), The Africa Music Law show is a show empowering the African artist through brilliant music business and entertainment law commentary and analysis, industry news, and exclusive interviews. The show has been downloaded over 200,000 times and made iTunes top 4 'New & Noteworthy.' Subscribers include Africa & Hollywood's power executives, investors, lawyers, artists and other industry stakeholders. The blog itself has been cited in a U.S. top-ranked law school's 'International Law Review' journal. Country demographic: Nigeria (26%), USA (23%), UK (15%), UAE (7%), and Other (29%).
Rate us on iTunes
If you enjoy the show, please leave a comment on our iTunes page and our Stitcher page.
Sponsorship and/or Guest Appearance
Please send email to (africamusiclaw@gmail.com)
Subscribe to Our Podcast Show
Some of Our Achievements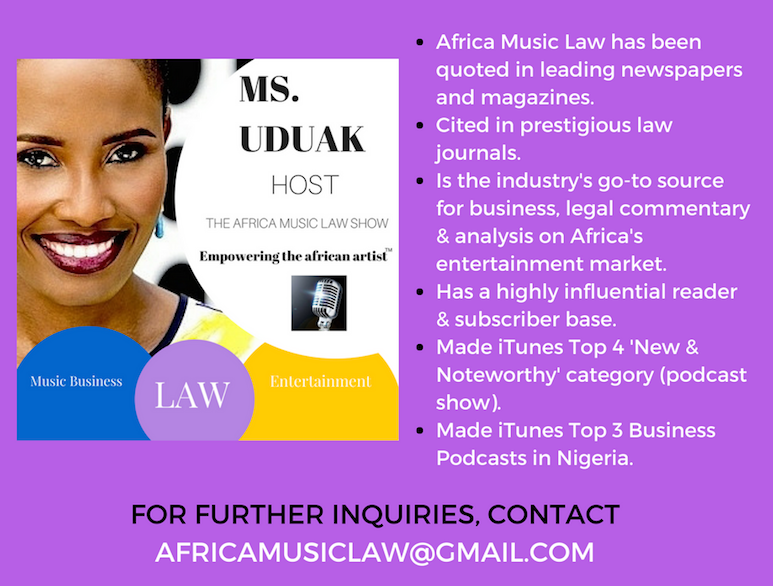 AFRICA MUSIC LAW™ (AML) is a pioneering music business and entertainment law blog and podcast show by Fashion and Entertainment Lawyer Ms. Uduak Oduok empowering the African artist and Africa's rapidly evolving entertainment industry through brilliant music business and entertainment law commentary and analysis, industry news, and exclusive interviews.
Credited for several firsts in the fashion and entertainment industry, Ms. Uduak is also a Partner and Co-Founder of Ebitu Law Group, P.C. where she handles her law firm's intellectual property law, media, business, fashion, and entertainment law practice areas. She has litigated a wide variety of cases in California courts and handled a variety of entertainment deals for clients in the USA, Africa, and Asia. Her work and contributions to the creative industry have been recognized by numerous organizations including the National Bar Association, The American University School of Law and featured in prestigious legal publications in the USA including ABA Journal and The California Lawyer Magazine. She is also an Adjunct Professor at the prestigious Academy of Arts University in San Francisco.
For legal representation inquiries, please email (uduak@ebitulawgrp.com). For blog related inquiries i.e. advertising, licensing, or guest interview requests, please email (africamusiclaw@gmail.com). Thank you for visiting Africa Music Law™.