TheNetng.net reports the cancellation of two of the biggest shows on Mo Abudu's Ebony Life TV. What's interesting is that the news website also speculates the cancellations are a result of hard economic times in Nigeria. I am not sure that I agree. When you look at the company's offerings, its success with its Ebonylife Films (Fifty, The Wedding Party), among other things, I think it is about just following the money very closely, and trimming the fat to really focus on where the true source of revenue is.
The Spot was cool but how much revenue did it really generate to make it worth the continued investment? Plus, Ebuka Obi-Uchendu took a "break" last year and that turned the show into yet another girls talk show, of which the network already has one. So I think it was time for something new such as Ebony Life's latest experiment 'Moments z.'
Excerpts from the story
"When it launched with much fanfare in Calabar in 2013, Ebony Life Television touted itself as Nigeria's pan-African international television network; and with good reason.

The founder, Mo Abudu has proved herself to be a successful TV producer after the wide acceptance of her talk show, Moments With Mo.

With decades of running several thriving businesses under her belt, the combination of her passion for television and her access to financial resources, starting a major television network seemed like a valid next step for Mo.

But four years later, Ebony Life is undergoing an unlikely restricting: it is embarking on cost-cutting moves to stay afloat. In the last three months, the television network has canceled its two biggest shows, The Crunch and in this past week, The Spot.

This may not be far removed from the tough economic conditions in Nigeria over the last two years. A number of businesses have downsized while many others shut down…"
Thenet.ng has the full story.
The New Show

Subscribe to Our Podcast Show
Some of Our Achievements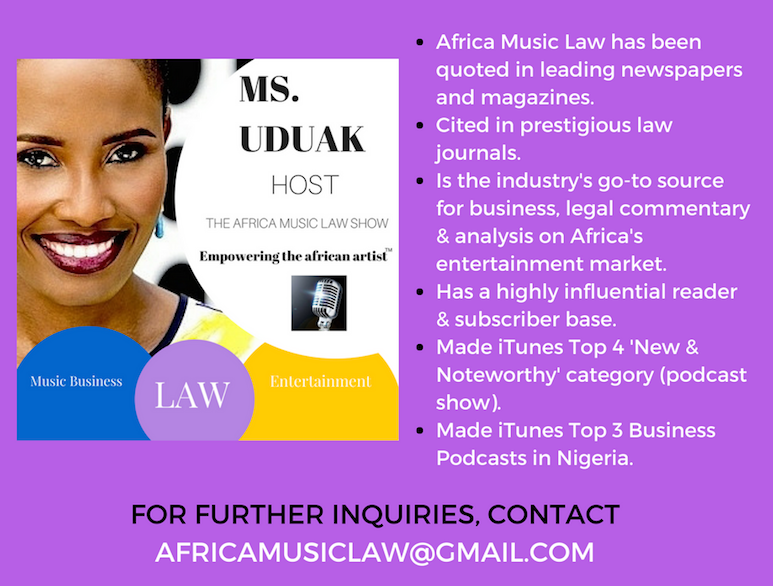 AFRICA MUSIC LAW™ (AML) is a pioneering music business and entertainment law blog and podcast show by Fashion and Entertainment Lawyer Ms. Uduak Oduok empowering the African artist and Africa's rapidly evolving entertainment industry through brilliant music business and entertainment law commentary and analysis, industry news, and exclusive interviews.
Credited for several firsts in the fashion and entertainment industry, Ms. Uduak is also a Partner and Co-Founder of Ebitu Law Group, P.C. where she handles her law firm's intellectual property law, media, business, fashion, and entertainment law practice areas. She has litigated a wide variety of cases in California courts and handled a variety of entertainment deals for clients in the USA, Africa, and Asia. Her work and contributions to the creative industry have been recognized by numerous organizations including the National Bar Association, The American University School of Law and featured in prestigious legal publications in the USA including ABA Journal and The California Lawyer Magazine.
For legal representation inquiries, please email (uduak@ebitulawgrp.com). For blog related inquiries i.e. advertising, licensing, or guest interview requests, please email (africamusiclaw@gmail.com). Thank you for visiting Africa Music Law™.