Mo Cheddah's interview with DANG MONOLOGUE where she finally opens up about her entrance into the music industry, her rise to the top of the charts, the fame, her fall out with her label, the legal battles, being black-listed, going broke to the point of having to take public transportation (buses), and dealing with the depression that ensued was interesting to watch.
I appreciate her candidness and hope emerging and established artists who watch her documentary can learn from her journey. There is not much else to say than to wish her continued success in her non-music ventures. Should she decide to return to the business of music, she now has the maturity to navigate through its muddy waters and hopefully come out on top again.
For AML artists, revisit my 2012 in-depth analysis, 'Mo'Cheddah and KnightHouse's Divorce, the Real Deal About the Split,' where I addressed the conflict and ownership rights in the songs Mo Cheddah created for her label. It has taken six years for Mo Cheddah to finally open up about what transpired.
Watch the documentary below.
-Ms. Uduak
Subscribe to Our Podcast Show
Some of Our Achievements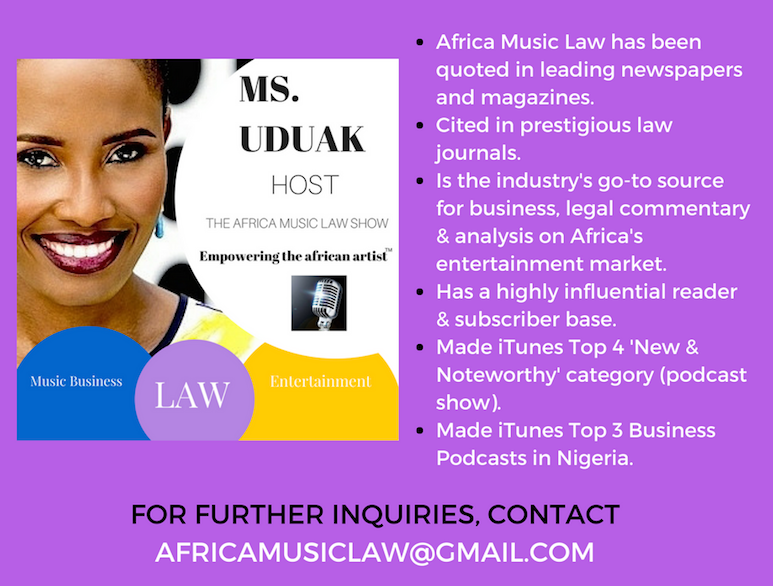 AFRICA MUSIC LAW™ (AML) is a pioneering music business and entertainment law blog and podcast show by Fashion and Entertainment Lawyer Ms. Uduak Oduok empowering the African artist and Africa's rapidly evolving entertainment industry through brilliant music business and entertainment law commentary and analysis, industry news, and exclusive interviews.
Credited for several firsts in the fashion and entertainment industry, Ms. Uduak is also a Partner and Co-Founder of Ebitu Law Group, P.C. where she handles her law firm's intellectual property law, media, business, fashion, and entertainment law practice areas. She has litigated a wide variety of cases in California courts and handled a variety of entertainment deals for clients in the USA, Africa, and Asia. Her work and contributions to the creative industry have been recognized by numerous organizations including the National Bar Association, The American University School of Law and featured in prestigious legal publications in the USA including ABA Journal and The California Lawyer Magazine. She is also an Adjunct Professor at the prestigious Academy of Arts University in San Francisco.
For legal representation inquiries, please email (uduak@ebitulawgrp.com). For blog related inquiries i.e. advertising, licensing, or guest interview requests, please email (africamusiclaw@gmail.com). Thank you for visiting Africa Music Law™.