The Music Publishers Association of Nigeria (MPAN) makes an urgent appeal to the Nigerian Copyright Commission to reverse its decision to suspend The Copyright Society of Nigeria (COSON). I agree that the NCC should reverse COSON's suspension, at this point. However, I stress that it is imperative that a newly constituted COSON board is in place before or by the time of the reversal to ensure the interests of its stakeholders, particularly artists, is at the forefront of the organization, and a core part of its mission. We cannot have the kind of factional divide COSON had between Tony Okoroji (past Chairman and board member) and Efe Omoregbe (past board member) before the suspension. It is seriously detrimental to the music industry, particularly its artists.
I note MPAN has a bipartisan group which includes persons on both sides of the Okoroji and Omoregbe factions who are now coming together in unity for a win-win situation. This is good.
Finally, I already made a suggestion on what I believe a newly constituted board should look like. As a recap, here is what I have said in a prior post addressing the suspension.
"I believe an impartial board should include:
A member of the recording industry.
A member of the publishing industry.
A member of the music management industry.
A member of the Alaba market (Specifically the organization within Alaba involved in the negotiation and sale of music, movies and other intellectual property content with the entertainment industry. They have three diverse organizations that manage the market, one of them regulates merchants/traders involved in the sale of IP goods (music, movies etc.)).
A member of the broadcasting industry.
A member of the songwriting industry/writers association.
A member from the legal (entertainment law) industry.
And any such industry integral to the entertainment industry. Also, COSON's board must be responsive to its local market. As a result, and given the role Alaba has played and continues to play, it is essential, in my view, to have a member present on the COSON board. There are leaders within the market committed to eradicating piracy. Loop them in. They will help spread the word and implement better practices faster than COSON on its own can. The COSON board has to be an impartial board, free of even the appearance of impropriety, and definitely no nepotism."
~Ms. Uduak
PRESS STATEMENT
"The Music Publishers Association of Nigeria (MPAN) is an association of owners of interests in copyright catalogues comprised of tens of thousands of musical works, from the 1960s to 2018, locally and internationally.
As the single largest body of music copyright owners in Nigeria, no single individual or other body has more at stake in the development of music related copyright, and the success of the overall Copyright management system, in Nigeria. Therefore the current suspension of the Copyright Society of Nigeria (COSON) license to act as a collective management organization (CMO) for musical works by the Nigerian Copyright Commission is one of great concern to us and our members.
MPAN recognises that the NCC's actions regarding COSON are well intended especially in light of the fact that the NCC under the impressive leadership of Mr. Afam Ezekude has been one of the biggest contributors to the significant positive developments of copyright administration in Nigeria.
However, we believe that the NCC can achieve its objective – of ensuring rights owners and creators are well represented by their designated CMO – without adversely affecting COSON's members which we are one of. The impact of NCC's decision to suspend COSON's license, on rights owners is that we do not have any CMO properly and effectively representing our rights. The continued suspension has created uncertainty about the stability of music business in Nigeria, and is ultimately driving away much needed foreign and local investment in the music industry as funding plans are literally having to be put on hold pending the resolution of this matter.
MPAN thus firmly but respectfully calls for the NCC to not throw away the baby with the bath water and lift the suspension of COSON's licence without further delay as MPAN, investors and thousands of helpless copyright owners across Nigeria and beyond continue to suffer otherwise. Nigeria is rapidly approaching a critical turning point in the development of copyright (administration), and with increasing consumption of creative works by an increasing global audience, huge opportunities for value generation abound both for creators and the country's GDP alike.
It is important that the huge strides made by what is undoubtedly the leading CMO in Nigeria are not undone due to issues that could be resolved in a much less damaging manner. The COSON success which is now gravely threatened was built on account of huge sacrifices made by many people, over several years, including many diligent and committed officers of the NCC.
MPAN therefore appeals to the NCC for an immediate withdrawal of the suspension in the interest of all stakeholders in the Nigerian music industry. We have earlier sent a letter to the NCC dated 20th June 2018, wherein we made this request and also proferred other options which the NCC could exercise to achieve its aim of ensuring that rights owners and creators are well represented by their designated CMO. Though we are yet to receive a response to our letter, we are hopeful that the NCC and its leadership would consider our suggestions and act on them speedily.
Signed MUSIC PUBLISHERS ASSOCIATION OF NIGERIA (MPAN)
Chairman, Board of Trustees, Olumide Mustapha
Secretary Board of Trustees, Isioma Idigbe
[scribd id=384835369 key=key-90LQhEdPnpMzQkeNSldN mode=scroll]
Subscribe to Our Podcast Show
Some of Our Achievements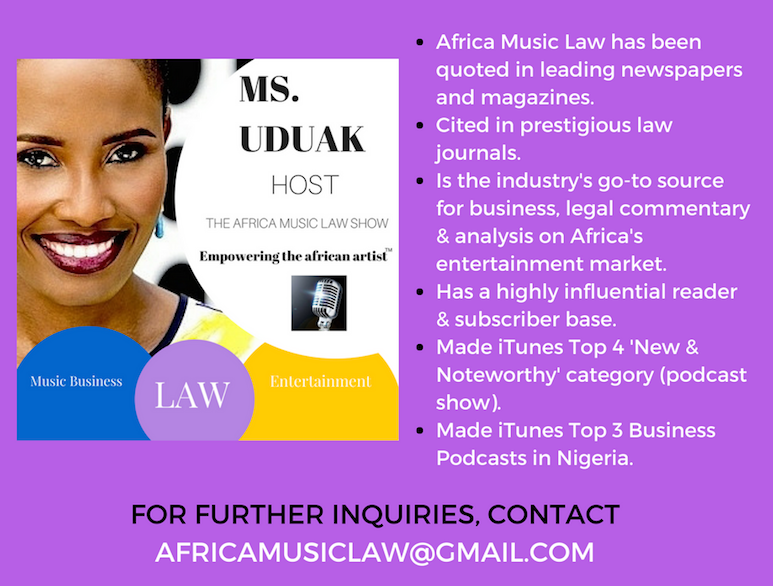 AFRICA MUSIC LAW™ (AML) is a pioneering music business and entertainment law blog and podcast show by Fashion and Entertainment Lawyer Ms. Uduak Oduok empowering the African artist and Africa's rapidly evolving entertainment industry through brilliant music business and entertainment law commentary and analysis, industry news, and exclusive interviews.
Credited for several firsts in the fashion and entertainment industry, Ms. Uduak is also a Partner and Co-Founder of Ebitu Law Group, P.C. where she handles her law firm's intellectual property law, media, business, fashion, and entertainment law practice areas. She has litigated a wide variety of cases in California courts and handled a variety of entertainment deals for clients in the USA, Africa, and Asia. Her work and contributions to the creative industry have been recognized by numerous organizations including the National Bar Association, The American University School of Law and featured in prestigious legal publications in the USA including ABA Journal and The California Lawyer Magazine. She is also an Adjunct Professor at the prestigious Academy of Arts University in San Francisco.
For legal representation inquiries, please email (uduak@ebitulawgrp.com). For blog related inquiries i.e. advertising, licensing, or guest interview requests, please email (africamusiclaw@gmail.com). Thank you for visiting Africa Music Law™.