AML people, by now most of you are probably tuned into the controversy over this year's Oscar nominations. For the second year in a row, there are no persons of color reflected in the major award categories. This has led to an outcry sparked by Jada Pinkett-Smith; and many diverse voices weighing in on the lack of diversity in the industry.
"Isn't it time that people of color recognize how much power, influence, that we have amassed, that we no longer need to ask to be invited anywhere? Maybe it's time that we recognize that if we love and respect and acknowledge ourselves in the way in which we are asking others to do, that that is the place of true power. Begging for acknowledgement, or even asking, diminishes dignity and diminishes power — and we are a dignified people, and we are powerful. Let's not forget it," said Pinkett-Smith in a video released shortly after the announcement of the nominations.
Following the outcry, Cheryl Boone Isaacs, the current and first African American President of The Academy of Motion Picture Arts and Sciences announced new measures to promote diversity.They include a change to the group's membership practices, new voting limits, and expanding active recruitment to include more women, non-whites, more diverse group of filmmakers, international and young.
I had the privilege to be invited by Fox40 News to weigh in on the controversy and offer possible solutions. Watch what I had to say on the television network.
Cheers,
~Ms. Uduak
Subscribe to Our Podcast Show
Some of Our Achievements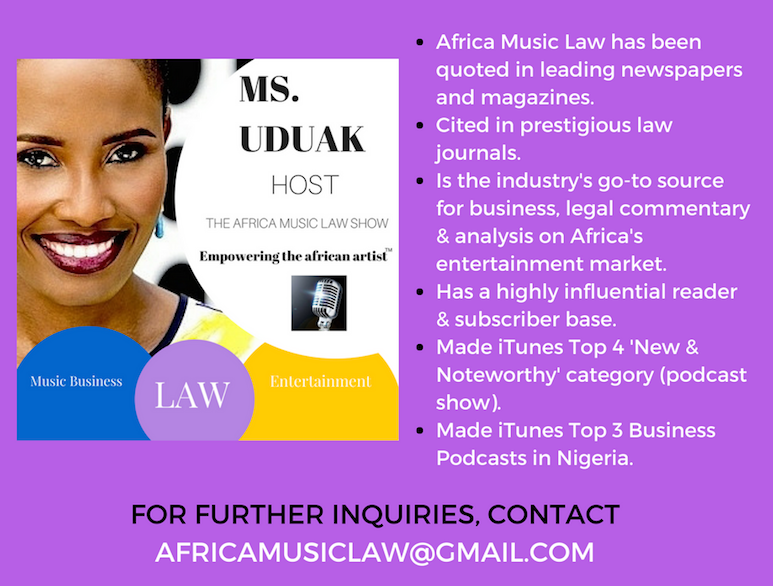 AFRICA MUSIC LAW™ (AML) is a pioneering music business and entertainment law blog and podcast show by Fashion and Entertainment Lawyer Ms. Uduak Oduok empowering the African artist and Africa's rapidly evolving entertainment industry through brilliant music business and entertainment law commentary and analysis, industry news, and exclusive interviews.
Credited for several firsts in the fashion and entertainment industry, Ms. Uduak is also a Partner and Co-Founder of Ebitu Law Group, P.C. where she handles her law firm's intellectual property law, media, business, fashion, and entertainment law practice areas. She has litigated a wide variety of cases in California courts and handled a variety of entertainment deals for clients in the USA, Africa, and Asia. Her work and contributions to the creative industry have been recognized by numerous organizations including the National Bar Association, The American University School of Law and featured in prestigious legal publications in the USA including ABA Journal and The California Lawyer Magazine. She is also an Adjunct Professor at the prestigious Academy of Arts University in San Francisco.
For legal representation inquiries, please email (uduak@ebitulawgrp.com). For blog related inquiries i.e. advertising, licensing, or guest interview requests, please email (africamusiclaw@gmail.com). Thank you for visiting Africa Music Law™.