Thank God Danagog is in Nigeria. With the way USA celebrities are attempting to sue musicians for commercial gain, Danagog would have had to cough up a lot of money for how much he likes Mercy Johnson. But that is not an issue here. The real issue here is the promo picture he sent to the media for his song.
The sun shades has Mercy Johnson's picture on it. If he is using that image as part of his promo to sell his song; and for his marketing and advertising, then he has to pay the photographer who took the picture according to Nigeria's copyright law found here.
Artists tune into this. If you will use photos you take from  the internet for commercial purposes, then you need to get in touch with the photographer to pay them and/or arrange to give them photocredits in all of your marketing and packaging. You can't like Mercy Johnson, make money off the song which includes your marketing and promotions efforts with MJ's picture and not pay the photographer.
Everyone on the music chain should have something to eat, albeit on different levels.
"Daniel Damilola Agunbiade who goes by the stage name DANAGOG was born in the city of Ile-Ife where he spent most of his early childhood. He grew up listening to artistes such as King Sunny Ade, Abba, Bobby Brown, Run-DMC. He started out drumming in his school band and launched his career professionally in 2007 with the release of his First single titled Who's Dat Guy produced by Waz-Beats and released the Who's Dat Guy video that same year. In 2009 he released two singles, FOLLOW YOU and LOBE (audio and Video) which received wide acceptance and airplay. In 2010 Danagog released two mixtape, Lobe International (March) and Luv 'n' Lust (October) which featured remixes of several Nigerian songs such as Fimile(KAS), If you want me(MOCHEDDAH) .

He is best known for his energetic performances and ability to control any size of crowd. DANAGOG is currently preparing for the release of his debut album; he has been on a collaboration roll this year most notable of which is E MOTI by DJ DEBBY featuring OREZI and IGHO which has been widely received by the Nigerians home and abroad. The MERCY JOHNSON video is the first off his yet to be released debut album, titled FUNKY FRIDAY which is set to drop later this year."
Courtesy photo
Subscribe to Our Podcast Show
Some of Our Achievements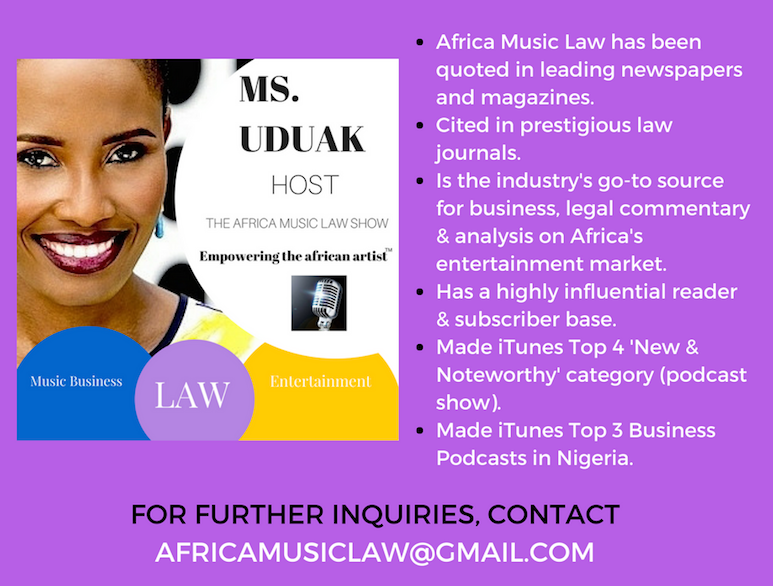 AFRICA MUSIC LAW™ (AML) is a pioneering music business and entertainment law blog and podcast show by Fashion and Entertainment Lawyer Ms. Uduak Oduok empowering the African artist and Africa's rapidly evolving entertainment industry through brilliant music business and entertainment law commentary and analysis, industry news, and exclusive interviews.
Credited for several firsts in the fashion and entertainment industry, Ms. Uduak is also a Partner and Co-Founder of Ebitu Law Group, P.C. where she handles her law firm's intellectual property law, media, business, fashion, and entertainment law practice areas. She has litigated a wide variety of cases in California courts and handled a variety of entertainment deals for clients in the USA, Africa, and Asia. Her work and contributions to the creative industry have been recognized by numerous organizations including the National Bar Association, The American University School of Law and featured in prestigious legal publications in the USA including ABA Journal and The California Lawyer Magazine.
For legal representation inquiries, please email (uduak@ebitulawgrp.com). For blog related inquiries i.e. advertising, licensing, or guest interview requests, please email (africamusiclaw@gmail.com). Thank you for visiting Africa Music Law™.