I had the pleasure of attending AML super fan Iredumare (Ire) Opeyemi's panel session held on May 6, 2019, at the Music Biz 2019 conference in Nashville, produced by the Music Business Association. If you have been following this blog and podcast for a while, then you know seven years ago, Ire stumbled on the blog, became a super fan and my mentee, all while he was in law school, and the rest is history. Ire's panel session was titled 'The Third Wave: Surfing the Emerging Streaming Landscape' and focused on the emerging streaming landscape in Nigeria/Africa, China and Eastern Europe.
The panelists discussed the opportunities and barriers their respective markets presented, and the networks, financial and market dynamics that new entrants needed to understand. It was a good and informative discussion. With respect to Africa, I enjoyed Ire's emphasis that new entrants must approach the market with a commitment to invest in the continent's infrastructure, in order to win.
I am republishing, with permission, the audio clip from the session courtesy of Boomplay for you the AML audience. On the AML end, please note the audio clip went into a little post-production editing to maximize sound quality, the substance remains unaltered. Listen, enjoy, share.
NOTE: If you want to hear more about Nigeria and Africa's streaming markets, revisit AML Podcast episode 123 where I had Ire as a guest, along with Graeme Gilfillan (South Africa) for an in-depth discussion on the topic.
Panelists/Moderator:
Anne Jenniskens, Head of Licensing, FUGA (Moderator)
Angel Gambino, Chief Commercial Officer, Napster (Panelist)
Andy Ng, Group Vice President, Tencent (Panelist)
Iredumare Opeyemi, Director of Legal & Business Affairs, Transsnet Music Limited/Boomplay (Panelist)
Where to Find Iredumare 
Iredumare Opeyemi, Esq. | @Iredumare
Where to Find Host Ms.Uduak
Facebook: @msuduak
Twitter: @msuduak
Instagram: @msuduak
Website: www.ebitulawgrp.com
Follow AML 
Facebook: @africamusiclaw
Twitter: @africamusiclaw
Instagram: @africamusiclaw
Rate us on iTunes
If you enjoy the show, please leave a comment on our iTunes page and our Stitcher page.
Sponsorship and/or Guest Appearance
Please send email to (africamusiclaw@gmail.com)
Thanks for Listening!
If you enjoyed the show, please share on your social media pages and with friends and family. Also if you have any questions, please feel free to send an email to (africamusiclaw@gmail.com)
Subscribe to Our Podcast Show
Some of Our Achievements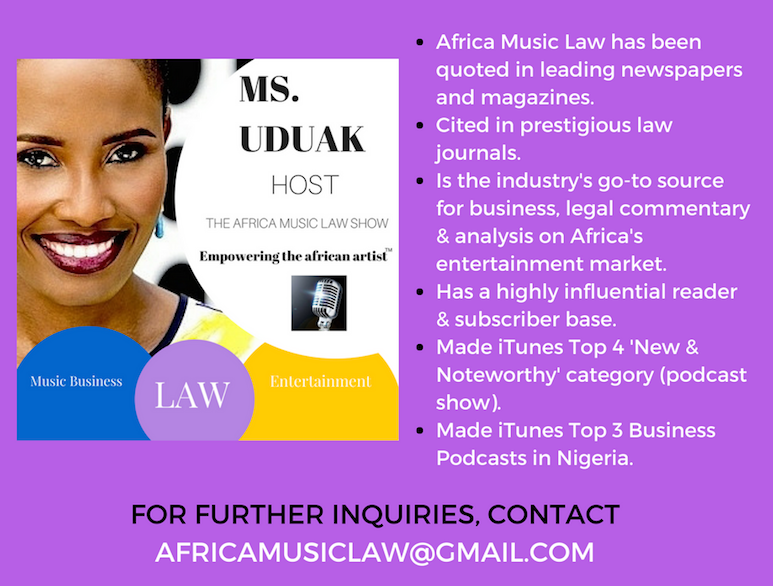 AFRICA MUSIC LAW™ (AML) is a pioneering music business and entertainment law blog and podcast show by Fashion and Entertainment Lawyer Ms. Uduak Oduok empowering the African artist and Africa's rapidly evolving entertainment industry through brilliant music business and entertainment law commentary and analysis, industry news, and exclusive interviews.
Credited for several firsts in the fashion and entertainment industry, Ms. Uduak is also a Partner and Co-Founder of Ebitu Law Group, P.C. where she handles her law firm's intellectual property law, media, business, fashion, and entertainment law practice areas. She has litigated a wide variety of cases in California courts and handled a variety of entertainment deals for clients in the USA, Africa, and Asia. Her work and contributions to the creative industry have been recognized by numerous organizations including the National Bar Association, The American University School of Law and featured in prestigious legal publications in the USA including ABA Journal and The California Lawyer Magazine. She is also an Adjunct Professor at the prestigious Academy of Arts University in San Francisco.
For legal representation inquiries, please email (uduak@ebitulawgrp.com). For blog related inquiries i.e. advertising, licensing, or guest interview requests, please email (africamusiclaw@gmail.com). Thank you for visiting Africa Music Law™.