Celebrities Behaving Badly (CBB) is a category on AML launched in April 2012 to gather the foolishness on social media by celebrities and to use it as a way of discussing, public relations and branding. On to today' s post…
Show Dem Camp had a spectacular 2017. To close out the year, the very talented hip-hop band decided to host their first concert in Nigeria on December 29, 2017. Unfortunately, during their concert, M.I Abaga, considered Nigeria's leading hip-hop artist, and hip-hop artist N6 got into a physical altercation.
For context, the following events allegedly led up to the altercation:
October 20, 2017, M.I released a song titled, "You Rappers should Fix Up your Life". He challenged the quality of music from Nigerian rappers, said the music was uninspiring and explained in his song that he was retiring in a couple of years but the quality of music was so bad he couldn't even retire because Nigerian rappers still needed him.
October 26, 207, N6 replied with a song titled 'Fix Up Your Life (M.I's reply).' He claimed the song was not a diss. In the song, he challenged M.I's authority to tell other rappers to fix their lives. He asked where M.I has been for the past three years, he said M.I could not even fill up Eko Hotel event venue yet wanted to retire, among other things.
November 9, 2017, M.I Abaga tweeted:
"N6 is trash.. don't blame the industry for him.. a former creative that now wants to suck young artists blood!!! Vampire."
N6 responds with his own series of tweets:
"Listen here, u ClosetHomosexual Midget, you have Nothing on Me. Your dumb ass YRSFUYL concept didn't fly. 1 track from me had ur Entire Label TwitterFingering. I dare u to get in d Booth. I WILL DECIMATE YOUR ENTIRE LEGACY. Keep playing with Me. Bitch."
"This Midget must think I'm IcebergSlim or Kelly Handsome."
"Maka Na Ndi Mmadu Gbara gi Nkiti Kamgbe…. Ebea ka Ijiri Aka gi Gbuo Onwe GI", he tweeted in Igbo which means "because people are silent about you, you now want to self-destruct."
The two took the already bad behavior on social media offline.
December 29, 2017, a fight takes place as reported by an eyewitness to LIB Blog:
'MI had just finished his performance and heading out when N6 was spotted backstage as well," an eyewitness told LIB. " N6 was seen approaching MI but was quickly confronted by Ahabuchi (MI's manager) and some Choc City crew. In the heat of the confrontation, N6 who was alone with at least 5 Choc City guys held on to an empty bottle of Hennessy to protect himself but somehow grazed a lady and that angered the other guys."
The person continued: 'Ahabuchi and N6 went on to exchange a few blows but none landed a hit. At this point, MI has walked out of the situation. It took the effort of Jimmie and Ehiz of MTV to separate both N6 and Ahabuchi. Chin Okeke was later seen head locking N6 and ordering security operatives to escort him off the premises after efforts to calm the situation was unsuccessful'.
December 30th, 2017, N6 responds via social media:
Dear @MI_Abaga I was Backstage with my Gang at the #palmwinemusicfest You searched for me Tru that Crowd With Ur People, The 1st time u were of a Violent Disposition. Then told me you want to climb on stage I should Wait For You.
— #BiznessB4Pleasure (@N6OFLIFE) December 30, 2017
You Got on Stage and Led the Crowd tru Chants of "Fuck Fake Friends" amongst several other Subs.. I ignored this Move. When you came back u seemed more Pleasant. We agreed the Atmosphere was too Tense & we would Talk Later And you walked Away.
— #BiznessB4Pleasure (@N6OFLIFE) December 30, 2017
At this Point @DJLambo_ accosts me with a Crew of "Females" Cursing me Out and Chanting Unprintable Statements. The Crowd was even Telling her the Matter had Been Squashed but they Persisted with d Name Calling.
— #BiznessB4Pleasure (@N6OFLIFE) December 30, 2017
At this Point my Crew and Yours had already Clashed @MI_Abaga Your Manager @Donboosboos even Attempted to Throw Punches with Me. … LOL!!!!!!! …. @IamJimmie Pulled me away bcos there was already a Huge Ruckus & People were Pulling out Phones.
— #BiznessB4Pleasure (@N6OFLIFE) December 30, 2017
To make Matters worse for some Weird Reason when everything had died down @loosekaynon wanted to Use that Opportunity to Sneak Attack me Again @SpecialSlim Angrily had to Hold Him Back. At that Point I picked a Henny Bottle.
— #BiznessB4Pleasure (@N6OFLIFE) December 30, 2017
Nobody from my Crew Came there to Fight, Muri Okunola Gardens is a Huge Space, You and Your people first came to Violate my Space. Leading to this Brawl. Armed Soldiers don't Frighten Me.
— #BiznessB4Pleasure (@N6OFLIFE) December 30, 2017
Yet Your Manager @Donboosboos (of all people) is speaking to #LindaIkeji Mouthing off like some Sir Lancelot Superman Character. He obviously watches too many Cartoons.
— #BiznessB4Pleasure (@N6OFLIFE) December 30, 2017
Things could have gone Very Badly that Nite, And People could have seriously gotten Hurt. We agreed to be Adults @MI_Abaga Call your Entire Team to Order. I will tolerate no more attacks to My Character while u Claim Me and You are Cordial.
— #BiznessB4Pleasure (@N6OFLIFE) December 30, 2017
I will Have None of the Females in your Squad Disrespect Me. This is my Last Warning. We don't have to be Chummy. I'm Gucci with that. @MI_Abaga If we Move past this FINE. If we don't FINE. What u Eat don't make me Shit.
— #BiznessB4Pleasure (@N6OFLIFE) December 30, 2017
And as For That Light Skinned BitchNigga Chin, attempting to "Fake Throw me Out" with a Bouncer I Rent on my Show Days. Don't get Caught in the Crossfire of What Doesnt Concern you. Don't be Unfortunate.
— #BiznessB4Pleasure (@N6OFLIFE) December 30, 2017
We dey our own, Una come meet Us twice, We agreed to Squash matter, Ur crew begin insult me, I step away Loose attacks me, I protect myself, I'm d Bad Guy, Blogs call me I Ignore, Your Manger is Giving Interviews. Lagos see me see Trouble o!
— #BiznessB4Pleasure (@N6OFLIFE) December 30, 2017
How can You Constantly Employ Lies to Win an Argument. How can you as a Boss endorse this Tactic? I did not Burst any Bottle or Graze any Females Arm. Loose was Just Lucky I For Ring His Head that was All. I repeat, All of this was Avoidable from d Beginning.
— #BiznessB4Pleasure (@N6OFLIFE) December 30, 2017
How do SEARCH FOR ME TRU AN ENTIRE CROWD OF HUMAN BEINGSSSSSSSS at a CONCERT??? I had called Ghost from SDC prior to Coming, we were not going to cause a Scene.
— #BiznessB4Pleasure (@N6OFLIFE) December 30, 2017
Whats even Funnier, I was 6 deep at Cubana 2 wks ago @loosekaynon u were there Alone. I could have made that Nite difficult for you. But Ghost too was there & we had a Talk & shook Hands LastLast. Why would you attack me Again?
— #BiznessB4Pleasure (@N6OFLIFE) December 30, 2017
Tonite I wash my Hands Clean of anything CBN, I'm a Pleasant Fellow, but Getting Grimy is not an Issue for Me at All. I will Not take this FUCKERY INTO MY 2018. Yall can Rush & Tell Blogs I was "Thrown Out". My team over here thanking God someone wasn't Stretchered Out.
— #BiznessB4Pleasure (@N6OFLIFE) December 30, 2017
Happy New Year Everyone. May your Problems of 2017 not follow you into 2018… And to think this all started with me Replying #FixUpYourLife Lol… What a Time to be Alive. On Everything i Love I bear you No Ill anymore @MI_AbagaLive Long & Prosper. Fin.
— #BiznessB4Pleasure (@N6OFLIFE) December 30, 2017
M.I's manager Abuchi responds with a different version.
"Haba, how can we be fighting when people are sharing money," he told LIB. "Yes there was a bit of back stage altercation but it was N6 who was being tense and the event organisers had security remove him from the venue. MI was even there trying to make peace and telling the organisers to leave him alone because its all love from here." – LIB
Ms. Uduak's Commentary
My issue with M.I Abaga has always been that he is easily affected by what is said about him in the public sphere. He can dish it but seems to have a hard time taking it. There are numerous examples to count. M.I has to get to a point where he is above the "beef" talk. If he is indeed considered a rap god, there has to be a level of respect he is accorded, which only comes when he respects himself. N6 is not an intercontinental or globally recognized brand. M.I is known on the continent and has made some headway in trying to be recognized beyond the African diaspora. So, M.I  has a vested interest in protecting his brand even more so than N6. Why an unnecessary and absolutely irrelevant spat with a brand like N6? It makes no sense.
M.I must improve with his reactionary approach.
-Ms. Uduak
Photo Credit: Olodo Nation
Subscribe to Our Podcast Show
Some of Our Achievements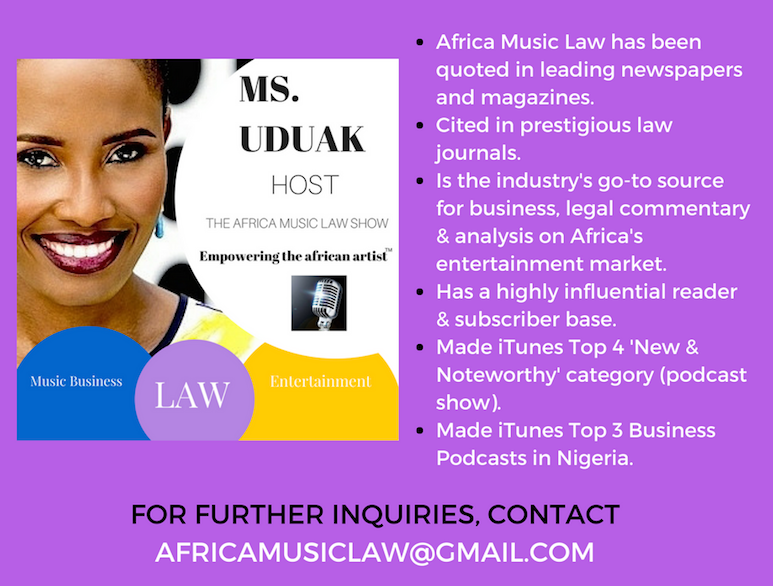 AFRICA MUSIC LAW™ (AML) is a pioneering music business and entertainment law blog and podcast show by Fashion and Entertainment Lawyer Ms. Uduak Oduok empowering the African artist and Africa's rapidly evolving entertainment industry through brilliant music business and entertainment law commentary and analysis, industry news, and exclusive interviews.
Credited for several firsts in the fashion and entertainment industry, Ms. Uduak is also a Partner and Co-Founder of Ebitu Law Group, P.C. where she handles her law firm's intellectual property law, media, business, fashion, and entertainment law practice areas. She has litigated a wide variety of cases in California courts and handled a variety of entertainment deals for clients in the USA, Africa, and Asia. Her work and contributions to the creative industry have been recognized by numerous organizations including the National Bar Association, The American University School of Law and featured in prestigious legal publications in the USA including ABA Journal and The California Lawyer Magazine.
For legal representation inquiries, please email (uduak@ebitulawgrp.com). For blog related inquiries i.e. advertising, licensing, or guest interview requests, please email (africamusiclaw@gmail.com). Thank you for visiting Africa Music Law™.