Happy New Week AML People.
I was hoping to get this to you over the weekend. I was unable to do so.
Nevertheless, it's here. Enjoy and have a great week ahead. Before the week runs out, I should update with all other mediums online to listen to the show including iTunes.
Also, folks, our new schedule kicks in tomorrow. This means I will catch you all this Friday when we begin our weekend blogging from here onwards.
Please let me know your thoughts on the Weird MC interview. I think she is simply brilliant. What's your take on the many insights she shares?
Cheers,
Uduak
Show Summary: In this episode, Uduak Oduok, Fashion & Entertainment Lawyer and host of The Africa Music Law Show, speaks with Rapper Weird Mc. Weird MC who is the first female rapper in Nigeria's music industry discusses her break into the music industry, Nigeria's music infrastructure, importance of creating great content, marketing, promotions, distribution, digital rights and distribution (Spinlet, IROKING), performance rights organizations (COSON), music management, dealing with the press (allegations of using drug to enhance stage performance), women in music (sexual harassment), overcoming personal adversity/challenges (death of parents at early age), staying relevant and self care. Enjoy.
For sponsorship inquiries or to appear on the show as a guest, please email (africamusiclaw@gmail.com)
Credit: Written, Produced & Edited by Uduak Oduok, Esq.
AML Theme Song 1 'Delight': Nigerian-American Producer Kid Konnect
AML Theme Song 2 'Africans Modern Mix': American Producer John Keller
Special Guest: Weird MC | Composer, Producer, Recording Artist, Rappertainer, Music Entrepreneur
Twitter: Weirdmcofficial
Show Notes
Intro
Host Intro (Discussion on security issues in Nigeria (Abuja Bombing))
Special Guest Intro
Special Guest Interview
THANK YOU FOR LISTENING! Don't forget to Subscribe on the blog to know when next I update. Cheers.
For sponsorship inquiries or to appear on the show as a guest, please email (africamusiclaw@gmail.com)
Website: www.africamusiclaw.com
YouTube: www.youtube.com/africamusiclaw
Twitter: @africamusiclaw
Facebook: www.facebook.com/africamusiclaw
Hulkshare: www.hulkshare.com/africamusiclaw
Soundcloud: www.soundcloud.com/africamusiclaw
Subscribe to Our Podcast Show
Some of Our Achievements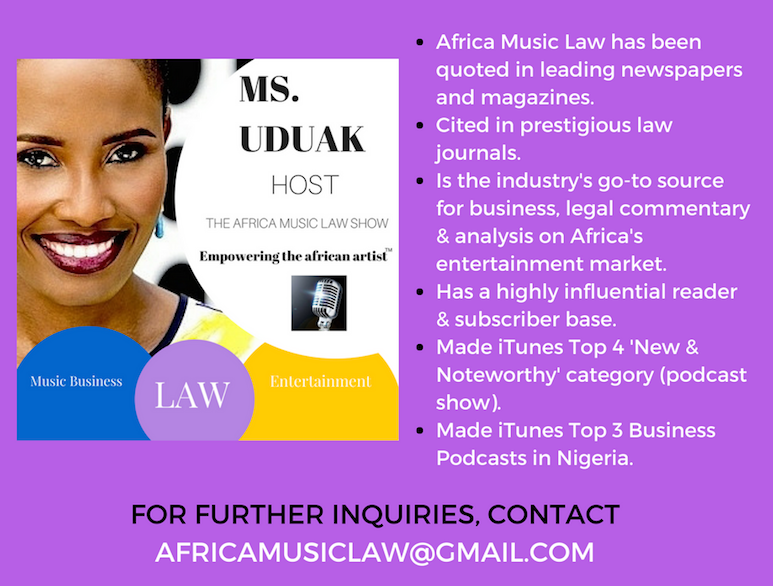 AFRICA MUSIC LAW™ (AML) is a pioneering music business and entertainment law blog and podcast show by Fashion and Entertainment Lawyer Ms. Uduak Oduok empowering the African artist and Africa's rapidly evolving entertainment industry through brilliant music business and entertainment law commentary and analysis, industry news, and exclusive interviews.
Credited for several firsts in the fashion and entertainment industry, Ms. Uduak is also a Partner and Co-Founder of Ebitu Law Group, P.C. where she handles her law firm's intellectual property law, media, business, fashion, and entertainment law practice areas. She has litigated a wide variety of cases in California courts and handled a variety of entertainment deals for clients in the USA, Africa, and Asia. Her work and contributions to the creative industry have been recognized by numerous organizations including the National Bar Association, The American University School of Law and featured in prestigious legal publications in the USA including ABA Journal and The California Lawyer Magazine.
For legal representation inquiries, please email (uduak@ebitulawgrp.com). For blog related inquiries i.e. advertising, licensing, or guest interview requests, please email (africamusiclaw@gmail.com). Thank you for visiting Africa Music Law™.