"Noble Igwe, a Nigerian blogger, ignited a commotion on social media Saturday, hours after calling on the Economic and Financial Crimes Commission (EFCC) to intensify its crackdown on financial crimes culprits.
On Friday, the EFCC said its operatives raided a nightclub in Ikoyi, Lagos, and arrested about a dozen suspected Internet fraudsters, widely known locally as 'Yahoo Boys.'
Ten vehicles were reportedly seized during the overnight raid at Club 57 along Awolowo Road, although many of the suspects fled to evade arrest, the EFCC said.
Mr Igwe welcomed the raid Friday night, but said the anti-graft office should do more to curb financial crimes in some business sectors he personally identified and marked as rife with criminality.
Record label, real estate, auto dealers, "are major 419/fraud fronts in Nigeria," Mr Igwe said in a Twitter update at 11:20 p.m.
He urged the EFCC to "station" attendants at nightclubs in exquisite Lekki and Victoria Island neighbourhoods in Lagos.
Online and offline stores along the famous Admiralty Way in Lekki "are used for money laundering", as well as similar stores off Fola Osibo Road, Mr Igwe said.
He also railed against "armed robbers" on Instagram for parading themselves as "G Boys' when, in his opinion, they are actually into "a different type of stealing…"
Full story on The Premium Times.
Photo Credit: Noble Igwe Twitter Account
Subscribe to Our Podcast Show
Some of Our Achievements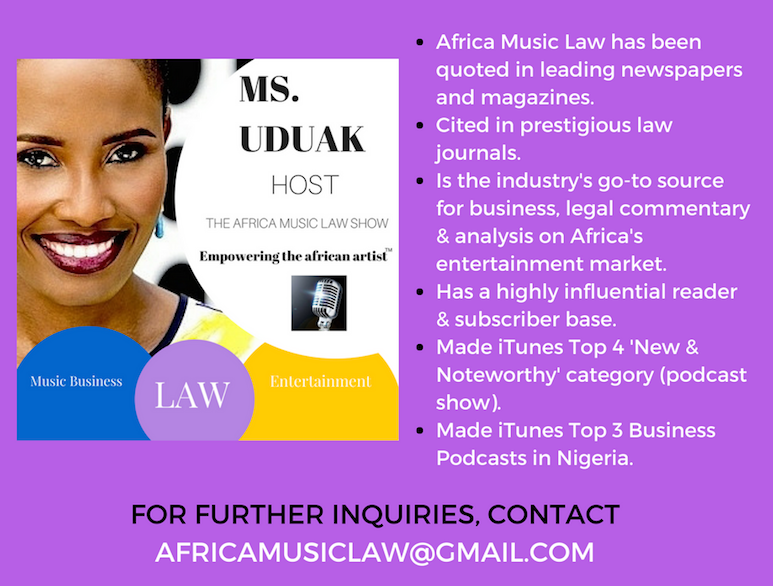 AFRICA MUSIC LAW™ (AML) is a pioneering music business and entertainment law blog and podcast show by Fashion and Entertainment Lawyer Ms. Uduak Oduok empowering the African artist and Africa's rapidly evolving entertainment industry through brilliant music business and entertainment law commentary and analysis, industry news, and exclusive interviews.
Credited for several firsts in the fashion and entertainment industry, Ms. Uduak is also a Partner and Co-Founder of Ebitu Law Group, P.C. where she handles her law firm's intellectual property law, media, business, fashion, and entertainment law practice areas. She has litigated a wide variety of cases in California courts and handled a variety of entertainment deals for clients in the USA, Africa, and Asia. Her work and contributions to the creative industry have been recognized by numerous organizations including the National Bar Association, The American University School of Law and featured in prestigious legal publications in the USA including ABA Journal and The California Lawyer Magazine. She is also an Adjunct Professor at the prestigious Academy of Arts University in San Francisco.
For legal representation inquiries, please email (uduak@ebitulawgrp.com). For blog related inquiries i.e. advertising, licensing, or guest interview requests, please email (africamusiclaw@gmail.com). Thank you for visiting Africa Music Law™.