The Nigerian cinematic landscape is currently flooded with films dominantly oozing with a flavor of comedy or romance in its storyline, leaving moviegoers with little to nothing in the action film category. Of course, it has been a while since movie junkies have been thrilled to Nollywood action blockbusters and when eventually they get a taste, they never fail to voice their distaste on the poor turnout.
The typical Nollywood action flick is plagued with poor choreography, a weak projection of stunts and an often long, non-required dialogue between the protagonist and antagonist which ultimately bores its audience, draining any intended suspense in the process.
In 'Slow Country,' a romantic-action movie, producer Eric Aghimien breaks these mediocre stereotypes. In his movie, he details the basics of what an action flick should look like, feel like and sound like.
Aghimien recruited the help of lead actors Ivie Okujaye-Egboh, Tope Tedela and Chiedozie 'Sambasa' Nzeribe from his first feature 'A Mile Away From Home,' thus giving him a more comfortable approach on handling things and expanding the scope of his creativity.
Set in an urban area, Aghimien crafts a romantic tale dipped in a hot pot of viscous conflict revolving around the travails of a single mother faced with a dilemma of watching her son die, an unforgiving drug lord and a father who bumps into his lost love and is determined to win back her love.
A villainous role in any circumstance requires the right dose of stealth and ruthlessness. Possessing both earns reverence and adoration from a bunch of willing minions. Sambasa Nzeribe who played Tuvi aptly embodies these two qualities.
Earlier this year, Sambasa won the AMVCA award for Best Male Actor over Ramsey Noah who played the role of the resilient Captain Dewa in the movie '76.' His victory came as a surprise mostly because 'Slow Country' wasn't released to the public at the time. His win elicited anticipation in the audience about what his role and movie were about. Indeed, he deserved the award for his reproduction was expertly done and very evident in his demeanor, his bass voice, and general detachment.
A vile druglord, Tuvi made his mother, Kome (Ivie) pander to his whims and caprices and deftly lured her into prostitution and drug trafficking.
Ivie, on the other hand, struggled to interpret her character. She failed to show the chemistry that exists between her and her son. Struggling with expressing her emotions, she might easily be passed for an aunt instead of a loving and endearing mother. Throughout the entire run, there seemed to be an imaginary space between the two, she cared as much as she could but not as naturally as she could have. This is in no way saying she was poor with the role of playing mother it only goes to say that she pumped more energy into playing mistress and broker at drug deals. Moreso, she was also destabilized by the sudden re-emergence of her estranged boyfriend and father of her son, Osas (Tedela).
Tedela unleashes his charm in this movie. He meticulously brought Osas to life with his exceptional acting skills. With 'Slow Country' panning out to be a 'love fairytale' in its right; Osas would later battle his way through to win back his first love, encountering rejection and then facing a bigger monster in the person of Tuvi.
Did 'Slow Country' meet expectations? The answer remains 'yes.'
Excelling with his story telling style, Aghimien further takes it up a notch with perfected stunts and film special effects. Stunts and special effects are poorly applied in most Nollywood servings but same cannot be said for 'Slow Country.'
Ricocheting bullets, indentations made on cars, broken glasses and crafty makeup that will mislead anyone into believing in the unreal is what Aghimien layers his film with, pleasuring the senses to Hollywood make-believe but in a more relatable African context.
Aghimien versatility is the key ingredient to the movie's potentially impending success at the box office. It gives a feel of thoroughness, a well thought out attempt at telling a story with little detection of struggle. Having in mind the outcome of his vision, he personally trained each actor. A lot has been said about him being a perfectionist and he continues being one. A particular scene marking the climax was shot for a period of 3 days, with multiple takes.
Overall, 'Slow Country' will enjoy favorable reviews from movie goers and critics as well.
-by Iyke Bede
Subscribe to Our Podcast Show
Some of Our Achievements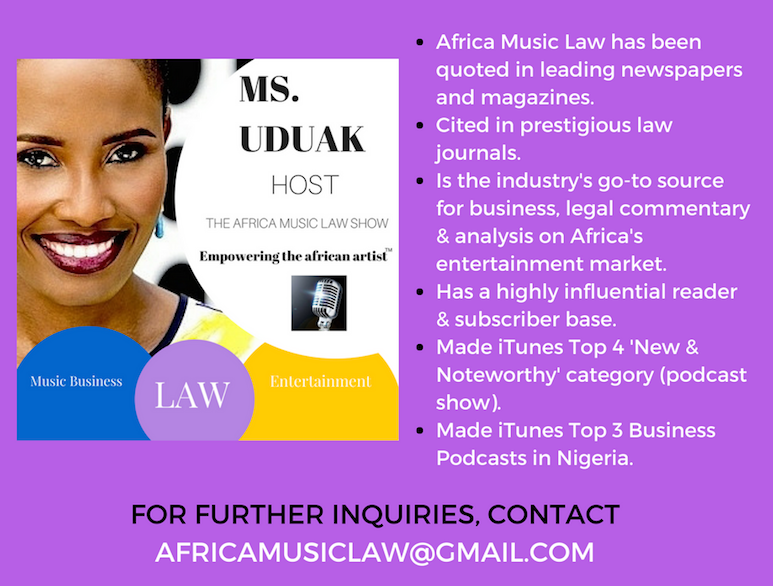 AFRICA MUSIC LAW™ (AML) is a pioneering music business and entertainment law blog and podcast show by Fashion and Entertainment Lawyer Ms. Uduak Oduok empowering the African artist and Africa's rapidly evolving entertainment industry through brilliant music business and entertainment law commentary and analysis, industry news, and exclusive interviews.
Credited for several firsts in the fashion and entertainment industry, Ms. Uduak is also a Partner and Co-Founder of Ebitu Law Group, P.C. where she handles her law firm's intellectual property law, media, business, fashion, and entertainment law practice areas. She has litigated a wide variety of cases in California courts and handled a variety of entertainment deals for clients in the USA, Africa, and Asia. Her work and contributions to the creative industry have been recognized by numerous organizations including the National Bar Association, The American University School of Law and featured in prestigious legal publications in the USA including ABA Journal and The California Lawyer Magazine. She is also an Adjunct Professor at the prestigious Academy of Arts University in San Francisco.
For legal representation inquiries, please email (uduak@ebitulawgrp.com). For blog related inquiries i.e. advertising, licensing, or guest interview requests, please email (africamusiclaw@gmail.com). Thank you for visiting Africa Music Law™.