Popular and controversial journalist and media executive Osagie Alonge has left Ringier Africa's Pulse Nigeria, for a role as Director of Growth at O'Ride, an Uber type hailing service for motorbikes in Nigeria. ORide is a subsidiary of OPay, a mobile money service company owned by Opera.
Alonge leaves Ringier after a successful five years as Editor-in-Chief for the Sub Saharan African digital publishing arm of the Switzerland owned company. Prior to working at Ringier, Alonge was Chief Correspondent at Ayeni Adekunle owned Nigerian Entertainment Today newspaper, and prior to that, an A&R executive and road manager at Steve Babaeko owned X3M Music.
In his new role at ORide, Alonge will primarily be responsible for marketing operations and brand positioning to propel the relatively new tech company into the Nigerian/African limelight.
AML granted Alonge's very first professional and comprehensive interview on his background and foray into journalism. Revisit the interview below.
Read the Instagram message Alonge shared a few weeks ago announcing his departure from Ringier.
"I've accepted to join the guys at Opera, as Director of Growth, for ORide.
I'll share more details later, but I must thank my bosses and colleagues for five amazing years at Ringier Africa. Super grateful to everyone who worked with me to build Pulse into the successful brand it is today.
The journey continues and I'll appreciate even more support from everyone who's been there for me, as I take on this new challenge at ORide.
Thank you!
Subscribe to Our Podcast Show
Some of Our Achievements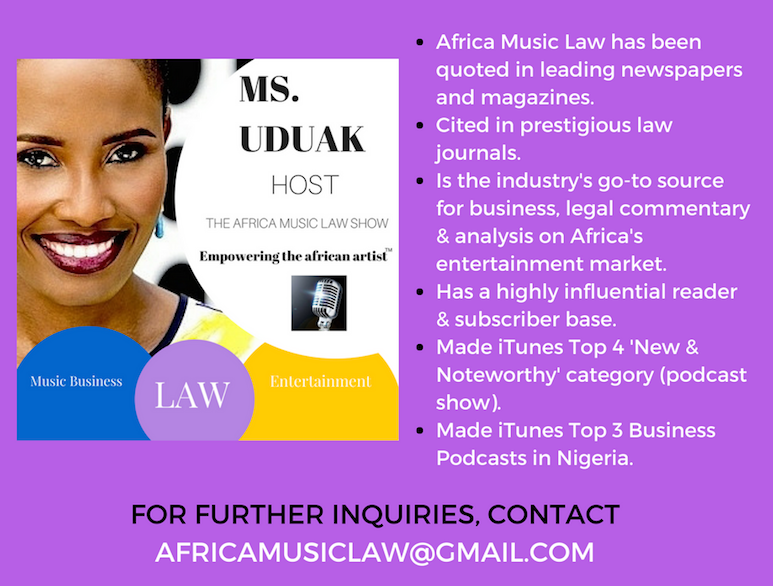 AFRICA MUSIC LAW™ (AML) is a pioneering music business and entertainment law blog and podcast show by Fashion and Entertainment Lawyer Ms. Uduak Oduok empowering the African artist and Africa's rapidly evolving entertainment industry through brilliant music business and entertainment law commentary and analysis, industry news, and exclusive interviews.
Credited for several firsts in the fashion and entertainment industry, Ms. Uduak is also a Partner and Co-Founder of Ebitu Law Group, P.C. where she handles her law firm's intellectual property law, media, business, fashion, and entertainment law practice areas. She has litigated a wide variety of cases in California courts and handled a variety of entertainment deals for clients in the USA, Africa, and Asia. Her work and contributions to the creative industry have been recognized by numerous organizations including the National Bar Association, The American University School of Law and featured in prestigious legal publications in the USA including ABA Journal and The California Lawyer Magazine. She is also an Adjunct Professor at the prestigious Academy of Arts University in San Francisco.
For legal representation inquiries, please email (uduak@ebitulawgrp.com). For blog related inquiries i.e. advertising, licensing, or guest interview requests, please email (africamusiclaw@gmail.com). Thank you for visiting Africa Music Law™.