What a terrible week last week was for journalism in Nigeria's music industry. What happened?
In a nutshell, music journalist Osagie Alonge shared in episode 135 titled 'What's Your Shoe Size,' of his podcast 'Loose Talk,' some very damning statements about pop star Wizkid. Alonge later recanted his statements based on what he says were alleged threats to his life and that of his fellow podcasters. Alonge is silent as to whether Wizkid (who has a history of threatening the media/bloggers) threatened him.
Equally worse, Alonge claimed his statements were unverified, even though he presented them as facts and implied a personal knowledge of wrong doings on Wizkid's part. Particularly interesting were claims by Alonge, which he has since recanted, of criminal conduct on Wizkid's part. Alonge alleged Wizkid drugged a female artist, and she ended "half naked". He claimed Wizkid also drugged fellow artists Dammy Krane and May D in order to steal their songs (May D has denied the allegation), and he claimed Wizkid swindled money from his prior managers, among other claims.
In addition, Alonge discussed the career of emerging artist Teni Akpata aka Teni the Entertainer. And his very sexist conclusion was that her looks were not show business worthy, therefore she should forget about becoming a recording artist, and instead focus exclusively on becoming a songwriter where she is not seen. Ironically, when it comes to looks, Osagie is in no position, based on his own looks, to tell any recording artist to forego his/her dreams.
Alonge has since deleted the original podcast and uploaded an edited one, but not before many members of the public, myself included, downloaded the unedited version and listened to what he says were unverified allegations he presented as facts. He has also issued an apology.
For those who may not know, within the Nigerian and African context, Alonge appeared to be not your average entertainment journalist. He previously worked for TheNetng, built a reputation for being objective, hard working and reporting "facts only", and as a result, climbed the corporate ladder to become an editorial director at Pulseng, a Nigerian subsidiary of Ringier Media, a Switzerland multinational integrated media company with over 8,000 employees worldwide. He also built a personal brand reputation of being frank and very credible.
So, how do you go from the above to sharing damning unverified allegations in a very uncouth manner, as "facts," on a podcast owned and distributed by your employer about Africa's leading musician?
Here are 5 lessons from the Wizkid & Teni v. Osagie Alonge Saga every journalist/blogger should know and learn.
1. Stay humble and do your job. Osagie's ego has been growing larger than life for a while now. This incident was a reminder that he needs to deflate his ego. If you are a journalist getting recognition because of your work, it is inevitable that your ego may become enlarged. Sit on your ego and stay humble. It takes only one podcast, article etc. to destroy your hard earned reputation. See my previous article on this point below:
6 Ways Journalist Osagie Alonge lost credibility with his M.I Abaga …
2. Do not report alleged criminal conduct as facts. It is a very defamatory and reckless thing to do. There is a distinction between an opinion and a fact and as a journalist or blogger, you should know the distinction. You can, for example, make a statement of opinion that you believe Wizkid infringed on the copyrights of Dammy Krane, based on allegations by Dammy Krane. But you can't conclusively call Wizkid a "thief" based on those facts unless you know it is true, which Osagie did in his podcast.
3. Don't be a coward when your reporting is called into question. Alonge claims he took the podcast down because of threats to his life and that of his friends, his fellow male podcast co-hosts. I have mixed feelings about his claim. I think there is an element of cowardice associated with his conduct. This is because Alonge claims Wizkid drugged a woman and she ended half naked, but as a journalist in a #metoomovement era, he has done NOTHING to fully investigate and objectively report those facts.
Why has Alonge been so complicit with his work as a journalist? Has Wizkid in fact drugged women? If so, how many has he violated in such manner? If the answer is "none", then it is simply a very reckless and highly irresponsible act to report as facts that Wizkid drugged a woman. And when you are called out on youur statements, it is cowardice, in my book, to claim you want to protect your friends and yourself by withdrawing your statements over alleged threats. So you would rather someone's daughter/daughters be violated and possibly lose their lives, than investigate the truth?
4. Avoid promoting sexist views in your reporting. As to Teni, Alonge can state his opinion that he believes Teni should lose weight and refine her image because image matters in the entertainment business. Such opinion would be valid and reasonable and doesn't diminish her talent, or attempt to destroy her passion for music. However, telling a very talented artist to quit as a recording artist and focus exclusively on songwriting because of her looks is ridiculous.
Indeed, there are many in foreign and local markets that thrive and are successful as recording artists, despite their looks. A good one that to me best compares with Teni would be American rapper Missy Elliot. Missy has always had an unconventional approach to her style image in the music business (primarily she dresses very tomboyish) just like Teni. Missy, however, is very consistent with her image, is a trendsetter, and at some point realized the importance of a healthy lifestyle which she has made priority.
As a recording artist, and especially when you are in the limelight, there is tremendous pressure placed on you that requires and demands that you take care of yourself. Between recording, performing, touring, promotions, travels, bad diet, insomnia, dealing with an environment that is constantly afloat with gateway drugs like alcohol etc. and hard drugs, if you do not take care of your health, you simply cannot last in this business of music. This should have been Alonge's focus.
5. Know that your failure to adhere to basic principles of journalism can open you and your employer, if you have one, to legal liability. If you want to state your opinion about a subject matter or person, feel free to do so. But, when you report alleged statements as facts, you could face potential legal liability, especially if it can be shown, in situations where public figures/celebrities are concerned, that you acted out of malice.
In the case of Alonge, if it can be shown that he acted out of malice in making his statements, then he could easily be susceptible to legal action for defamation, intentional infliction of emotional distress, and his employer equally subjected to defamation and negligent supervision claims.
In my view, there were some allegations that Alonge made which we in fact know to be true, based on documentary and electronic video evidence, that Wizkid has a drug problem, he cancels shows after he has been paid for his services (regardless of what reasons he cites), and he is an insecure young man in need of counseling. The rest of what Alonge said, which he now claims were unverified allegations, was simply reckless, and highly unprofessional and truthfully I am surprised he hasn't been demoted or even fired.
See AML archived cases taking on defamation and negligent analysis that are analogous to the Alonge situation.
Five Star Music Fires Manager: How Soso Soberekon & Linda Ikeji's Personal Relationship Caused the Biggest Death Hoax Scandal in Nigeria's Music Industry
Nollywood Icon Richard Mofe-Damijo (RMD) WARNS Popular Blogger Linda Ikeji to 'Desist From Fabricating Stories About (him) & Get a Life!" #InternetLibel #InternetLaw
-Ms. Uduak
Subscribe to Our Podcast Show
Some of Our Achievements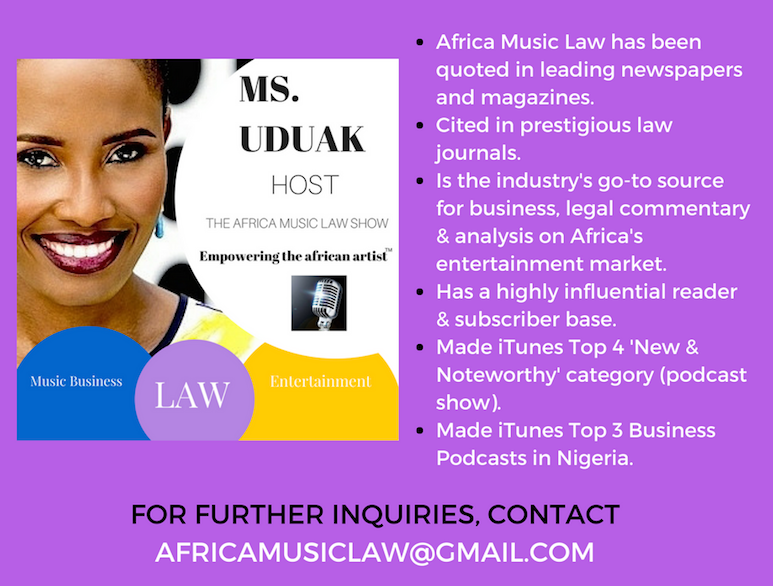 AFRICA MUSIC LAW™ (AML) is a pioneering music business and entertainment law blog and podcast show by Fashion and Entertainment Lawyer Ms. Uduak Oduok empowering the African artist and Africa's rapidly evolving entertainment industry through brilliant music business and entertainment law commentary and analysis, industry news, and exclusive interviews.
Credited for several firsts in the fashion and entertainment industry, Ms. Uduak is also a Partner and Co-Founder of Ebitu Law Group, P.C. where she handles her law firm's intellectual property law, media, business, fashion, and entertainment law practice areas. She has litigated a wide variety of cases in California courts and handled a variety of entertainment deals for clients in the USA, Africa, and Asia. Her work and contributions to the creative industry have been recognized by numerous organizations including the National Bar Association, The American University School of Law and featured in prestigious legal publications in the USA including ABA Journal and The California Lawyer Magazine. She is also an Adjunct Professor at the prestigious Academy of Arts University in San Francisco.
For legal representation inquiries, please email (uduak@ebitulawgrp.com). For blog related inquiries i.e. advertising, licensing, or guest interview requests, please email (africamusiclaw@gmail.com). Thank you for visiting Africa Music Law™.