If there is any group out of Nigeria that has been accused of song theft one too many times, it has got to be P-Square. The final rulings on these accusations we do not know since it never gets to a courtroom; and the parties have been able to resolve their disputes outside of court, so far.
The latest accusations, this time coming from fans of Timaya on twitter of which the singer generously retweeted, is that P-Square stole Timaya's song 'Bum-Bum' and basically renamed it with their own title 'Alingo.'
We've seen Waje accuse P-Square of song theft with the 'Do Me' song, in the past.
We also saw Steph Nora Okeke  accuse P-Square of theft of her  song 'Jeje,' now this.
WHO TO SUE?
If Timaya was to sue for alleged copyright infringement, he could sue third parties like IROKO who has digital distribution of P-Square's song and is distributing the alleged infringing material. P-Square also has a distribution deal with Universal South Africa, if P-Square Alingo makes it that far, they too like IROKO, could be sued.
Often trial lawyers, where some connection can be shown that a defendant distributed infringing copies of a Plaintiff's work, will sue and let the defendants sort themselves out i.e. argue they should not be the ones to be sued. So in the Timaya case, the defendants are:
1. Square Records owned by P-Square
2. IROKO Partners & IROKOING
3. Universal
#2 and 3 are potential defendants. #1 is a definitive defendant.
CAN WE SAY "AWKWARD!" WITH THE CONFLICT OF INTERESTS?
1. Timaya has a licensing deal with IROKO for the digital distribution of its song 'Bum Bum.' IROKO is responsible for the video distribution on You Tube and on its website, among other digital platforms.
2. P-Square has a licensing deal with IROKO for the digital distribution of its song 'Alingo.' IROKO is responsible for the video distribution on You Tube and on its website, among other digital platforms.
Can we say "awkward" now that the allegations of copyright infringement have emerged?
Many artists are signing exclusive licensing agreements with IROKO. The effect is that where one artist accuses another artist (both of whom are signed to IROKO) of copyright infringement, if they choose to add IROKO to the mix, it creates an uncomfortable and nasty litigation ahead. IROKO can try to put all kinds of language in its contract to protect itself but it does not preclude a legal action against IROKO. Where there is a lawyer, there is a way.
AML TIP: In licensing agreements, you the licensor (the musician/label), want to be careful that the licensee's (IROKO's) interest and its licenses with other licensors (musicians and labels) does not conflict with yours. If  'Alingo' is getting more hits than 'Bum Bum' and the song is indeed an infringement, then it cuts into Timaya's profits. If it does, who should Timaya be looking to sue? Clearly P-Square and IROKO. Should IROKO be able to walk away with no liability because the two musicians happen to sign licensing deals with IROKO? Clearly, no.
This is where it is always important to get an entertainment lawyer from day one and avoid, especially in digital distribution license situations, an exclusive license. Your lawyers should also be able to forsee these kinds of scenarios and help avoid them.
Now you decide. Did P-Square steal Timaya's song?
Timaya – 'Bum Bum'

P-Square

Subscribe to Our Podcast Show
Some of Our Achievements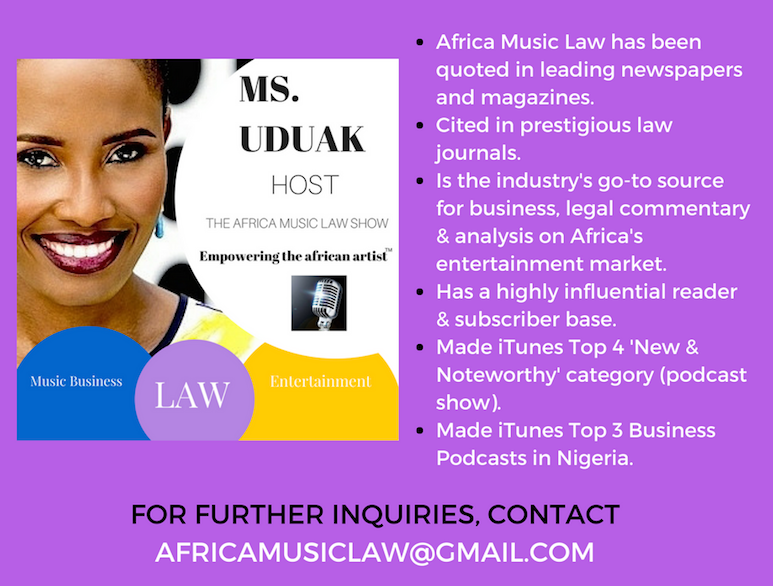 AFRICA MUSIC LAW™ (AML) is a pioneering music business and entertainment law blog and podcast show by Fashion and Entertainment Lawyer Ms. Uduak Oduok empowering the African artist and Africa's rapidly evolving entertainment industry through brilliant music business and entertainment law commentary and analysis, industry news, and exclusive interviews.
Credited for several firsts in the fashion and entertainment industry, Ms. Uduak is also a Partner and Co-Founder of Ebitu Law Group, P.C. where she handles her law firm's intellectual property law, media, business, fashion, and entertainment law practice areas. She has litigated a wide variety of cases in California courts and handled a variety of entertainment deals for clients in the USA, Africa, and Asia. Her work and contributions to the creative industry have been recognized by numerous organizations including the National Bar Association, The American University School of Law and featured in prestigious legal publications in the USA including ABA Journal and The California Lawyer Magazine. She is also an Adjunct Professor at the prestigious Academy of Arts University in San Francisco.
For legal representation inquiries, please email (uduak@ebitulawgrp.com). For blog related inquiries i.e. advertising, licensing, or guest interview requests, please email (africamusiclaw@gmail.com). Thank you for visiting Africa Music Law™.