Podcast: Play in new window | Embed
Subscribe: Apple Podcasts | Google Podcasts | Spotify | iHeartRadio | Stitcher | Email | RSS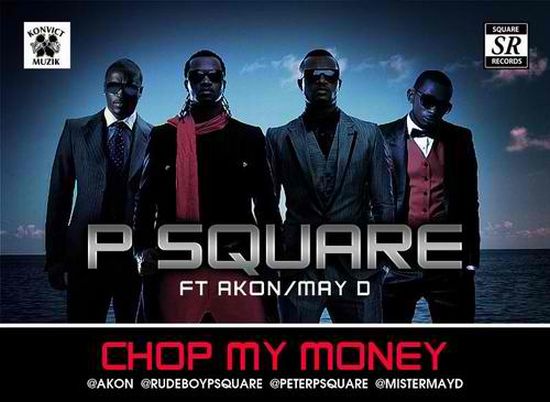 Akon (an African artist based in the USA) prepares to drop his latest single with one of Nigeria's leading acts, P-Square. Akon features on P-Square's song which is titled 'Chop My Money.' But, less than 48hours before the remixed single drops, a Georgia Construction company is screaming, "P-Square NO! Wait! Akon 'Chop My Money!!!"
AML American artists, executives etc. reading this, expect when you visit Africa Music Law (AML) to occasionally walk away with a few street lingo/slang terms from Nigeria. Indeed, from America to Asia and across Africa, there is a growing buzz on the streets and in the clubs. What is the buzz about? It is about the Nigerians. The inevitable and impending penetration of Nigerian music into mainstream America and across the globe. The timing is right, Nigerian musicians continue to gain momentum and it is only a matter of time, please believe the hype.
As you all know or should know i.e. music execs., and fellow entertainment law colleagues reading this, the demand starts in the streets and the music industry responds accordingly. We have seen this with reggaeton and now we will see this with Nigeria's brand of music. Therefore, to be aptly prepared for the inevitable, a brush on your vocabulary is necessary.Today's street vocab to learn is "chop my money."
"Chop My Money" is used where deception is perceived and trustworthiness is lacking with a person you do business with, lend money to etc. When used in a sentence, there is an underlying tone of regret and resentment for trusting the person who cheated you in your business transaction or personal monetary dealings with that person.
CASE PROFILE
PARTIES: SOUTHERN ELECTRIC V. AKON
INDUSTRY: CONSTRUCTION
DISPUTED AMOUNT: $51,000
JURISDICTION: SUPERIOR COURT OF GEORGIA
TYPE OF CASE: BREACH OF CONTRACT
The case before us today from the AML docket involves, as alluded to, an allegation of Akon in essence "chopping the money" of Southern Electric construction company. Here are the facts as reported by TMZ:
"Akon is up to his neck in $51,000 of construction bills on his Georgia mansion … and he still hasn't paid up — this according to a new lawsuit filed by a local contracting company.

Southern Electric filed the lawsuit against Akon in Georgia Superior Court, claiming it completed over $344,000 of work on Akon's place — electric work, framing, molding — but he refused to pay $51,941 on their final invoice.

According to the suit, Southern Electric contacted Akon's mommy last November … not just to tattle, but because his mother was acting as his agent in the deal … but still, S.E. has not received a dime.

They're now suing for breach of contract for the amount allegedly owed, plus interest. .  ." – TMZ
I have covered breach of contract cases and the basic showing that a Plaintiff (Southern Electric in this case) and a Defendant (Akon in this case) would have to show in situations where a breach of contract is alleged.
AML MUSIC LAW LIBRARY CASE ARCHIVES
You may revisit some of these AML case laws below:
Nigerian artists and Industry folk, read the AML Edo Promoter v. P-Square Breach of Contract case here.
American artists and Industry folk, read the Cross River State v. Rick Ross Breach of Contract case here.
Both of the above cases share the same underlying principles of contract law, albeit they are in different jurisdictions (location).
A few final words  on the lawsuit before I get into P-Square's upcoming single with Akon which drops in less than 48hours. At the onset of my legal practice, I handled a few construction cases and about three years ago also handled another one. *Deep breathe folks.*
For clients involved in construction litigation cases, it can be the most frustrating of situations. Often, there always seems to be an issue with what contractors/home-builders et al promise and what they actually deliver. That is not to say this is the case here. However, it is helpful to keep that in mind as you read about Akon's situation.
TMZ reports that Akon's mother (an African woman) acted as his agent. If this is true, I expect that like most African mothers, she probably insisted and expected that Southern Electric would deliver on exactly what it said it will. The lack of not delivering, from her viewpoint, presumably could be why the current litigation exists. After all, arguably, what is $51,000 to Akon who rakes in millions and spent $1.6million building his home? They already most of the $344,000 + so arguably it is an issue of a meeting on the minds on expectations. The contract signed by both parties will certainly be the center of attention in this case.
Where does this case go from here? It really depends on how ticked off Akon is about the situation. If he would rather not be bothered, then the parties will most likely reach a settlement and keep it moving.
If he feels bullied then he could throw his legal team on Southern Electric, refuse to settle and take it all the way to trial. If Southern Electric has the money to foot the litigation, great. They can ride it all the way to the end too. If they don't, then the case becomes super expensive and eats into their operational costs and time, unless of course they believe they have a slam dunk case and they can recover attorney fees.
Now on to P-Square 'Chop My Money' debut.
The twins prepare to debut their remixed song with Akon. "Chop My Money" is turned on its head here. This time, the twins use it to say, "cheat me if you want. In fact, do come and take all my money. I don't care. I have plenty from where that came. I just want to be with you," referring to their love interest. The original and the remixed versions are interesting. Both take the Nigerian signature sound and blend it with the Spanish reggaeton sound, if you ask me. It creates great cross over appeal and I believe if it does what a music video is supposed to do, it will gain new fans in the Spanish community while appealing to the USA African music market, and other ethnic markets.
I, however, want the unadulterated pure Nigerian sound more like the Timaya, J-Martins, Davido, Brymo sound. But, I think this approach from a business standpoint makes sense, at least initially.
Listen to some few tracks folks from P-Square from their latest album Invasion, watch some videos and let me know your thoughts on any of the topics discussed: Akon's lawsuit (everyone), the music by P-Square ( I would like to here from AML American artists and industry heads on this one).
Cheers,
Uduak
TRACKS
Do As I Do
[audio:https://www.africamusiclaw.com/wp-content/uploads/2012/02/P-Square-Do-As-I-do-ft-Tiwa-Savage-Mayd-www.africamusiclaw.com_.mp3|titles=P Square – Do As I do ft Tiwa Savage & Mayd www.africamusiclaw.com]
Asamkpokoto
[audio:https://www.africamusiclaw.com/wp-content/uploads/2012/02/P-Square-Asamkpokoto.mp3|titles=P-Square Asamkpokoto]
Bunie Ya Enu
[audio:https://www.africamusiclaw.com/wp-content/uploads/2012/02/P-Square-Bunie-Ya-Enu.mp3|titles=P-Square – Bunie Ya Enu]
Video
Little White Kid Singing and Dancing to 'Chop My Money'

ORIGINAL VERSION