AML people, a question for you. Should an artist walk away from a label whose owner gains very negative publicity for domestic violence?
Here are the facts:
Patoranking is a successful artist slowly but surely gaining global recognition.
He is signed to Foston Musik, a label in Nigeria whose owner is Foston Utomi.
A few weeks ago, Utomi became the focus of attention when his ex-wife of only one year released statements and photos revealing that he was nothing short of a monster in their relationship.
Once released, the story went viral and headlines became associated with Patoranking as a point of reference.
Of equal significance is that Patoranking, through his music, has been an advocate of stopping violence against women.
Is this a license for Patoranking to walk away from an otherwise valid contract? Let me know your thoughts.
By the way, I have to say that while the numbers are not encouraging, I am happy that there is a shift in Nigerian society and its diaspora communities for a zero tolerance of domestic violence. I am happy that men and women are speaking up and holding perpetrators of this crime accountable. It's only a matter of time, I believe, that local law enforcement in Nigeria will also begin taking these situations seriously. I am optimistic.
DV Resources
Nigerian Male Celebrities Say 'NO' to Violence Against Women in Project R.A.W Campaign.
Also visit PROJECT R.A.W directly on their website to get in touch with someone that can help you if you or someone you know is in domestic violence situation (verbal/emotional and/or physical).
The Utomi allegation
Photo credit/description: Utomi & Ex-wife's pre-wedding photo which was also featured on BellaNaija Weddings
Subscribe to Our Podcast Show
Some of Our Achievements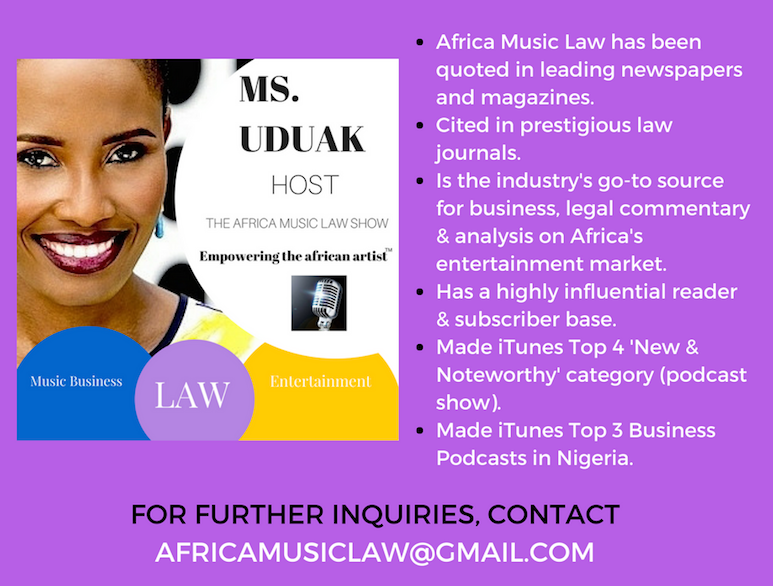 AFRICA MUSIC LAW™ (AML) is a pioneering music business and entertainment law blog and podcast show by Fashion and Entertainment Lawyer Ms. Uduak Oduok empowering the African artist and Africa's rapidly evolving entertainment industry through brilliant music business and entertainment law commentary and analysis, industry news, and exclusive interviews.
Credited for several firsts in the fashion and entertainment industry, Ms. Uduak is also a Partner and Co-Founder of Ebitu Law Group, P.C. where she handles her law firm's intellectual property law, media, business, fashion, and entertainment law practice areas. She has litigated a wide variety of cases in California courts and handled a variety of entertainment deals for clients in the USA, Africa, and Asia. Her work and contributions to the creative industry have been recognized by numerous organizations including the National Bar Association, The American University School of Law and featured in prestigious legal publications in the USA including ABA Journal and The California Lawyer Magazine.
For legal representation inquiries, please email (uduak@ebitulawgrp.com). For blog related inquiries i.e. advertising, licensing, or guest interview requests, please email (africamusiclaw@gmail.com). Thank you for visiting Africa Music Law™.