Two days ago, I shared an article with you all where I asked why Upfront & Personal's Paul Okoye was so crass with his attitude of doing the following:
Organizing a #OneAfricaMusicFest Houston event, so soon, after there was explicit representation that the event was self-funded and non-profitable. I estimated he spent at least a$1million on the event, and questioned the source of his funding that caused him to attempt another event with a parallel caliber so quickly. Does he have any investors? Isn't he accountable to them? I am unaware that Okoye is on Forbes List as one of the richest men in Africa. But assuming he is, what's the plan, as a business man, for a return on investment especially given the record low exchange rate of the  Nigerian Naira to dollar (400Naira to every $1dollar)?
Organizing such event in a manner that conflicted with key industry events in the diaspora and on the continent (AFRIMMA, MTV MAMA). This, in my view, would force fans and even artists to have to choose which events to attend. Have you seen BET Awards organize their event five days after the Grammys?
I said Paul Okoye showed a complete lack of respect for all of the hard work by Africans in the diaspora creative industry here in the U.S., and thinks because he "has" money, he can just show up on U.S. soil, and spray it anyhow. What is the clear strategic plan to truly move Afrobeat music forward in America? Does it include a recognition/respect for the fans, talents, stakeholders and the ecosystem at large?
Post my writing, an attorney with Okoye's company left a comment on my post as follows:
"Ms. Uduak,

Your comments, are extremely inflammatory, malicious, borderline defamatory and clearly ignorant. If you have questions for UPGMC, LLC, or our CEO Paul O, it would be proper to reach out and talk to us rather than trying to malign our brand in an article that simply embodies the truest definition ignorance. 

Patrick Okeke, Esq. (Member)
UPGMC, LLC"
If you are an AML reader who happens to be an attorney, please do not handle your client's business this way. If you or your client perceive an issue with your client's brand identity in the media/public domain, email the source of the news/views you may disagree with and share your comment privately. Don't get or give an emotional response that ends up keeping your client in the news as a topic of discussion. That's a bad strategy if your goal is to prevent further amplification or discussion of an alleged "maligning" of your client's brand. I guarantee you that your boss or client would rather not have such attention or focus or breakdown. It's PR/crisis management 101, if this can be said to be a crisis.
Having said the above, I have chosen to indulge in the comment as a teaching point. Let's get into it:
1. (I)t would be proper to reach out and talk to us rather than trying to malign our brand in an article that simply embodies the truest definition ignorance":  Nigerians and Nigerian creatives are particularly guilty of this. Folks, critics are NOT required to reach out to you when discussing your brand or your activities, especially when such activities are in the public domain. Their job is to discuss, and usually offer unfavorable opinions or positions to you or your brands. If they like, they can choose to contact you. But, there is no legal, business, ethical or any kind of obligation to reach out to you. In this case, purely out of sheer curiosity, I contacted Okoye and posed my questions to him. I used several platforms and gave him ample time to respond. All proved futile.  Too bad so sad. The criticism goes on.
2. "Your comments, are extremely inflammatory, malicious, borderline defamatory…" This is pure emotional jargon and not rooted in the law. An assertion that someone is malicious or "borderline" defamatory doesn't make it such. At the heart of a defamation analysis is that statements asserted be false. Further, where they are false, the law recognizes exceptions to the general rule where public figures are concerned and places a higher burden on a Plaintiff to in fact show a statement made was defamatory. Paul Okoye is a public figure. Further, nothing I have discussed is malicious. It is just basic common sense and facts.
3."Your comments, are…clearly ignorant:"
You must be new to the name Uduak Oduok. I know it is common for Nigerians on the continent who visit the U.S. to think they have this market figured out and that if they just throw money at it, they will get what they want. This is not true.
Nduka Obaigbena serves as a great example of this in the fashion industry space. I remember when Nduka came to the U.S. and took the same approach Okoye is taking. He wanted African fashion to be everywhere. He sponsored all the designers who came from Africa, rented out the largest venue at New York Fashion Week, launched Arise Magazine, and spent money "yafun, yafun" (anyhow) to accomplish his goal. I was one of the few voices that said that strategy would not work and explained why to Nduka and others who would listen. Where is Nduka's Arise fashion shows and magazine today? The site was last active in 2013. The magazine is no longer being distributed. There have also been several allegations of non-payment of staff, and at least one lawsuit filed in South Africa by one of the top fashion production companies for non-payment for work performed in New York.
Further, today, while there remains an awareness of African fashion, the business of fashion for the African designer has not really moved forward in the states like Nduka wanted. Our designers are having to restart with a new dialogue; and are not even represented where they really need to be. Instead, western designers continue to be "inspired" by Africa, its fabrics and style and enjoy increased revenue. Not the same for our designers.
Earlier this year, we heard Nduka had issues surrounding inappropriate receipt of funds with the Economic and Financial Crimes Commission (EFCC), and allegedly returned a whopping 350Million Naira  to EFCC.
4. Now, it's not only "wealthy" Nigerians from Nigeria that come to America, and "throway" money at their desired obsession or venture of the moment. We do have many African diasporans who return to Africa and act like they are there to save the locals. Jason Njoku of IROKO TV did this. When Njoku moved from the UK to Nigeria, he was arrogant, rude, very disrespectful of the ecosystem and stakeholders, often belligerent, and also spent a lot of money within and outside Nigeria that he simply didn't need to. Njoku, unlike Okoye, was transparent with the source of his money/funding but boy did he brag. Njoku bragged for days. I remember when I started discussing his braggings, telling him to cut down on spending, respect the ecosystem, work collaboratively etc. He along with Michael Ugwu who is now with Sony West Africa came on this blog to fire away much the same way Okeke is doing now for Okoye.
Wetin happen? Not too long, in a very controversial and dramatic fashion, Ugwu left IROKO and revealed they didn't have their act together as I suspected all along. Later we saw Njoku forced to close many of his offices, tighten his belt and later begin showing respect to the ecosystem and stakeholders. The point? We've been here before. The only person new to this is Okoye and his crew.
There is no ignorance here. This is common sense. You cannot rent a venue like Barclays, which is an 18,000 seater, sit 15,000, give away free tickets, pay for security, pay for 15 of some of the best of Africa's talent (even if they gave you discount for their performance fees), pay for their hotel, accommodations, meals, cover travels and so much more and not expect to hit at least almost, if not a $1million. 

You also cannot expect to do so, not break even or turn a profit,  supposedly self-fund, and in less than a month, you are back at it again and not raise eyebrows. Having such expectation is where the "clear ignorance" lies.
What is particularly interesting is you chose Houston, of all places, to go stage this event. Beyond the fact that there is a similar event occurring days prior to yours which you undercut (AFRIMMA in Dallas, Texas), Houston is not the place to go spend that kind of money in such quick turn around time after New York. Indeed, while Houston is fast becoming an entertainment hub for Nigerians and Africans, it is also  a place that the police has zeroed in on Nigerians, especially our men,  for alleged 419 (fraud activities). One of the red flags for the police is how much our men spend on flashy cars, parties etc. Do we really need a high roller who just allegedly dropped almost a million in New York to be in Houston doing the same in less than a month? What impact will that have on the local Nigerian community in Houston?
I continue to repeat that Paul Okoye has no respect for the diaspora ecosystem. The fans he met in New York that came from across the U.S. did not spring from nowhere. From promoters,  DJs, event producers, publishers and so many more, Africans in the U.S. have been working for years to create an environment where our talents and creative industry is recognized, respected and paid their worth. Some of these promoters/event producers have pooled resources, some mortgage their homes etc. to build the awareness and fan base that Okoye now attempts to tap into.
They didn't leave America for greener pastures in Nigeria when things were tough. They stuck it out. They used the technology they had and their passion for Nigeria to build platforms that have been instrumental in getting Nigerian and Afrobeat music to where it is today. So, Mr. Okoye and the likes of Okoye, when you arrive in a new territory with your bag load of money, know it is not only about the money. You should also put some "RESPECK" on it for those who have been holding it down.
Finally, there is a story on TheNetng.net you may have missed which alleges that One Africa Music Fest may have cost 1Billion Naira ($2Million dollars). Clearly I am not the only one questioning the source of funding for Okoye's event, given his choice to now further flash that wealth  by  producing a parallel OneAfricaMusicFest Houston event. Also, my numbers are on the conservative side ($1million) as opposed to TheNet's.
Read excerpts from TheNet's story. The color and bolded parts are my additions for emphasis.
One Africa Music Festival gulps over N1b. And part 2 is on the way
"One Africa Music Festival, the sold-out concert organised by Nigerian agency Upfront & Personal, on July 22, 2016, may have gulped up to one billion naira.

The event has come and gone, without anyone having a hint on how Paul Okoye and his team pulled off a big-budget international concert without any visible corporate sponsorship.

Until this week, when one project executive spoke with our journalists, asking to remain anonymous.

The concert, we were told, was completely sponsored by millionaire Okoye, who first came into national prominence as footballer Kanu Nwankwo's business partner.

'He picked all the bills', says our source. Accommodation for over 14 artistes and their crews, business class travel tickets from different countries, the cost of the venue Barclays Centre, event production, artiste fees, and other associated costs.

'Some artistes gave good discounts because of his relationship with them', Nigerian Entertainment Today gathered. 'Others took their full fees. But everyone came and left happy'.

We have now been told Okoye and his team are working for another edition.

Thenetng estimates it costs about $103,000 (over N33m, in square meters calculation) to hire the Barclays Centre for the concert of such calibre. And far more for other necessary elements associated with the venue. And it's the first time a Nigerian organisation is pulling off such experiment.The Barclays Centre in New York

How did the funds come about? No one can say. But insiders assure us 'it was worth the spend'…" – TheNetng.net
-Ms.Uduak
Subscribe to Our Podcast Show
Some of Our Achievements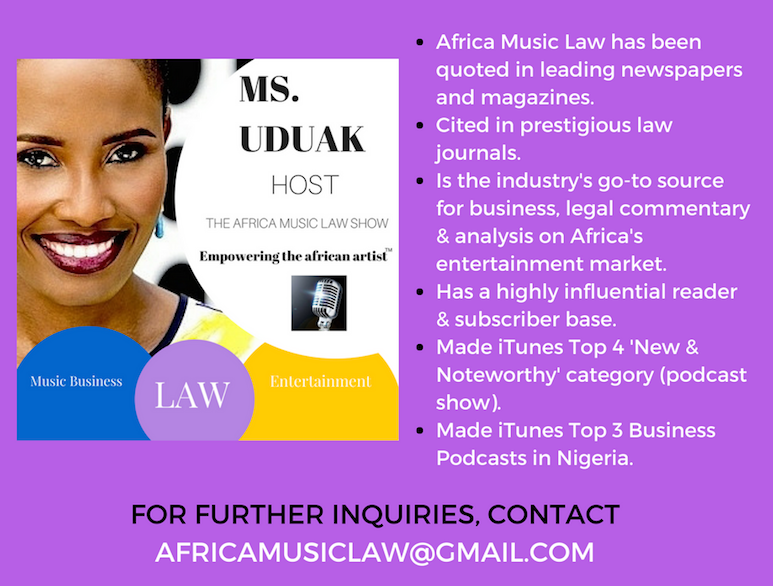 AFRICA MUSIC LAW™ (AML) is a pioneering music business and entertainment law blog and podcast show by Fashion and Entertainment Lawyer Ms. Uduak Oduok empowering the African artist and Africa's rapidly evolving entertainment industry through brilliant music business and entertainment law commentary and analysis, industry news, and exclusive interviews.
Credited for several firsts in the fashion and entertainment industry, Ms. Uduak is also a Partner and Co-Founder of Ebitu Law Group, P.C. where she handles her law firm's intellectual property law, media, business, fashion, and entertainment law practice areas. She has litigated a wide variety of cases in California courts and handled a variety of entertainment deals for clients in the USA, Africa, and Asia. Her work and contributions to the creative industry have been recognized by numerous organizations including the National Bar Association, The American University School of Law and featured in prestigious legal publications in the USA including ABA Journal and The California Lawyer Magazine.
For legal representation inquiries, please email (uduak@ebitulawgrp.com). For blog related inquiries i.e. advertising, licensing, or guest interview requests, please email (africamusiclaw@gmail.com). Thank you for visiting Africa Music Law™.