We all know about the falling out of P-Square. We also know that while the fate of P-Square remains in limbo (there is still no announcement of an official dissolution), the band members have moved on with their solo acts.
Peter Okoye has formed his own new brand called Mr. P., while his twin brother Paul Okoye operates under the brand Rudeboy. The two have released songs and music videos under their new brands. The only issue, however, is that Peter Okoye seems to be quickly building a reputation as an artist who lacks originality. Considering that was a big part of the challenge he had under the P-Square label, it seems perplexing and his fans are taking notice and calling him out on it.
His first major hit single 'Cool it Down' sampled American artists Mya and Blackstreets's song 'Take Me There.' Now, Peter is out with yet another single, titled 'My Way,' and this time it samples the master recording in American artist Mario's 'I don't wanna know.' His fans also point out the similarities in his music video with Chris Brown's 'Don't Wake Me Up.'
So, what's the deal with Peter? He made so much fuss about being original, being talented and not hanging in the shadows of his twin brother when it comes to songwriting, and overall music production, yet he can't seem to give his fans some originality? Interesting.
By the way, I do not address intellectual property issues on Peter's samplings because there is no accusation that Peter has infringed on the rights of copyright owners. When or should that happen, I'll address it. Until then, the focus is on branding.
Mario Winans – I Don't Wanna Know (which actually samples Fugees 'Ready or Not')

Peter Okoye's My Way (which seems to sample Mario's version of the Fugee instrumental)

Chris Brown – Don't wake me up

Subscribe to Our Podcast Show
Some of Our Achievements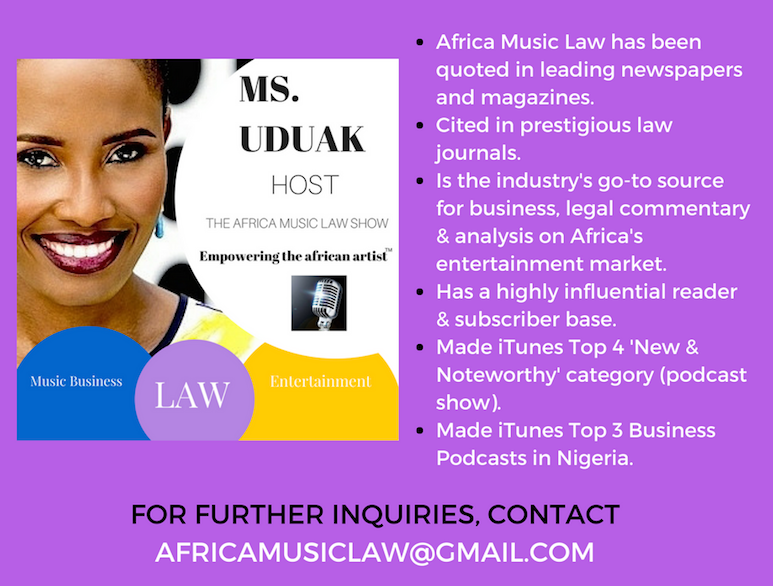 AFRICA MUSIC LAW™ (AML) is a pioneering music business and entertainment law blog and podcast show by Fashion and Entertainment Lawyer Ms. Uduak Oduok empowering the African artist and Africa's rapidly evolving entertainment industry through brilliant music business and entertainment law commentary and analysis, industry news, and exclusive interviews.
Credited for several firsts in the fashion and entertainment industry, Ms. Uduak is also a Partner and Co-Founder of Ebitu Law Group, P.C. where she handles her law firm's intellectual property law, media, business, fashion, and entertainment law practice areas. She has litigated a wide variety of cases in California courts and handled a variety of entertainment deals for clients in the USA, Africa, and Asia. Her work and contributions to the creative industry have been recognized by numerous organizations including the National Bar Association, The American University School of Law and featured in prestigious legal publications in the USA including ABA Journal and The California Lawyer Magazine.
For legal representation inquiries, please email (uduak@ebitulawgrp.com). For blog related inquiries i.e. advertising, licensing, or guest interview requests, please email (africamusiclaw@gmail.com). Thank you for visiting Africa Music Law™.