This lawsuit is such a joke I don't even know where to begin. I do think all the steps taken by 2Face and Annie as well as their countersuit, where they are seeking "150 million Naira in damages and an order of perpetual injunction restraining the photographer" from commercial use of their images makes total sense.
For all photographers reading this, there are two rights that attach when you take a picture. The first is a copyright that belongs to the photographer. The second is an image right. What is called a 'Right of Publicity.' I have discussed 'Right of Publicity' law which is  applicable here in some states in the U.S. In Nigeria, image rights are not explicitly provided for under the law. What you have is a law/theory called 'Passing off.' What it does is to prevent a Defendant from misrepresenting that his or her goods or services are that of the Plaintiff, or from acting as if the goods or services are associated with the Plaintiff when it is not. The underlying policy is to avoid a person from siphoning the reputation of the Plaintiff by deceiving the public to buy a product or service that is positioned as that of/associated with the Plaintiff when it simply isn't. That is essentially what Annie and 2Face are arguing.
Clearly as the celebrity culture continues to grow, it becomes obvious that states such as Lagos, Abuja, and Cross River (entertainment hubs/locations), should consider implementing a clear image right law.
Let's see how this story shakes out.
-Ms. Uduak
A photographer, Mr. Emmanuel Okolo, has filed a N120m copyright infringement suit against musician Innocent Idibia, popularly known as 2face, and wife, Annie. The photographer sued the couple and one Mr. Anthonio Anifite before Justice Mohammed Idris of a Federal High Court in Lagos.

He alleged that the defendants made use of some photographs he took at the traditional wedding of Mr. and Mrs. Idibia in Uyo, Akwa Ibom State in 2013 without duly attributing the works to him or acknowledging him contrary to an alleged agreement.

The photographer, who sued alongside his company, Papilonmexy Films Studios Limited, claimed that the defendants wrote '2faceonline.com' across 148 out of the 355 high-resolution photographs he took at the couple's wedding and uploaded them on 2face's official website, thereby denying him credit and referral opportunities.

He claimed that days after the wedding, Annie called him on the telephone requesting copies of the wedding photographs and that upon sending them to her, Annie complained about the watermark of Papilomenxy studios reflecting on them.

According to the photographer, Annie later sent the 2nd defendant to negotiate with the photographer on the terms that the photographs should be released without watermarks.

The photographer claimed to have then released 355 high-resolution photographs from the wedding to Anifite free of charge on the agreement that whenever and wherever they were used, the copyright would be credited to his company.

He, however, claimed that the defendants breached the terms of the signed agreement and went ahead to write '2faceonline.com' across 148 of the photographs that they uploaded on 2face's official website.

The photographer, who described himself as "a certified film maker from the prestigious London Film Academy" and a holder of a Masters of Arts degree from Cardiff School of Creative and Cultural Industries, South Wales, United Kingdom, claimed to have suffered general and exemplary damages for which he is seeking N120m compensation from 2face, Annie and Anifite.

'Premeditated Plan To Blackmail'

But the defendants have not only urged Justice Idris to dismiss the photographer's suit but they also filed a counterclaim wherein they demanded N150m damages from him and his studio.

They claimed that the photographer crashed into the venue of their traditional wedding, took pictures and circulated same for commercial gains without their permission.

They claimed that he was not invited but was just "one of the numerous photographers and pseudo-professionals and artisans, who invaded the venue of the ceremonies to eke out a living for themselves without prior consultation with or the consent of the celebrants."

They claimed that soon after their wedding, they noticed some strange versions of their wedding pictures circulating online with Papilonmexy studio watermark and after painstaking findings, they traced them to the photographer.

They claimed that upon locating the photographer and expressing their displeasure, he pleaded with them while lamenting that he was hard hit by a downturn in the still photography business and sought any future engagement with them.

They claimed that the photographer forced the photographs on them, saying he wanted to leverage on their popularity to get referrals.

They, however, claimed that they told him categorically that the only condition on which they could accept the photographs was for him to remove the watermarks of his company, which he allegedly agreed to."

They, however, said they were shocked when after uploading the photographs, the photographer wrote a pre-litigation letter to them demanding that his watermarks be boldly inscribed across the photographs and a letter of apology…"

Channels TV has the full story.
Subscribe to Our Podcast Show
Some of Our Achievements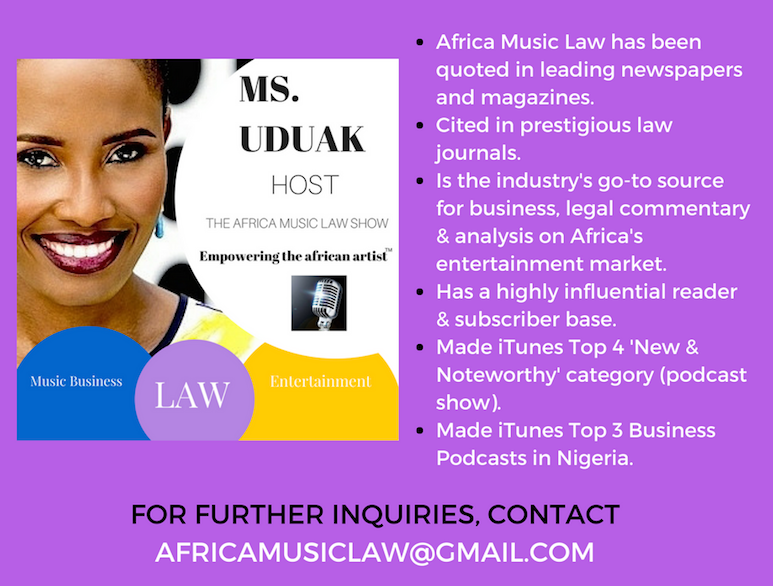 AFRICA MUSIC LAW™ (AML) is a pioneering music business and entertainment law blog and podcast show by Fashion and Entertainment Lawyer Ms. Uduak Oduok empowering the African artist and Africa's rapidly evolving entertainment industry through brilliant music business and entertainment law commentary and analysis, industry news, and exclusive interviews.
Credited for several firsts in the fashion and entertainment industry, Ms. Uduak is also a Partner and Co-Founder of Ebitu Law Group, P.C. where she handles her law firm's intellectual property law, media, business, fashion, and entertainment law practice areas. She has litigated a wide variety of cases in California courts and handled a variety of entertainment deals for clients in the USA, Africa, and Asia. Her work and contributions to the creative industry have been recognized by numerous organizations including the National Bar Association, The American University School of Law and featured in prestigious legal publications in the USA including ABA Journal and The California Lawyer Magazine.
For legal representation inquiries, please email (uduak@ebitulawgrp.com). For blog related inquiries i.e. advertising, licensing, or guest interview requests, please email (africamusiclaw@gmail.com). Thank you for visiting Africa Music Law™.