I love art, culture, travels, music, fashion, among other interests, a lot. I could get lost in museums just taking in rich history through visual arts of who we are as a society. So, when I see artistic works, especially from Africans, I am particularly pleased. When the African artists are friends, even more icing on the cake.
Indeed, I am particularly proud of my friend and loyal Africamusiclaw.com reader Ade Olufeko for the production and execution of his latest work and passion, Visual Collaborative VII. Ade who has a background in IT, launched Visual Collaborative in 2006 . Years later, he is still at it and his passion for the arts has only intensified.
I particularly like that his latest event  includes Ade's work which is an abstract painting of TuFace.
Meet Ade below, check out all the photos from the event and how to get touch with him if you would like to purchase some of his art work or collaborate with him on future Visual Collaborative projects.
Cheers,
Uduak
Bio
Adeolu Abayomi Olufeko is an American multi-disciplinary designer of Nigerian descent, a digital strategist and a passionate digital artist.

Ade born into a creative family spent most of his formative years in the metropolis of Lagos, Nigeria(Surulere). He relocated back to Minneapolis in the mid 90's and shortly after attended Minnesota State University in Saint Paul, where he studied computer science concentrating on multimedia. His personal work became popularly known in the African diaspora through a signature collection of motion graphic websites.  In 2001 this body of work was showcased in some computer courses globally such as the teaching organization Learn Direct in London UK. His proficiency in graphics and recognition as an authority on the subject allows him impart knowledge through his design work and creative workshops. He pioneered the first social media website for Saint Gregory's College Ikoyi Obalende in 1997 assisting alumni connect globally.

In Minneapolis Ade started working with online technologies and the Internet, becoming an enthusiast at a young age; he embraced technology working through various service jobs.  In 2003 he received the IBM Gerstner Team Award for Customer Excellence. He later became a resident of New York City in 2007 where he furthered his consulting experience serving various parts of the community.  On several occasions he has been commissioned to do design work for celebrities such as Grammy nominated recording artist – Amel Larrieux . He has rendered services to companies in various industries such as the media, financial, entertainment, telecom and energy industries. Since 2006 he became a beta tester for Adobe System's prerelease application programs, one of the world's largest software and mobile media companies.

While in Minneapolis he initiated Visual Collaborative™ a seasonal art and technology driven exposition that orchestrates design work of emerging artists in different cities. By taking on the role of curator, he has worked with various galleries, restaurants, publicists and forged strategic partnerships with charities. His digital work has been shown in Minneapolis Minnesota, New York City, San Francisco, Miami and Washington DC. On occasion Ade accepts invitations to speak on panels that focus on technology or business collaborations. He was a panel speaker during the Harlem New York; America meets African Conference put together by the New York African Chorus Ensemble and the Harlem Arts Alliance. He has been featured in a few contemporary publications.
Podcast interview with theAfricas.org

"A colorful crowd warmed its way to the American furniture store front of Modern Contempo, despite a blizzard type weather forecasted for Columbia Maryland on Saturday the 14th of December 2013, the opening night exceeded expectations of its attendees. Visual Collaborative held its 7th pop-up rendition of its creative exposition, a platform for emerging creatives; featuring the works of Danielle Eckhardt of Virginia Beach, Yinka Ajakaiye of Brooklyn New York via Nigeria, a performance from singer Selam from Virginia (East African descent). This event curated by multi-disciplinary designer & digital artist Ade Abayomi Olufeko. A mesmerized audience experienced the sounds from the performance artist accompanied by stunning contemporary furniture. The exhibition open to the public ends January 2nd 2014. Modern Contempo is an African and American owned establishment who collaborated to support the initiative."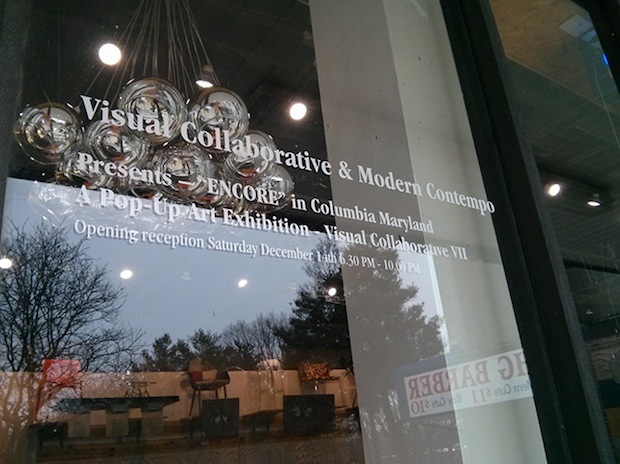 (TuFace Abstract by Ade Olufeko)


(Sample Works of Other Curated Artists at the Event)


Check out even more photos from the event at Encore Visual Collaborative VII.
Visit Ade at http://ade.olufeko.com to get in touch if you would like to purchase some of his art work or collaborate on future projects with him.
Courtesy photos.