Hey AML people. I am finally back in California and truly, there is no place like home. I enjoyed my time away at New York Fashion Week and had a blast, overall. Below are some of the people, places and things in pictures that capture my New York Fashion Week 2014 experience.(For my Nigerian readers, I also enjoyed some mean pounded yam and efo riro (soup) while in NY that a friend I was visiting hooked me up with. I was over the moon! LOL!)
Now I have to get ready for the new week! Catch you all soon.
Cheers,
Uduak
Arrived in NY!

Next Day Settling in & Preparing to Hang with Friends

Caught up with my Georgetown Law Buddies/Colleagues, all respected attorneys in their own right.

Preparing to Walk in the Carrie Hammer Show

Walking the Show

Video of me walking the show

Pictures with some of the 'Role Models' not Runway Models who also Walked the Show
Minoo Ayat, Technology Talent Acquisition Leader

Collete Davis -Co-founder Tech Drive and Professional Indy Car Racer

Designer Carrie Hammer & Fashion Law Professor Susan Scafidi, both responsible for the Carrie Hammer Show

Some Press from walking the show
1. What does a fashion lawyer/entrepreneur have in her closet? Fashion Forward.
2. 24 Women Who  Are Changing the Face of Beauty on the Runway. Bella Sugar
3. MSNBC Video

More pics & press but let's keep this post as short as possible. Now on to wearing Ladybrille Magazine Fashion Editorial hat. Some few pics of some of the shows I attended.
Baseline Music Executive and me.

CEO The Beauty Boon and me.

Fashion Blogger and Handbag Designer Moruka Designs. She gifted me the purse at the venue and you can see me show it off in the picture.

More Shows
Rocking HVS to The Deola Show
Oh Wow! Look who I ran into, after many moons of not seeing these fellas?
Ademola Adeojo (Executive at Elizade Motors, only licensed distributors of Toyota cars in Nigeria), Kunle Afolayan, Filmmaker

It was also good to see the Designer Deola, after a few years of not seeing her.

Fashion Model Funmi and Ladybrille Woman of the Month Alum Bisila Bokoko were also there.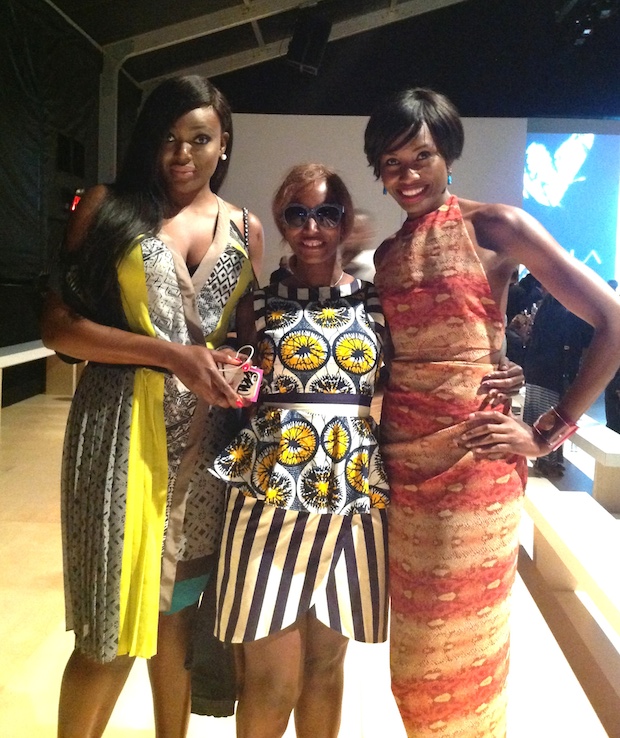 And so was Nigerian Media Personality Eku Edewor who flew in from Nigeria for the shows.

More shows
Preparing & Attending the Cesar Galindo Show

Attending the Academy of Art Show

Oh! Look who I ran into at the Korto Momolu Show? Photographer and Judge of Africa's Next Top Model Remi Adetiba. I am 6ft 2in tall. Remi must be like 6ft 5in tall. He also walks tall. Good stuff.

Hanging out with my fashion model girlfriends: Funmi, Millen and so many other friends not featured here.

All work and no play? We can't have that. So, more time for self and to do tourist things including:
Visiting the Empire State Building. We went all the way to to the top and could see the entire view of New York City! Fun, fun, fun! By the way, in case you like the Bracelet I rock, it is by Darrell Roach who I met at the Korto show and who gifted me with the unique bracelet. I have not stopped receiving compliments everywhere I have gone with his bracelet. Also, my shirt is a men's shirt by Open Ceremony. It fit like a glove.

What's a visit to New York for Basketball fans without checking out the Madison Square Garden?

Made my way to Sahara TV for the radio Appearance with Host Humble Prince

In short, I came, I saw, I achieved, I had fun and I didn't forget to get my work out in while on the road. Now off to prepare for a busy upcoming week my good people. Talk soon.

Cheers,
Uduak