In case you missed it, Phyno and Olamide were scheduled for concerts in Toronto on November 24, 2017. The event was widely promoted and the artists also used their platforms to promote the event. Fans of the duo bought tickets that retailed at $50 & $100 (VIP), respectively. However, on the day of the event, the duo failed to show up to perform. Instead, the MC for the evening explained that Olamide was sick and Phyno was by his side.
Concert-goers were incensed with the excuse and instead began to vandalize property and react angrily until the police were called in to diffuse the situation.
There is no justification for vandalizing property. But, it would be an understatement to say that many Nigerian and African promoters in the diaspora have pushed the patience of the average African diasporan music fan to the maximum. As the Afrobeats genre expands on international shores, two things are happening: 1) western concert promoter brands are realizing and looking to truly provide an experience for music fans, Africans included: and 2) many of these fans now threaten legal action, take legal action, or act in the less recommended route of physical retaliation.
It is alleged, in this instance of the cancelled concert that the promoter here allegedly did not have the funds to produce an event of this calibre. The initial deposit fee was allegedly obtained through fraudulent means and the promoter failed to pay the remnant fee due to the talents upon their arrival, hence the talents not performing.
We do not know whether the allegations are true. What I do know is that I have discussed this issue and addressed the red flags to watch out for in the AML archived case of Burna Boy v. Vibesland Entertainment. So, listen to that podcast if you have not already and be careful of slimy promoters. Slimy promoters will destroy your brand reputation, getting you arrested like Dammy Krane, and get you badly injured at the hands of angry fans.
-Ms. Uduak
The statement released by YBNL and Penthauze Entertainment after the drama:
"We humbly apologize to our fans who bought tickets for The Culture Tour in Canada. Olamide and Phyno love and adore their fans and did everything within their power to ensure they performed at the event. However the promoter Prince George Entertainment defaulted on the our agreement . It was announced at the venue during the show that Phyno was sick and he couldn't perform which is a lie . Phyno wasn't sick and was/is in good health. Olamide and Phyno met up with all obligations to make the event a success and where present in Canada ready to perform but the promoter Prince George Entertainment refused to honor our agreement. Our humble apologies once more as we understand a lot of fans sacrificed so much to be at the event."
Signed
YBNL & PENTHAUZE MANAGEMENT
Subscribe to Our Podcast Show
Some of Our Achievements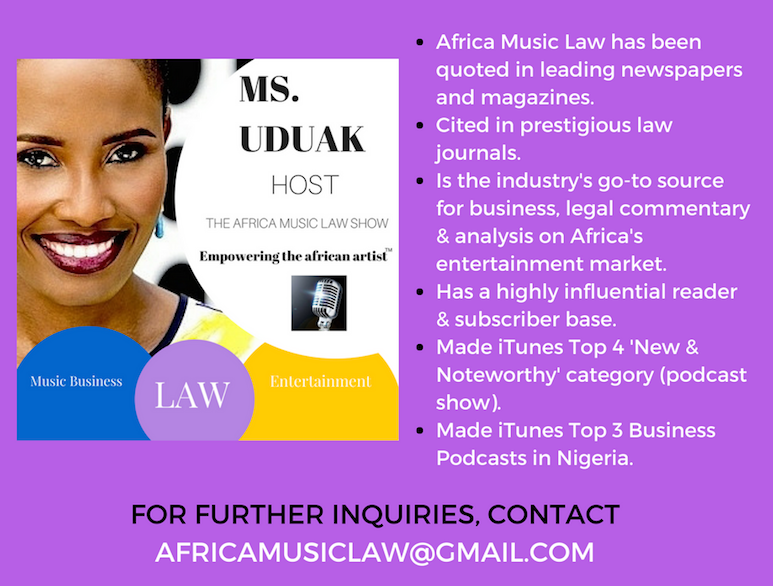 AFRICA MUSIC LAW™ (AML) is a pioneering music business and entertainment law blog and podcast show by Fashion and Entertainment Lawyer Ms. Uduak Oduok empowering the African artist and Africa's rapidly evolving entertainment industry through brilliant music business and entertainment law commentary and analysis, industry news, and exclusive interviews.
Credited for several firsts in the fashion and entertainment industry, Ms. Uduak is also a Partner and Co-Founder of Ebitu Law Group, P.C. where she handles her law firm's intellectual property law, media, business, fashion, and entertainment law practice areas. She has litigated a wide variety of cases in California courts and handled a variety of entertainment deals for clients in the USA, Africa, and Asia. Her work and contributions to the creative industry have been recognized by numerous organizations including the National Bar Association, The American University School of Law and featured in prestigious legal publications in the USA including ABA Journal and The California Lawyer Magazine.
For legal representation inquiries, please email (uduak@ebitulawgrp.com). For blog related inquiries i.e. advertising, licensing, or guest interview requests, please email (africamusiclaw@gmail.com). Thank you for visiting Africa Music Law™.