It's interesting to see X.O Senavoe title his latest release 'Oluwadele.' The title references the Yoruba language of the Yoruba people of Nigeria; but Senavoe and the co-artist on the track Efya, are more heavily skewed on the Ghanaian side of things/culture.
Check out X.O Senavoe's latest single and pictures from the pending lyric video.
Cheers,
Uduak
-Uduak
Africa's Rap King blesses us with a classic. With his long awaited and highly anticipated debut project, XPoint0, now merely days away, African rap superstar X.O Senavoe unveils his brand new single, "Oluwadele", featuring award-winning soul songstress Efya.

Laced by ace producer Coptic, Oluwadele is backed by lush horn arrangements, bass guitar and head-bopping drum patterns. The song blends X.O's unique, entendre-filled story-telling and unparalleled metaphor-punchline combos with Efya's beautiful melodies in the year's most soaring hip-hop classic.

Oluwadele, which translates to "God is home", is X.O's ode to his childhood as well as a statement to the fact that no matter how long you're gone "home is always home". And X.O is at his magical best delivering quotables upon quotables in his trademark fashion: "That's foolish, Ashanti's where they bred me, the prince of Zamunda, I came (Akeem) here with my semi (Semi), shooting Super Eagles and sonning Black Stars – Abedi Pele". It's hip-hop at its best. It's Africa at its best. And it's also – if reports are true – the last single after Say It Again and Beautiful to be released before XPoint0 comes upon us.

Often classed as one of the best rappers from Africa, if not the best, X.O Senavoe continues to show on this song exactly why he is among the most rated on the continent. With his seminal XPoint0 due to be released shortly, enjoy "Oluwadele" featuring Efya to hold you over. Is Xpoint0 not the debut album? Wow … already.
Subscribe to Our Podcast Show
Some of Our Achievements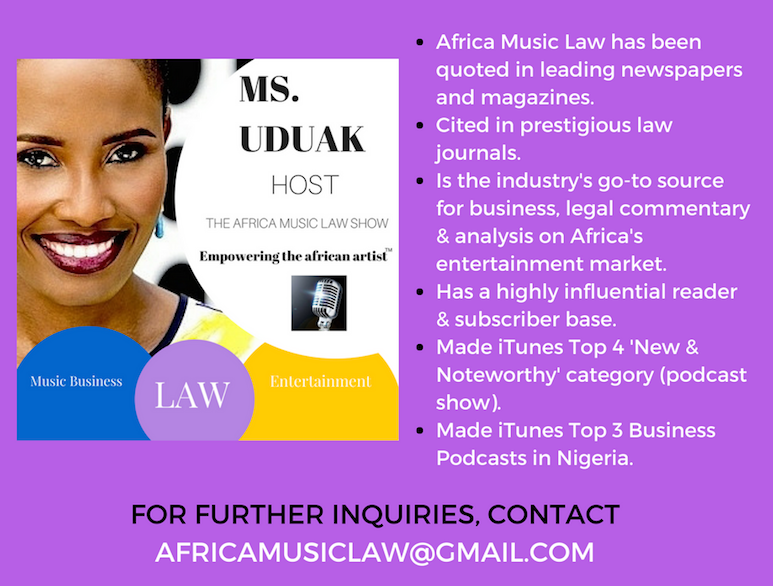 AFRICA MUSIC LAW™ (AML) is a pioneering music business and entertainment law blog and podcast show by Fashion and Entertainment Lawyer Ms. Uduak Oduok empowering the African artist and Africa's rapidly evolving entertainment industry through brilliant music business and entertainment law commentary and analysis, industry news, and exclusive interviews.
Credited for several firsts in the fashion and entertainment industry, Ms. Uduak is also a Partner and Co-Founder of Ebitu Law Group, P.C. where she handles her law firm's intellectual property law, media, business, fashion, and entertainment law practice areas. She has litigated a wide variety of cases in California courts and handled a variety of entertainment deals for clients in the USA, Africa, and Asia. Her work and contributions to the creative industry have been recognized by numerous organizations including the National Bar Association, The American University School of Law and featured in prestigious legal publications in the USA including ABA Journal and The California Lawyer Magazine. She is also an Adjunct Professor at the prestigious Academy of Arts University in San Francisco.
For legal representation inquiries, please email (uduak@ebitulawgrp.com). For blog related inquiries i.e. advertising, licensing, or guest interview requests, please email (africamusiclaw@gmail.com). Thank you for visiting Africa Music Law™.