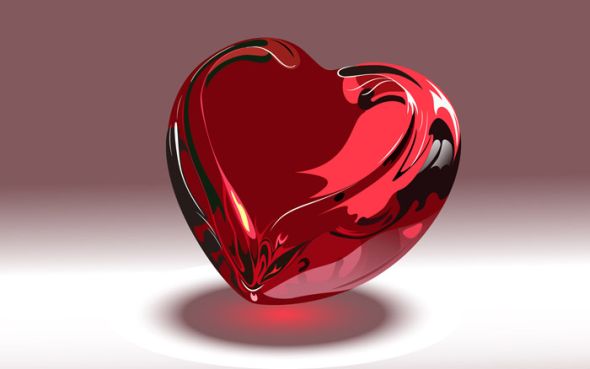 Love is a beautiful thing and worth CELEBRATING! This month has been full of a whole range of love relationships in the industry. From the sweet proposal and news of Tiwa Savage's engagement to her music manager T-Billz, to rumors of love gone wrong, business wise, with Banky W's EME & Wizkid, it has been one roller coaster month of whirlwind love/hate emotions. Lol!
However, on this SPECIAL "love" day, it is time to rein in all the roller coaster emotions, have you all get on your respective poses on your AML yoga mats (fellas get on the mats, NOW!) and say, "ooooooooooooom" to  bring it all to the center here on AML.
I wish each and every one of you AML readers a beautiful and a very HAPPY Valentine's day! The content on AML is freshly baked, almost daily, from a place of love. I can't create any other way. I do this for the love I have for the law and equally important, the love I have for Nigeria, in particular, and what it can be for the generations to come, the young ones. AML is a community full of creatives so I know you all get what I am saying about creating from a place of love.
(Switches to Nigerian Yoruba Pidgin accent) For the rest of  you that want me to talk about the other kind of love i.e. boy meets girl, girl meets boy, boy tries to save girl, a damsel in distress. He saves her.They fall in love, marry, have a few kids and live happily ever after. Hmmm . . . since when?
I am not a fan of giving or receiving unsolicited relationship advice from anyone, at all. However, I will break my general stance to give you all one relationship advice on this special day, afterall Paul Okoye, Ruggedman and Toke Makinwa have all given unsolicited ones, so I can't be that off  abi?
Uduak Oduok's LOVE Advice
There is no greater love than an unconditional love for self. Too often, we spend time hoping, wanting and even begging, in some instances, for others to love or validate us. They in turn "love" us by placing numerous conditions on us, conditions we know are fundamentally flawed and are anything but what love ought to be (1 Corinthians 13).

Therefore, if you focus on loving you, unconditionally, you will find that you attract the right/healthy/loving/ absolutely off the hook never thought it could happen kind of sweet loving relationships into your lives. Equally important, you will not try to change the imperfections in others  because you are okay with your imperfections, even as you strive to be the best version of yourself daily.
____________________________________________
I've got three poems to share with you all that I hope best captures this day of love and I hope makes you feel really good, empowered and LOVED, at least by me. BIG SMILE.
Back to my poems. They are all poems from a female perspective and voice, but I reckon the fellas can extrapolate the things that apply to them and use it accordingly.

Here we go:
For those who are glowing on this Valentine's day with love, enjoy my poem "You are My Yang" celebrating the lovers in you.
"In Chinese philosophy, the concept of yin-yang (simplified Chinese: 阴阳; traditional Chinese: 陰陽; pinyin: yīnyáng), which is often called "yin and yang", is used to describe how seemingly opposite or contrary forces are interconnected and interdependent in the natural world; and, how they give rise to each other as they interrelate to one another." – Wikipedia
YOU ARE MY YANG by Uduak Oduok
You are my Yang
Masculine, strong, self assured you balance my feminine and soft side
When I am with you, I feel like 110% woman
Your strong arms wrapped around me, gives me the sweetest, safest feeling I have ever known.

You are my Yang
Your calm but assertive support in the midst of my windy storm is the most beautiful thing I have ever experienced. You calm the fire within me with water that still allows me to retain the quality of fire, when necessary.

You are my Yang
Never overpowering, never abusive and never allowing me to be self destructive. You ARE my Yang. The check/balance I need.
Each day, this "Yin" falls in love with you over and over again

You are my Yang
Your crooked smile is perfection to my thousand watts grin
Your brown skin seamlessly blends with mine because I can't tell where mine begins or yours end.

You are my Yang
The strength of your voice is like rushing water
A nice balance to my at times fiery one
I could listen to your voice and never get tired

You are my Yang
I love your deep bellied laughter and it echoes through the walls of my heart, often
I love your blue jeans and the way you rock my favorite ones
I love that you are gentle yet firm with me

You are my yang . . . you are all that I need to get by each day.
______________________________________________________________
For those experiencing a broken heart on this special day, cheer up. Nigerian Poet Blessing has got you completely covered.  Check out her open letter to self. It's really, really good and I promise you that you will no longer sit and mope, a t least not for too long. CHIN UP! There ya go!
OPEN LETTER TO SELF by Blessing, song by Adaku

__________________________________________________________________
Finally, for those who have been there and done that when it comes to love, and are now cautious and unapologetic about waiting for what they want, even if their "biological clock" has  over ticked,  under-ticked and ticked off the charts, you will LOVE Janette . . .Ikz's poem "I will Wait." Check on it.
AML fellas, can y'all say "awwwwwwww" to all the Valentine mushiness on AML? I know right? How did we get from legal drama and fights to this?? Lol!
Ladies, get your tissues out. Lol!
HAPPY VALENTINE'S DAY!!!
Cheers,
Uduak
"I Will Wait" by Janette . . .Ikz
Photocredit: Softoinc