Below is the press release I received today regarding the cancellation of the United Sounds of Africa Tour in Canada, Houston and Los Angeles. For my discussion on the cancellation, click here. 
I respect the apology but it does not explain M.I Abaga's non-appearance even if the company in the USA failed to deliver on its end of the bargain. (I would argue that his absence had a significant impact on the demise of the (tour), including the choice of dates chosen to stage the shows which U.S.A. knew about in advance.)

Plus, what kind of due diligence did they undertake in the hiring of the promoters in the USA? Don't just throw the promoters (Bunmi Jinadu & Inter Globe Entertainment) under the bus. There are solid names that have been producing shows in California and other states, Adewole Lipede of Back Home Productions is an example, among many. They could have been researched and used. If U.S.A will apologize, then they should do so and (own) full responsibility.
"APOLOGIES FOR CANCELLED UNITED SOUNDS OF AFRICA DATES
We at Now Muzik, on behalf of ourselves and partners, Hypertek Entertainment and Chocolate City Music Group and the advertised artistes would like to express our sincere apologies to fans in Houston, Toronto and LA for the unfortunate cancellation of the United Sounds of Africa concerts in their cities.
The artistes had looked forward to connecting with their numerous fans in all the cities listed and the crew back in Nigeria had worked extremely hard to ensure that the experience was pleasant and unforgettable for both the fans and the artistes.
Unfortunately we made the grave mistake of entrusting the US end of the arrangements to Mr. Bunmi Jinadu and Interglobe Entertainment Group. We truly are indeed, sorry.
We however would like to thank Iroking, Arik Air, Beat FM, BM Media, The Agency Group, Live Nation, Full Court Management, Zzajje and everyone else for their contribution. To the fans who came out to support African music and its leading lights everywhere from Atlanta, through DC, New York and Chicago, we reserve the biggest gratitude.
Efe Omorogbe
CEO, Now Muzik
Now Muzik (Ent. Services Ltd.)
Talent, Event Management/Ent.Consultants.
Plot 3, Beckley Estate Road, Abule Egba
BC 23, Maryland Business Plaza, Maryland
Lagos, Nigeria. . ."
Subscribe to Our Podcast Show
Some of Our Achievements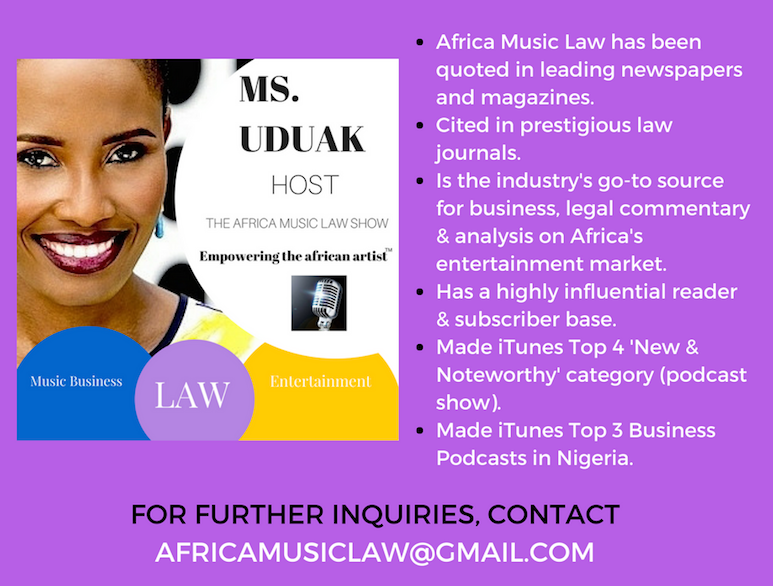 AFRICA MUSIC LAW™ (AML) is a pioneering music business and entertainment law blog and podcast show by Fashion and Entertainment Lawyer Ms. Uduak Oduok empowering the African artist and Africa's rapidly evolving entertainment industry through brilliant music business and entertainment law commentary and analysis, industry news, and exclusive interviews.
Credited for several firsts in the fashion and entertainment industry, Ms. Uduak is also a Partner and Co-Founder of Ebitu Law Group, P.C. where she handles her law firm's intellectual property law, media, business, fashion, and entertainment law practice areas. She has litigated a wide variety of cases in California courts and handled a variety of entertainment deals for clients in the USA, Africa, and Asia. Her work and contributions to the creative industry have been recognized by numerous organizations including the National Bar Association, The American University School of Law and featured in prestigious legal publications in the USA including ABA Journal and The California Lawyer Magazine. She is also an Adjunct Professor at the prestigious Academy of Arts University in San Francisco.
For legal representation inquiries, please email (uduak@ebitulawgrp.com). For blog related inquiries i.e. advertising, licensing, or guest interview requests, please email (africamusiclaw@gmail.com). Thank you for visiting Africa Music Law™.