It was a busy day for me but one that was interrupted with notice of a canceled Wizkid California concert tour, four days prior to the upcoming show. Apparently, the Promoter behind the event was so upset he took to Twitter to air his grievances. He alleges EME solicited him for a concert. He obliged and took all the necessary steps including promoting the event heavily. Today, he received notice from EME's management saying they could no longer continue with the tour because "something huge came up."
His accusations and words against EME were quite strong and seeing EME's modus operandi which has made them a model brand to follow in Nigeria's music industry, I felt I needed to speak to EME before putting pen to paper on this issue. Having heard EME's side, and offering my solicited 2cents, I think it prudent to let EME handle this situation with what they deem is the best direction to go for the brand.
However, suffice it to say the following:
1. This is not the first time I have discussed cancellation of concerts, especially in Nigeria's music industry.
2. When a cancellation takes place, there is a responsibility on all parties involved to deal with what is a crisis in a respectful and expeditious manner so it does not blow out of proportion.
3. The fans who buy the tickets are priority; and their needs and distresses should be addressed immediately.
4. Promoters I am unsure taking to twitter is the best way to handle a concert gone wrong situation. Yes, your reputation may suffer and you have angry fans yelling at you. But, the wiser thing is to put a joint press release statement out with EME and let fans know where and how they get their money back, or you put out a press release on your own. Further, if you believe you have been wronged, there is a court system to avail yourself of. Getting on social media and holding twitter court sessions helps no one.
First, it sends a poor image on how you handle challenges/crisis as a business owner, and second, it definitely warns others who want to do business with you to fall back because there is no telling what you will do if something goes wrong.
In any event, EME and the Promoter here should try to resolve this expeditiously and make sure, for starters, those who bought tickets get their money back.
For AML archived cases involving cancellation of concerts including the current 2million lawsuit filed in New York against Rick Ross click here.
-Uduak
@uduaklaw
Subscribe to Our Podcast Show
Some of Our Achievements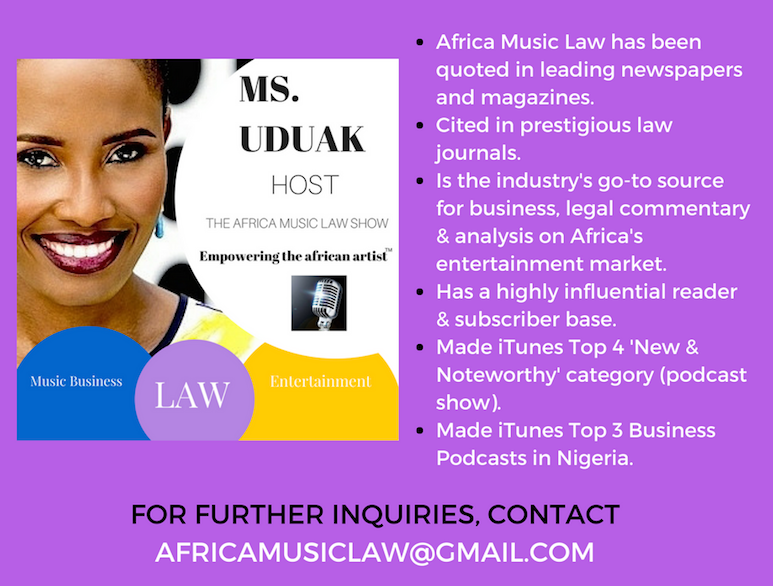 AFRICA MUSIC LAW™ (AML) is a pioneering music business and entertainment law blog and podcast show by Fashion and Entertainment Lawyer Ms. Uduak Oduok empowering the African artist and Africa's rapidly evolving entertainment industry through brilliant music business and entertainment law commentary and analysis, industry news, and exclusive interviews.
Credited for several firsts in the fashion and entertainment industry, Ms. Uduak is also a Partner and Co-Founder of Ebitu Law Group, P.C. where she handles her law firm's intellectual property law, media, business, fashion, and entertainment law practice areas. She has litigated a wide variety of cases in California courts and handled a variety of entertainment deals for clients in the USA, Africa, and Asia. Her work and contributions to the creative industry have been recognized by numerous organizations including the National Bar Association, The American University School of Law and featured in prestigious legal publications in the USA including ABA Journal and The California Lawyer Magazine.
For legal representation inquiries, please email (uduak@ebitulawgrp.com). For blog related inquiries i.e. advertising, licensing, or guest interview requests, please email (africamusiclaw@gmail.com). Thank you for visiting Africa Music Law™.