About a week prior to the release of the now globally renowned Black Panther, DMV based Nigerian-American media personality, Raro Lae, exclusively interviewed the Executive Producer, Nate Moore, and Costume Designer, Ruth Carter of the BLACK PANTHER. Catch up with the interview below.
-Ms. Uduak
While on The Raro Lae Show, Moore revealed that they actually included a scene in the movie that was meant to reflect the current terrorist attacks on Nigeria by Boko Haram. They specifically decided to shine the light on the missing Chibok Girls, but in the movie things took a twist for the better. Moore emphasized that they didn't want to exploit it [missing Chibok Girls], they wanted to use the scene to shine a light on a real issue, that is ongoing — but he also had a deeper explanation in the interview.
Moore also addressed the Black Panther Cast & team visiting African countries to premiere the movie. He noted that both he and the director, Ryan Coogler have had conversations specifically about Nollywood — Nigeria's film industry. Who know's what may be in store for Nollywood actors & actresses!
Ruth Carter, broke down how/why she selected which cultures/ fashion styles to incorporate into the Wakanda (Black Panther's cast) peoples style to Raro Lae. With styles from Nigeria, Ghana, Kenya, South Africa and more.. the diversity of African culture was very apparent!
Subscribe to Our Podcast Show
Some of Our Achievements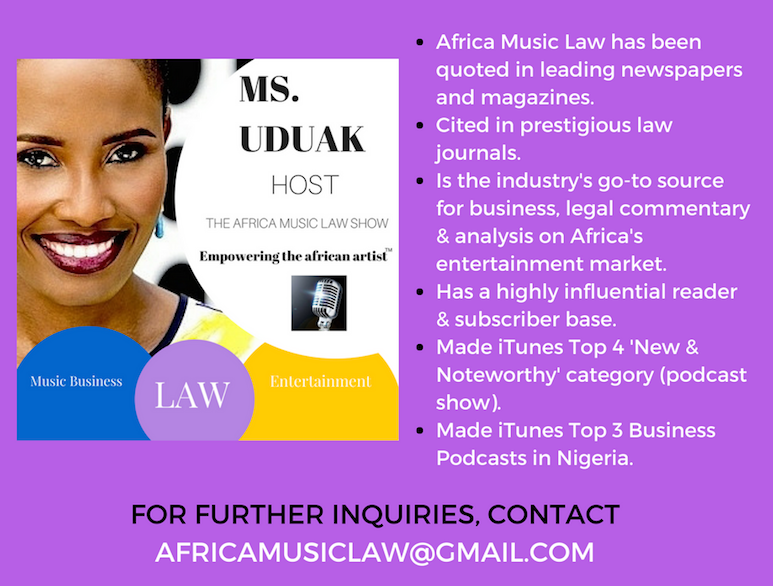 AFRICA MUSIC LAW™ (AML) is a pioneering music business and entertainment law blog and podcast show by Fashion and Entertainment Lawyer Ms. Uduak Oduok empowering the African artist and Africa's rapidly evolving entertainment industry through brilliant music business and entertainment law commentary and analysis, industry news, and exclusive interviews.
Credited for several firsts in the fashion and entertainment industry, Ms. Uduak is also a Partner and Co-Founder of Ebitu Law Group, P.C. where she handles her law firm's intellectual property law, media, business, fashion, and entertainment law practice areas. She has litigated a wide variety of cases in California courts and handled a variety of entertainment deals for clients in the USA, Africa, and Asia. Her work and contributions to the creative industry have been recognized by numerous organizations including the National Bar Association, The American University School of Law and featured in prestigious legal publications in the USA including ABA Journal and The California Lawyer Magazine. She is also an Adjunct Professor at the prestigious Academy of Arts University in San Francisco.
For legal representation inquiries, please email (uduak@ebitulawgrp.com). For blog related inquiries i.e. advertising, licensing, or guest interview requests, please email (africamusiclaw@gmail.com). Thank you for visiting Africa Music Law™.